I'm currently on my end-of-posting break which means it had came to an end of my wonderful surgical days. I just got back from Hong Kong the day before but no, I'm not blogging about Hong Kong just yet. Instead, I will finish up from where I last left - Bangkok. I was there with a bunch of friends earlier this month and that marks my 4th revisit to the city. Seriously, I found myself succumbing to the temptations of this hectic, crazy and sinful city all too easily, so much so it's like a yearly affair now I fly to it to satisfy my shopping, massage and Thai food craves. (In case you are interested, you can read about all my previous Bangkok stories here)

In all honesty, Bangkok shopping is getting more expensive by the year. I'm not sure about the rest of the stuff but women clothes and accessories prices are definitely escalating from each of my visit. None the less, they are still cheap (as compared to when buying the exact same item in our country) and most importantly fashionable. If boutique style clothes; both on and offline is your cup of tea, then Bangkok is definitely a city you would not want to miss as most of our local boutiques clothes are all source from Bangkok, hence when buying them in Bangkok, you only pay 1/3 or even lesser than buying them locally.

None the less, some words of advise though, as someone who is consider pretty lean by many, I find most Bangkok girls even skinnier than myself as most of their clothes are made extra small even though they are so called free size. Buying from most markets also means 'no trying' and that means you will have to take the risk of the clothes misfitting and of course,you will need to compromise on the quality and material in most cases. While they are certainly not top grade material or anything but most of my clothes bought from Bangkok have not shrink after multiple washes. (Then again, many clothes these days even from so-called brand names are of poor quality and materials too)


Flying Air Asia to Bangkok on a Sunday morning
Stayed at the Siam Swana hotel this time round. Compared to the rest of the previous hotels that I had stayed, I had to say this is the best overall. It is very strategically located at the heart of Bangkok shopping heaven, the Pratunam district (just 5 minutes walk to the nearest BTS station; Ratchathewi station and 15-20 minutes walk to Platinum fashion mall and Pratunam market), clean, reasonably price and has extremely good wifi in their rooms. The only downsides are perhaps the fact that the rooms are windowless (so might be a problem to those who are claustrophobic but I suppose you can request for windows room) and the lack of elevators but their hotel staffs are more than willing to help with your luggage so that settles it
People, people, people everywhere especially at crowd favourites like the Chatuchak weekend market
A shot from the overhead pedestrian bridge at the Mo Chit station, the nearest BTS station to Chatuchak
No matter how many times I had been to Bangkok, I never got tired of going to the Chatuchak market. Thus, all my flights to Bangkok certainly had at least one of the weekends in them. Popular among both locals and foreigners alike and open only on the weekend, the market boost to have a cocktail of stalls spread over a land as huge as 20 football fields (about 15,000 hectares). As compared to my visits to Chatuchak in
2008
and
2009
, the Chatuchak market now (in fact even when I was there last year itself) is a revamped version, with the market now literally divided into two parts; the front half especially the first few rows are now converted to boutique like shops with air-condition, English music and some with even their own labels and the rest of the market still remaining as they are, pasar-malam-like-make-shift stalls and shops.
Of course with the upgrade also means more costly maintenance and thus, more expensive clothes and accessories. No doubt the clothes might look better and it's more comfortable to shop at these upgraded shops but with prices easily doubling their other counterparts in the market and the fact that they do not entertain bargaining (like most will tell you the prices displayed are fix), it felt like a tourist trap to me shopping amidst them. I still prefer those non-upgraded pasar-malam-like-make-shift-stalls and shops with no air-con or English music that allows bargaining and where you have to hunt for your treasures. I mean seriously, when I go to a market to shop, I don't expect to be paying anything more than RM 50 for a piece of clothes. Anyways prices of ladies clothes and I do mean those in-trend ones around Chatuchak have always been around RM 20-30 but as I said the prices are escalating year by year and now at those upgraded boutique style shops, ladies clothes can go up to like RM 60-70 a piece. Too much for market quality clothes that can't be tried imho.
At one of the entrances into Chatuchak. There are like multiple entrances into the market and each rightfully numbered. It is also highly advisable to at least have a map of the Chatuchak market in hand (you can dl it nowadays) so you can navigate yourself through all the various sections (aside from the clothes section, they also have the men clothes, food, pets, plants, households etc sections) of the market without getting completely lost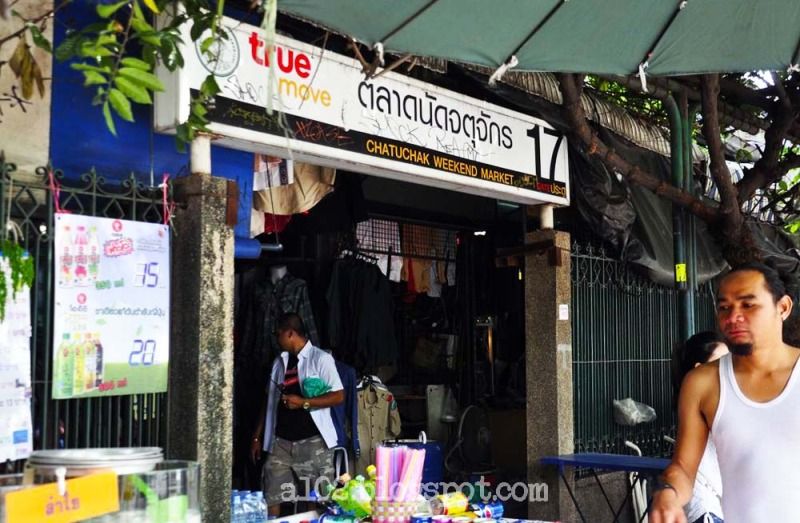 Another entrance that will lead you to another section of the market
Street performers are commonly seen at the market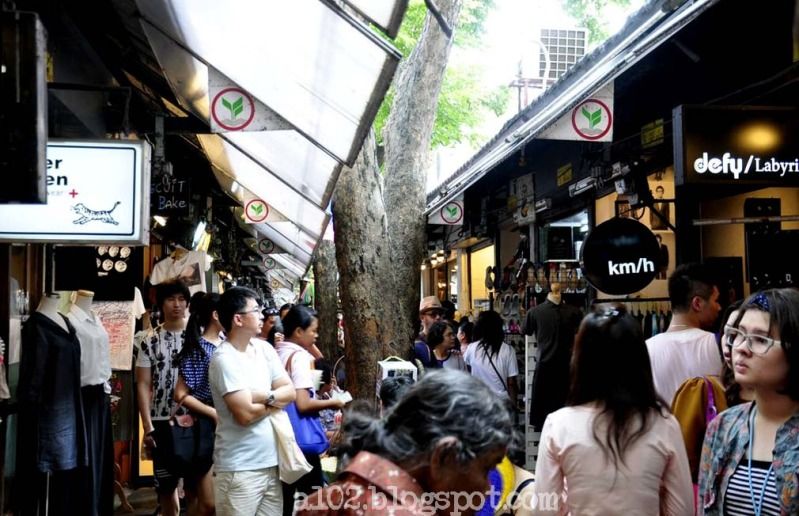 The upgraded boutique like shops in Chatuchak these days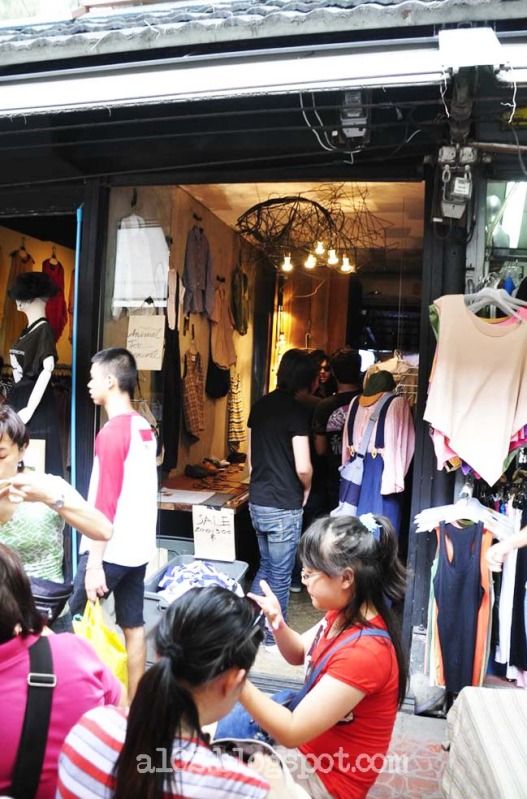 Had a feel of shopping in Bangsar instead of Chatuchak at this part of the market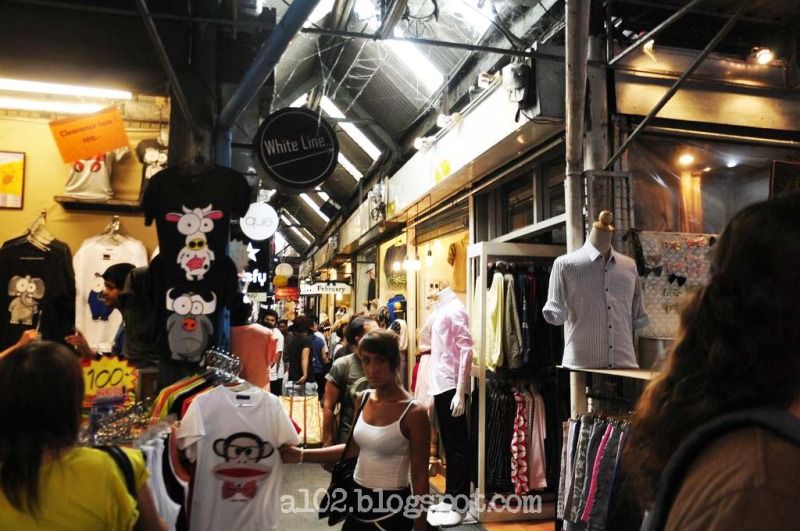 Even some of the inner row of stalls are converted to shop-like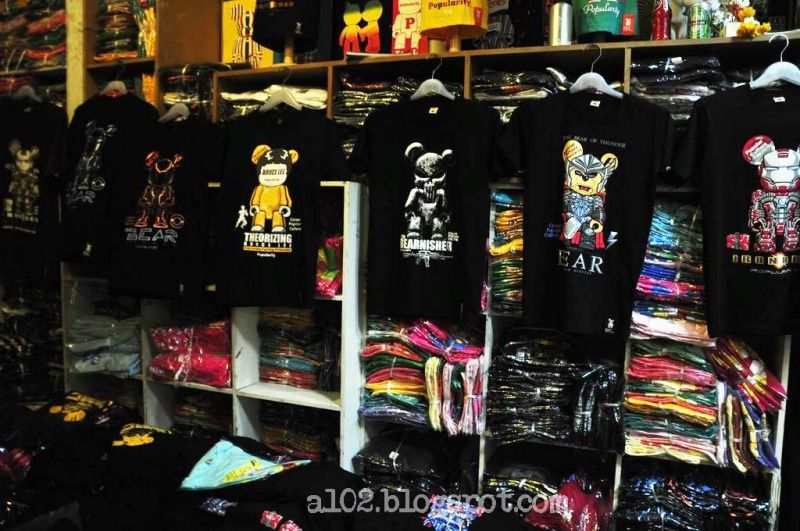 While many ladies fashion shops are repetitive throughout the market or similar, there's this one particular shop that sells a whole variant of Bearbrick (the collectible toy designed by Jap company) T-shirts; from Bearbrick Ironman to Bearbrick Spongebob to Bearbrick Starbucks, they have it all
As we only had like half a day in the market, I spent it all mainly at the ladies section only. Honestly, I think you really will need at least 2 entire days to cover the entire market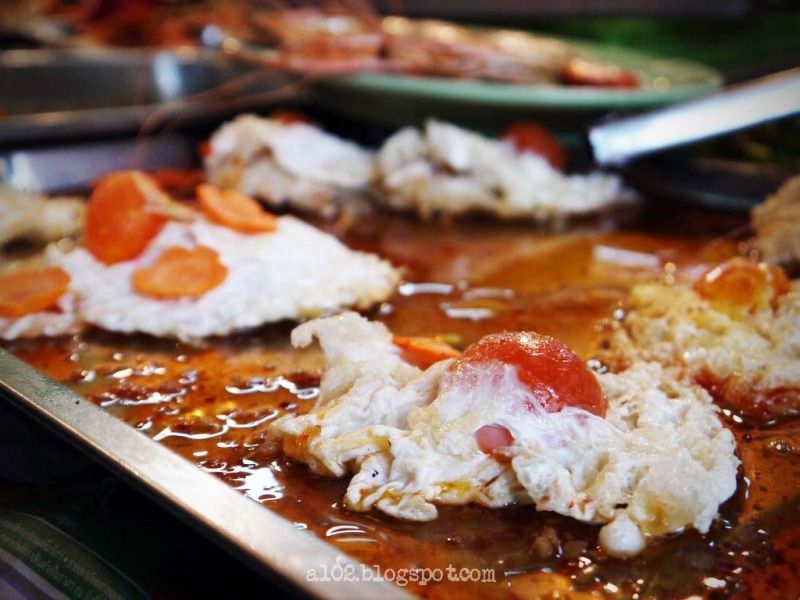 Fried salted eggs. While they look so yum, they are so arteries clogging as well
Aside from having many people, many food, many massage centres, many ladyboys and many everything else, Bangkok city has many many markets too to quench the needs of all the shopaholics. The king of it is no doubt the Chatuchak, having a whole lot of variety of designs and choices and being one of the best places to look for real bargains. The other markets are generally pretty small, with not much variety and choices and most of them sells everything that can be found at Chatuchak itself at an even more expensive prices. Personally, aside from Chatuchak, my next favourite market is the Pratunam market. It is more to a wholesale market, so the more you buy, the cheaper you get.
But ever since I discover the treasures of Platinum Fashion Mall, which is the mall opposite of Pratunam market, it took over both Chatuchak and Pratunam as my favourite retail paradise in Bangkok. This is another MUST-go whenever I dropped by Bangkok. Just shopping at both Chatuchak and Platinum is actually enough to satisfy my Bangkok shopping craves. It is a wholesale 6th storey mall with about 4 floors dedicated entirely to the ladies, half a floor or something like that to the men, 2 floors for ladies accessories and a food court. And like the Pratunam market, the more you buy, the cheaper you get so it's the best place to go shopping with your bunch of girlfriends, sisters, mother or in desperate need, approach the other people shopping in the same shop as you do and offer to share with them so that every one of you gets to enjoy the wholesale prices.
Refreshed and recharged for another day of shopping! With only like half a floor dedicated to the men, I bet guys won't quite fancy this mall too much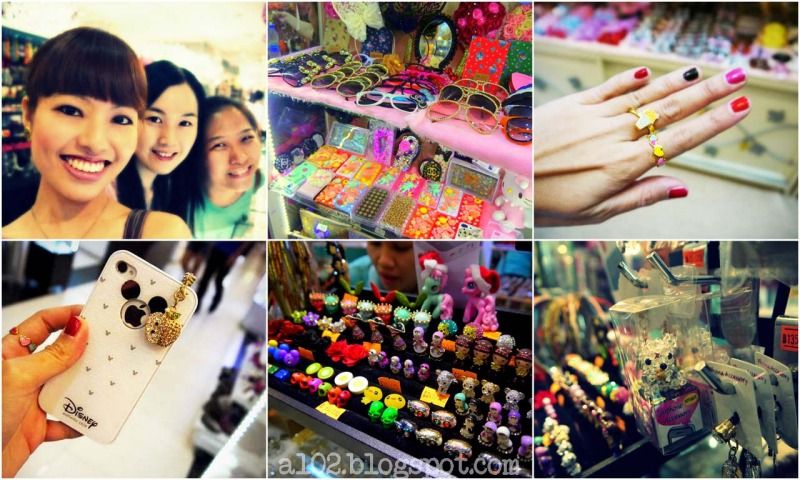 I'm so in love with their ear docks. I mean seriously they have so many gorgeous and cute ear docks from the blings to non-blings one, I wish I can buy them all. I was actually hoping to find those super bling up or pearl up iphone casing but while they do sell them, their prices are actually similar to our country. So disappointing! I was quite expecting them to sell at half of our prices instead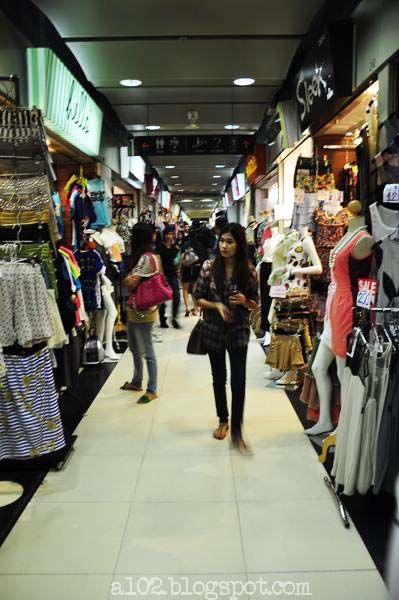 Shops after shops filled with ladies clothes, shoes, handbags, hats, accessories etc to make you broke at the end of the day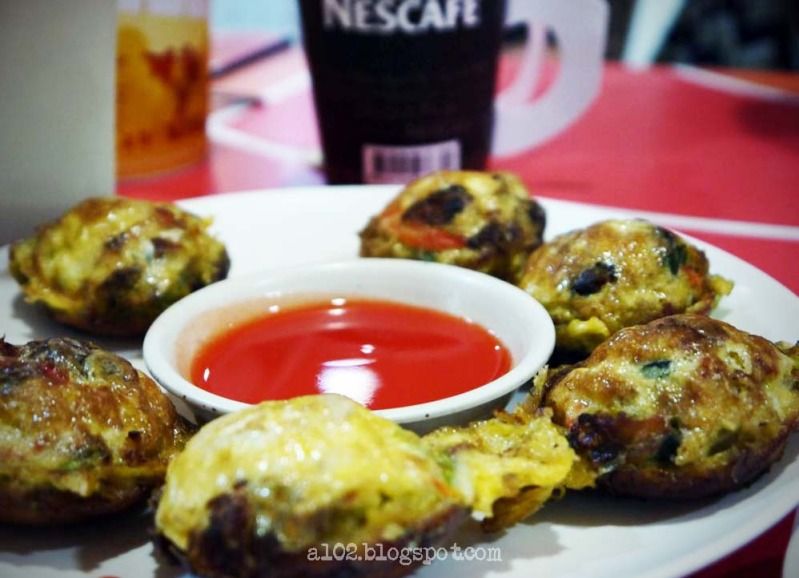 I think the Thai food at their food court are somewhat only mediocre. Nothing much to shout about. The only reason to eat there will be due to the convenience. This is the best stuff there imho. It is actually some stuffed vegetables and mince meat in between eggs. Quite unique and worth the try
Thailand's Ronald McDonald greeting customers with the traditional 'wai' gesture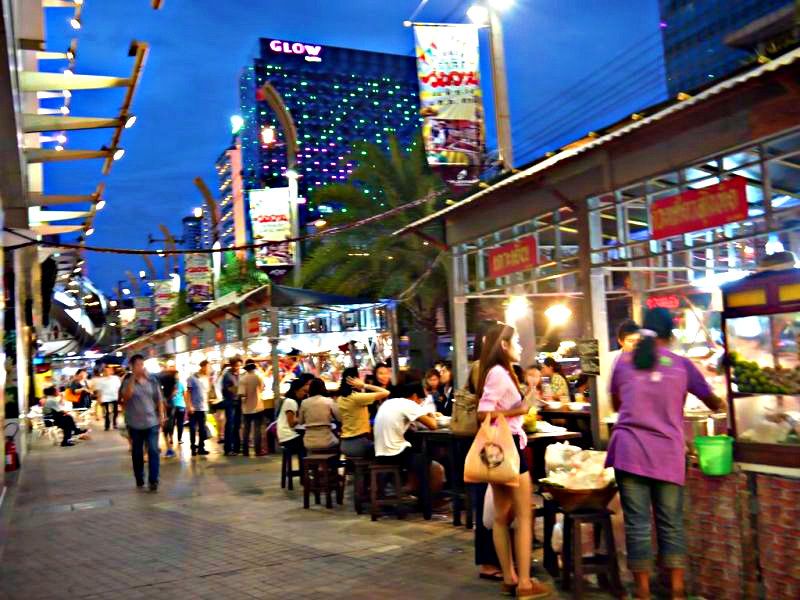 The food street right in front of Platinum mall where you can expect to find plenty of super yummy local street snacks at very cheap prices
Among some of my fav- the grilled squid. The best part was after grilling the squid to perfection, it is served with their very own special sauce that is very very spicy but you know it's that kind of thing that despite knowing how spicy it is and how it makes your stomach burn, it just taste so good when eating them the aftermath was worth it
Deceiving innocent looking squids that one must not missed (just prepare bottles of water when eating this)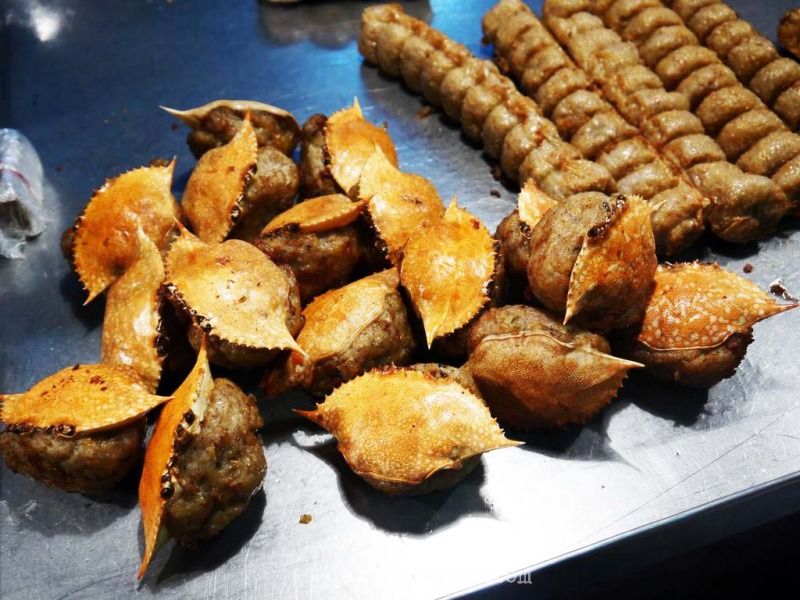 Stuffed crabs! Unlike our famous east coast stuffed crabs (read about them here and here), their stuffed crabs are like super cheap. It's like 3 for 100 baht or something but the funny part was as I was trying to ask if we could only buy one as we want to keep our stomach for more food, the uncle couldn't understand me and in the end, he charged me only 50 baht for 5 stuffed crabs! XD Their stuffed crabs are served with some sort of caramel-ish sweet sauce and it's compactly filled with crab meat and pork. Totally delicious can
Deep fried Thai fishcakes served with some sourish spicy sauce that is so awesomely delicious as well
These unattractive looking stuff are actually pork sausages that are very good as well we took two helpings of it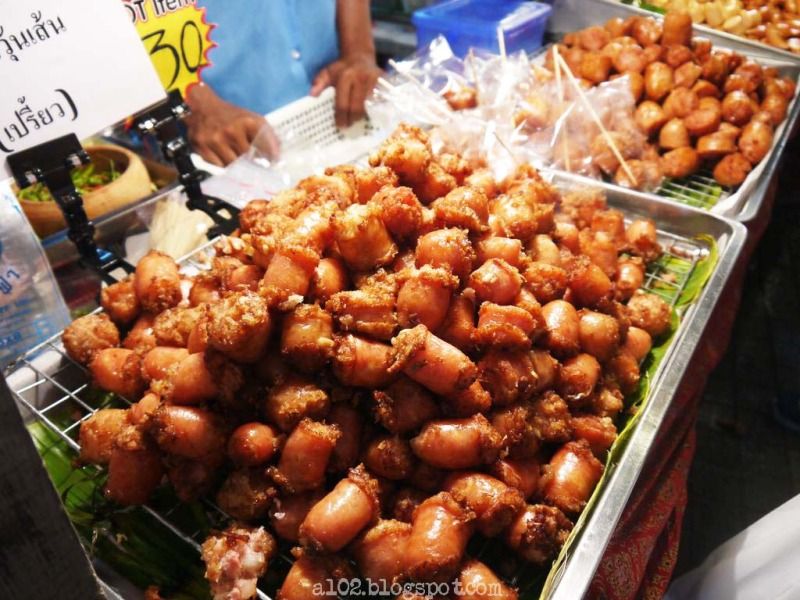 The mini sausages that are just as good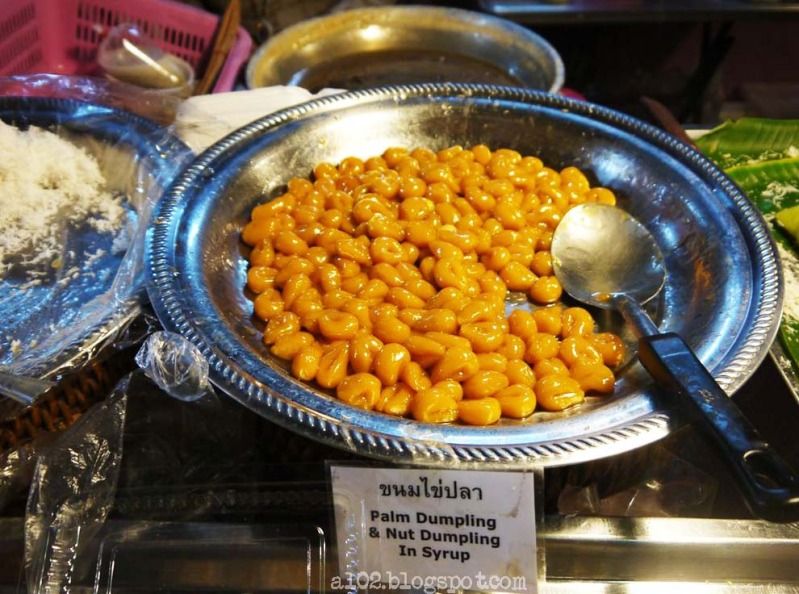 The palm nuts - I didn't quite like this. It has some sort of funny taste to me
The Thailand bak chang - has palm nuts in them too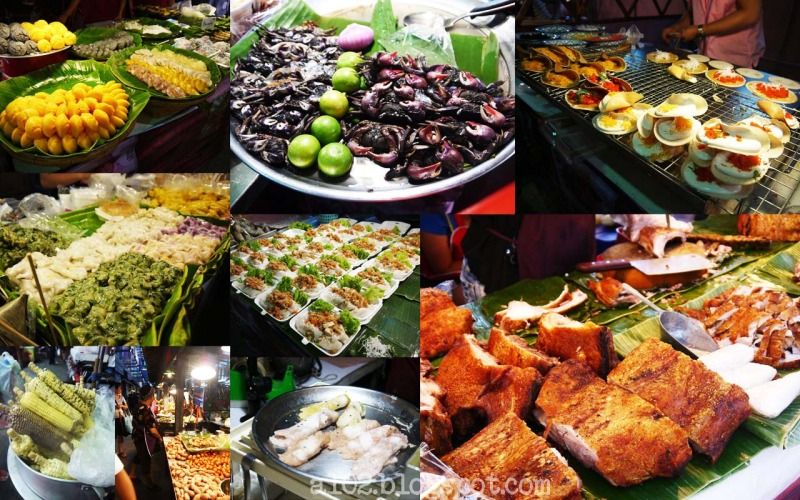 Some of the other food that can be found at the food street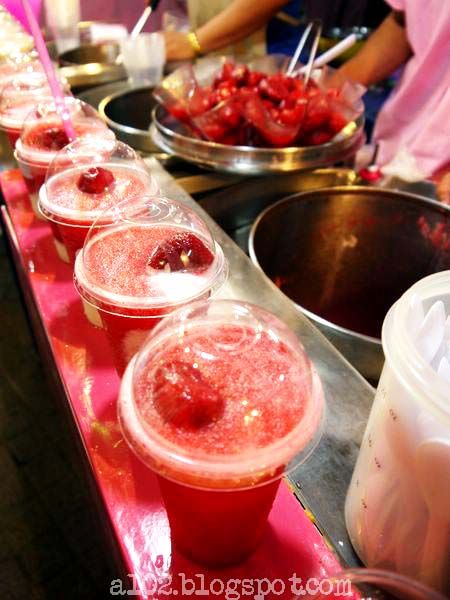 Frozen strawberry yogurt drink - it is like half yogurt and half strawberry ice blended. Super perfect after all the gluttony. I love this a lot too
Aside from all those normal yummy food, the Thai people do like to eat bugs too I guess. There is this one particular stall that sells all sorts of deep fried creepy crawlies and the lead star of them all are none other than the scorpions which warrant the most attention. Eating cricket is one thing, but eating scorpion will be like a whole new level especially when scorpions are larger and much much harder
Other crepy crawlies and bugs are like the silk worms, crickets, cockroaches, some sort of larvaes and baby frogs
After my last bug eating experience in Cambodia, I never thought I would ever eat another bug. After all, I had only tried that one cricket for experience sake so I'm not exactly keen for any more bugs eating adventure but somehow they managed to persuade me to eat another silkworm. I know, speaking of peer pressure. Yes, that thing in my hand is a silkworm that I finally ate in one mouthful. In all honestly, it doesn't taste so bad mainly because they were deep fried to such crunchiness and as long as their intestines are not overloaded with faeces, they don't taste as bad as many might have thought
Try guessing what this is
Yes, flying terrifying, annoying cockroaches! And huge big ones indeed. KS was the only one brave enough to swallow up the entire cockroach in one gulp!
Another must must must drink in Bangkok is their Thai coconut. Truthfully, where else can you find juicy, sweet Thailand coconut for only 10 baht one (like about RM 1 only). Well, even though the Thai coconuts are sold at 25 baht each at Chatuchak or maybe more at other popular tourist spots, but we found one humble stall very near our hotel that sells them for only 10 baht each!
Juicy coconuts that must not be missed as well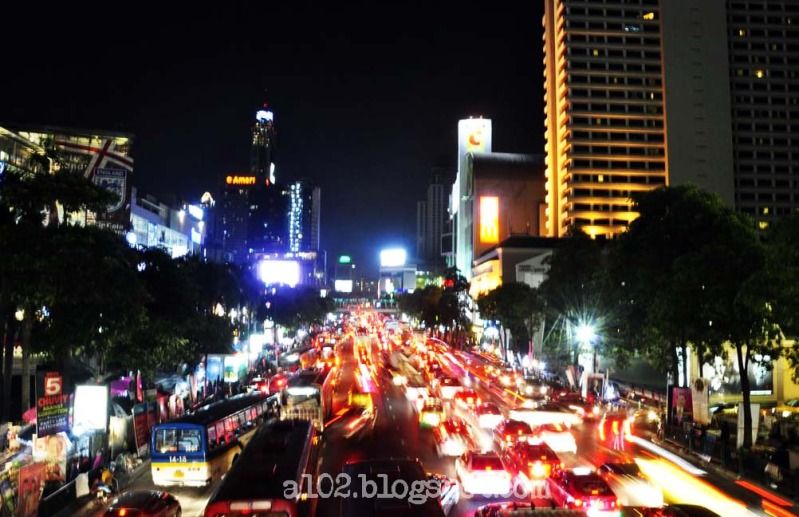 Bangkok night scene
The ladyboys
Visited the
Grand Palace
again. And again, we all decided against buying the tickets so we could only hang around the outside compound area
Tuk-tuk - these days tuk-tuks are no longer cheaper alternatives to cabs (you need to bargain for the prices if not it will be some exorbitant ridiculous amount) but rather as most of their drivers are so 'super skillful' they know how to turn and squeeze among Bangkok crazy traffic pretty efficiently saving you a lot of time
Massage - cheap and authentic bone-breaking Thai massage is a must too in this metropolitan. Like we only paid 250 baht for a 60 minutes full body Thai massage, a fraction of what local massage places charge
My travelmates
For once, I was actually glad that Air Asia is so notorious in delaying their flights. Well, our flight back from Bangkok actually got delayed by an hour as it was pouring heavily just prior to it taking off and had my KL-JB flight took off on time, I would had definitely miss it but coincidentally enough, my KL- JB flight was delayed as well so in the end no flights were missed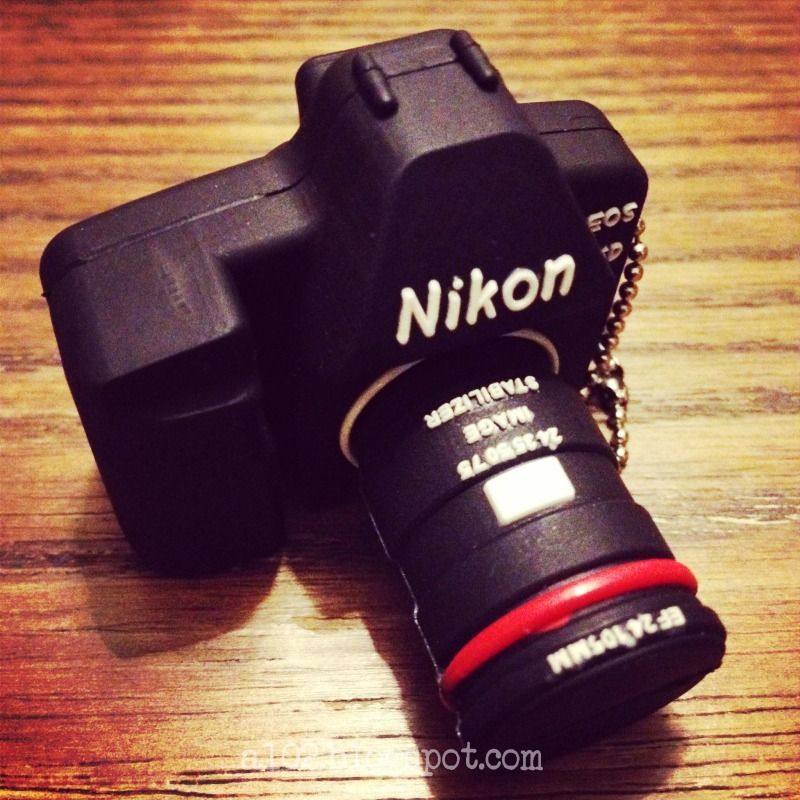 A Nikon USB flash drive for only 170 baht! A real steal
Among some of my shopping hauls. Seriously, these are like super super little compared to my previous shopping hauls but maybe it's because the current trend is not exactly my kind of tea so I don't want to waste money buying clothes that I know I'm only going to wear once. Well, I'm so proud of myself really for having such good impulse control. *wink*
I'm truly more attracted by their accessories this time round
It was a short 3 days 2 nights getaway but certainly good enough to fulfill my retail needs and Thai food craves. Besides, it is always good to be able to get a break away from work and experience some different cultures. I guess with budget airlines constantly churning out cheap flight tickets to Bangkok, this crazy, hectic and sinful metropolitan will continue to tempt me for more revisits, well at least until someday the prices of their clothes significantly increased so much so it isn't worth it anymore to specially fly there to shop. Bangkok 2012 certainly filled me with very different memories but all the same, it was still a very nice and enjoyable trip. A last piece of advise, you can easily bring an empty luggage and shop all your clothes for your subsequent days in Bangkok without worry (exactly what I did this time round). If you bring too much clothes along in the first place, you might end up with baggage overload so really just bring as light as possible when going. If you are a huge huge shopaholic, then do bring those roller shopping bags along and extra extra luggage. Till then, so long Bangkok! :)