It's almost three weeks now since I came back from Hong Kong and I finally found time to be blogging about it. I was there near the end of July and it was a bad timing indeed. Hong Kong weather had been most unfriendly to me; intermittent downpour and strong winds four out of the five days I was there. Occasionally, the sun would peep shyly behind heavily clouded Hong Kong but for most times, it was heavy downpour so much so I even rejoiced when it drizzled instead of rain. I really really dislike traveling when it is raining (forget about dancing in the rain seriously) mainly for the fact that it is so uncomfortable to be walking around and the worst part is, all the pictures, especially scenery shots would turn out horrendous! All shots taken during rainy days looked just like the weather itself - gloomy, grayish, dull and foggy. The rain was so potong stim I didn't even had much mood to take pictures (or dress up as a matter of fact).

It was at the height of the Typhoon Vicente the morning I flew to Hong Kong. I was so worried our flight would canceled initially. I mean, honestly after all the hassle of applying leaves bla bla bla, it would be so heart breaking if I can't fly to Hong Kong and got stuck back here in JB instead.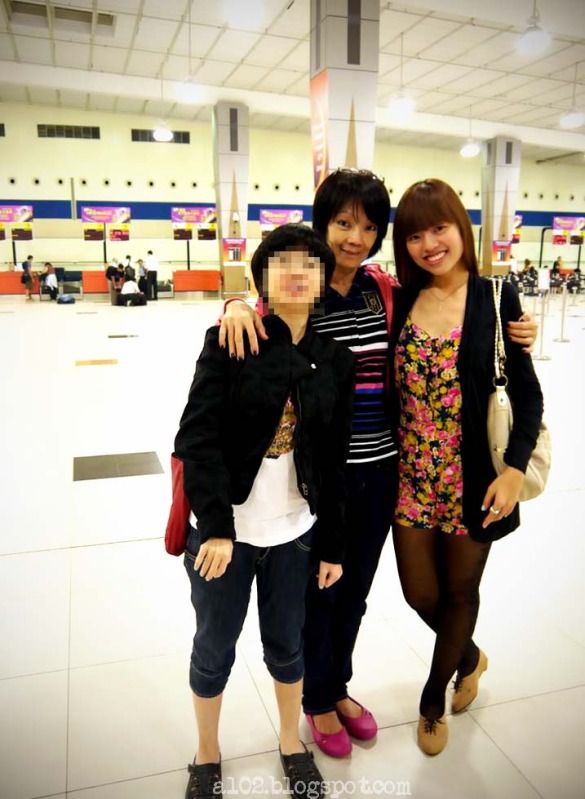 The three sleepyheads at the airport early in the morning. Yes seriously, I think I woke up at some unGodly 3 or 4 am just to make it to the airport in time only to find out my flight had gotten delayed by an hour. None the less, we were still very excited that our flight was not canceled and taking the chance after all
However, our flight to Hong Kong wasn't as smooth sailing as we had hoped it would be. It was some 3-4 hours flight from Singapore to Hong Kong but due to impermissible weather condition, our flight was forced to make a detour to the Guangzhou airport leaving all of us on board stranded for like another 3-4 hours on the plane. We were told to wait inside the plane obediently until further plans were given to the Captain. Seriously, the wait was quite an agony because every minute that ticked by was time wasted; we had wasted more than half a day in the plane instead of walking around Hong Kong already. Thankfully, Typhoon Vicente finally had some sense to move into other countries towards late afternoon and our flight was allowed once again to land at the Hong Kong International Airport towards the evening.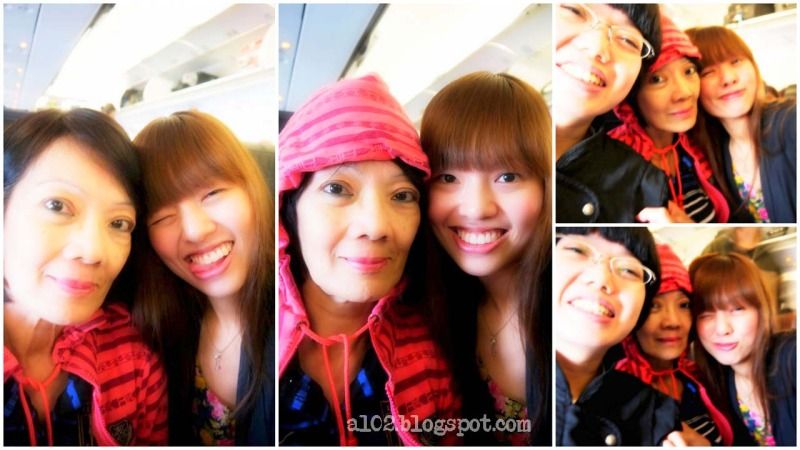 The most entertaining thing to do while waiting restlessly was well, camwhoring :p
As we stayed at the Mongkok area, the most convenient way to get there was by the airport bus A21. They have the MTR but considering the fact that we would had to carry our luggages up and down the stairs in the train stations, the bus sounded like a more feasible option. The bus ride was about 45 minutes to an hour and the best part was, Hong Kong airport buses have free wifi in them!
Free wifi that runs at a pretty fast speed too
Ask anyone who had been to Hong Kong and 99% of them will complain about the size of their hotel/guesthouse room, especially for those located at popular locations. Our guesthouse (Oi Suen) was no exception. Located at Mongkok, one of the most bustling city, the width of our room was only about the length of my arms widespread measured end-to-end (so much so you wonder if they are made for the Lilliput citizens) and there's just sufficient spaces to miraculously fit beds for 3 people, an ensuite bathroom and a tiny cabinet. But despite the stingy size, they managed to keep it clean and adequate with the air con, hot shower and good wifi in rooms. It is also very very strategically located, right at the heart and core of Hong Kong's most heavily populated city along Argyle Street, with the Mongkok MTR, Argyle Shopping Centre, Ladies Market, Fa Yuen Market, Nathan Road and plenty of yummy food in the vicinity all within 5-10 minutes walk. For the convenience and beauty of the location itself, it was no wonder we had to pay so much a night for a room so tiny.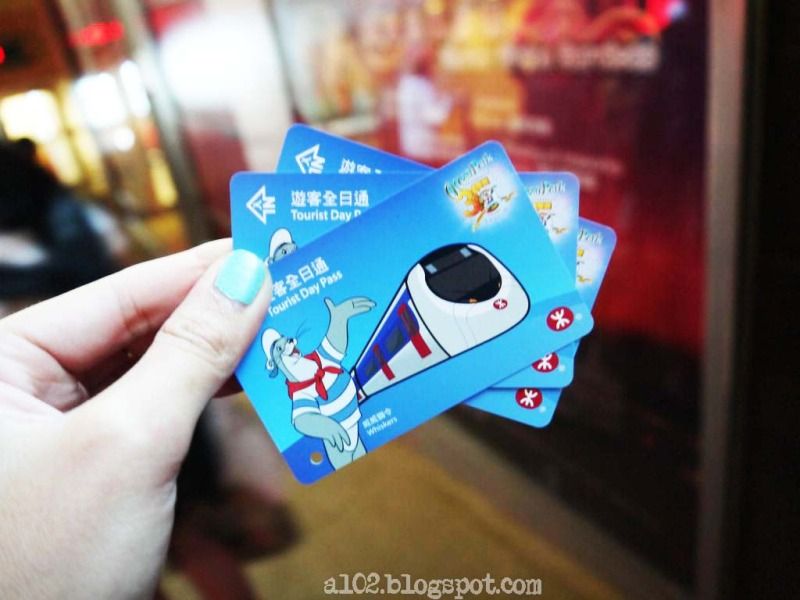 The one day MTR tourist passes. For only HKD 55 each, it gave us unlimited access to rides on the MTR for the day
The aftermath of Typhoon Vicente still seen at some parts of the city
Despite the weather being gloomy and all, as it wasn't raining, we decided to try our luck at The Peak, hoping to catch a glimpse of Hong Kong's spectacular city view from Hong Kong Island highest mountain. There are several ways to get to The Peak but the most scenic and historical way will be by the Peak Tram.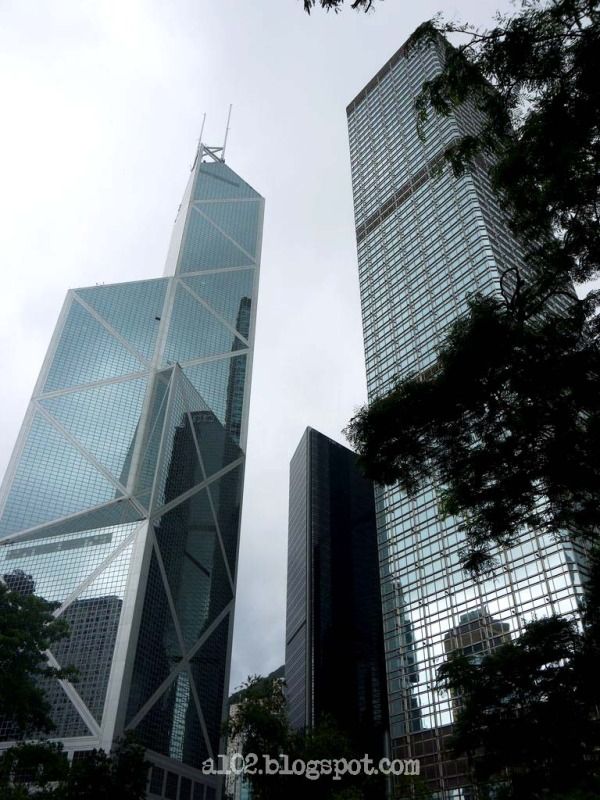 The Peak Tram Lower Terminus is located at Garden Road which is about 15 minutes walk from Central MTR station and between the prominent Bank of China and the Cheung Kong centre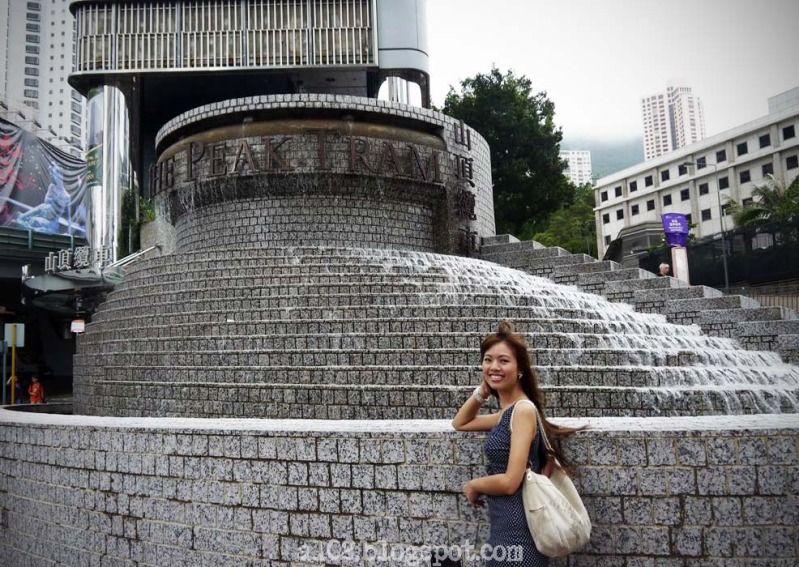 Finally at the Peak Tram Lower Terminus
The historical peak tram- operating since 1888 which means it is more than a century old already! It was a pretty enjoyable ride up with the tram with lush natural wonders and cool air accompanying us all the way up to The Peak
It was a disappoiting day trying to catch a glimpse of the metropolitan at The Peak. The fog was so thick so much so it covered up the entire view of Hong Kong city from the Sky Terrace. We barely could appreciate any stunning view aside from thick fog floating wickedly around

.

None the less, there were a few moments when the fog clears up a little before the next wave blown in and we could make out the view below but really, it was the most sad and unappealing bird's eye view ever

.

I had watched sufficient Hong Kong dramas and movies to know how breathtaking the view from the Peak could be, so the weather was just being a total brat making our view at the Peak a let down that day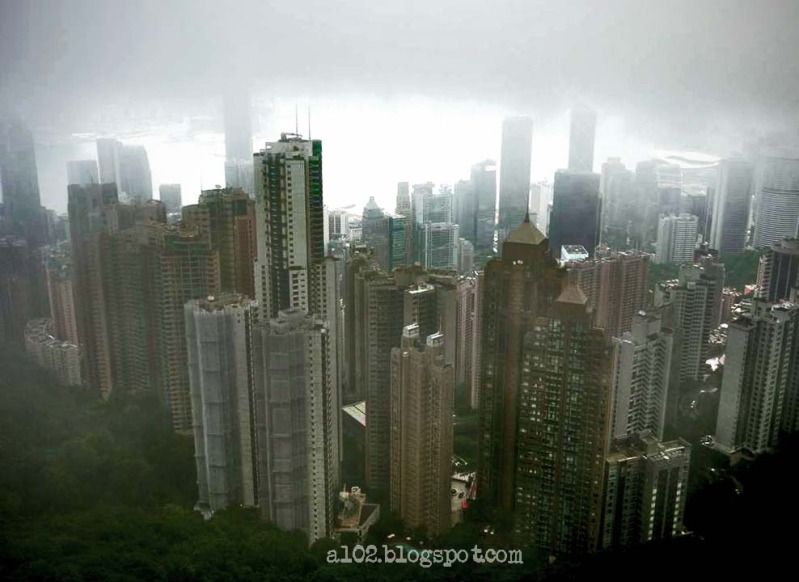 Probably one of the most un-breathtaking view of Hong Kong from the Peak (the pic had been quite heavily photoshopped to remove as much fog as possible). The only fun thing we did at the Peak was visiting the Madame Tussauds wax museum but I will save that to blog about next time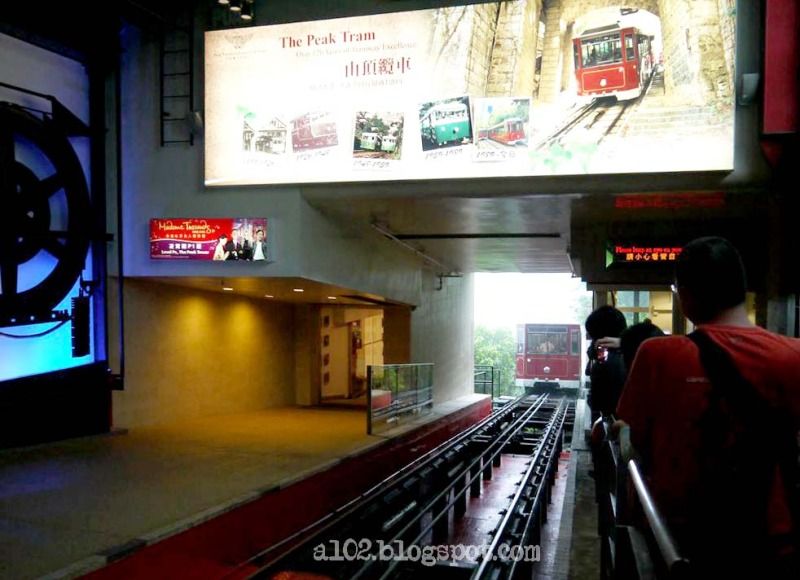 The Peak Tram - available at every 15 minutes interval
After leaving The Peak, our next destination was the Times Square shopping mall at Causeway Bay. I mean, seriously it was raining cats and dogs by the time we left the Peak, hence since any walking in the outdoor wasn't feasible, we thought of just checking out one of Hong Kong's major shopping mall in comfort, away from the windy, rainy outdoor. Almost all the tenants of the mall are international designer brand names from the higher ends one like Bally, Gucci, Burberry, Chanel and Mikimoto to more mid range ones like Zara, FCUK or Paul Smith that can also be found back home here (save a few like Samantha Thavasa and Vivienne Westwood). As soon as the heavy downpour turned into a drizzle, we left the mall to explore some nearby streets in hope to stumble upon some good food to fill our rumbling tummies.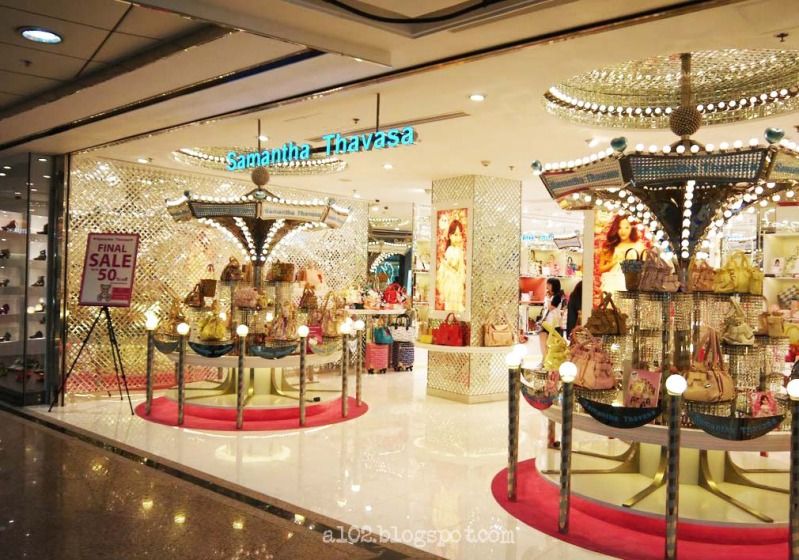 Samantha Thavasa - all bright and bling up with their signature bear hanging from their bags is the first shop to greet all shoppers who enters the mall from exit A1 of the Causeway Bay MTR station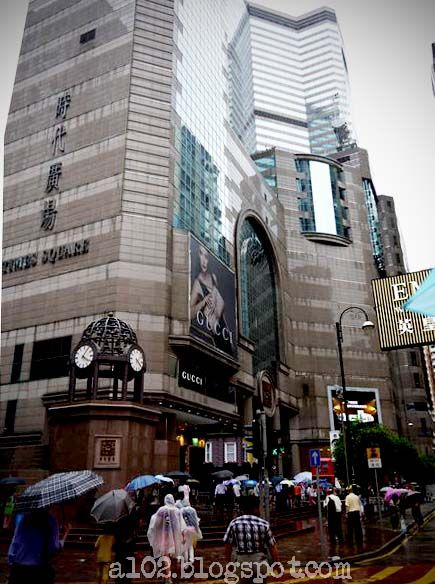 Despite HK's land restriction, the Times Square is one of HK's largest shopping mall with 9 stories of shops and two towers of office complexes
Walking along Yun Ping Road of Causeway Bay, another street filled with more designer shops and buildings. Seriously, with rents in the shopping areas of Causeway Bay ranking second highest in the world (slightly behind New York's Fifth Avenue), they are surely the more upmarket side of HK filled with a lot of trendy working-class young adult and the more affluent community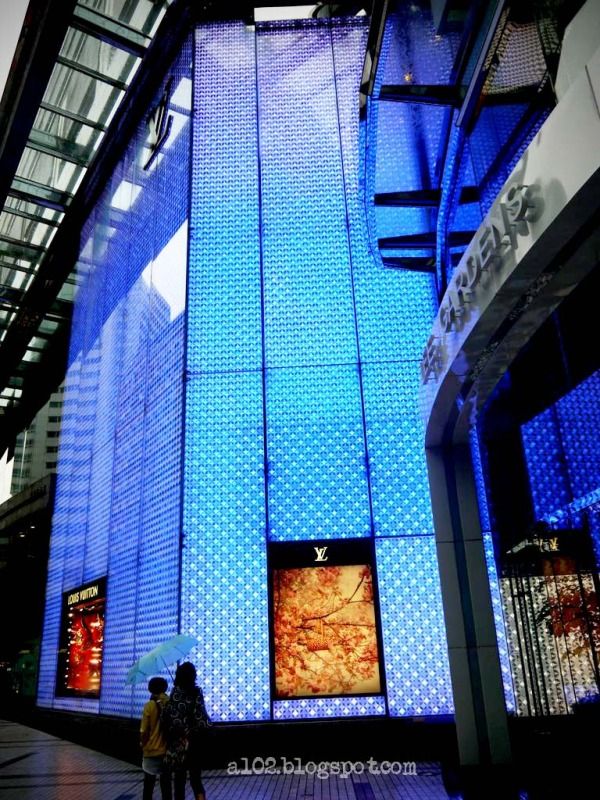 Louis Vuitton inside the Lee Gardens, another posh, classy high end mall located along Hysan Avenue of Causeway Bay
A whole building belonging to Cartier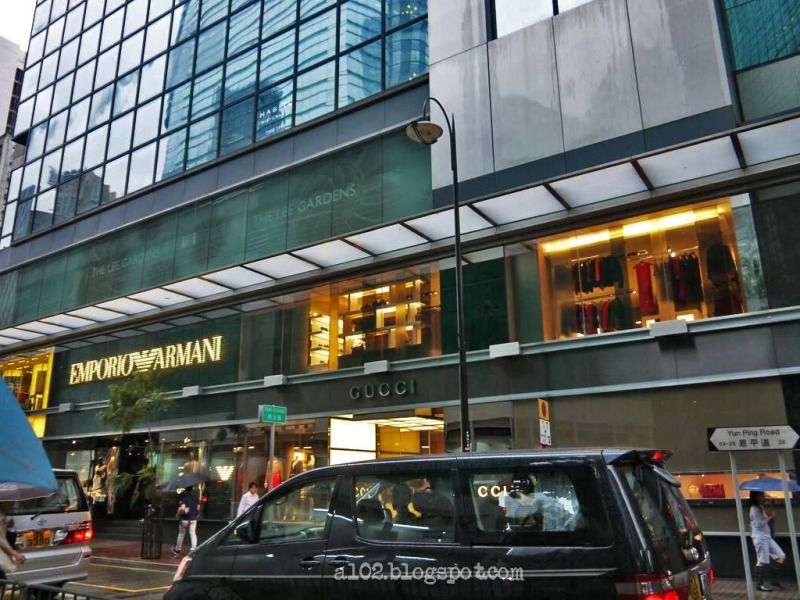 Aside from having a feel of where the more rich and posh side of HK shops, we also tried what is recommended as one of the best fish ball noodles in HK by a local travel magazine at Causeway Bay. Yes, apparently aside from the more well-known dim sum, HK porridge and wan tan noodles, the Hong Kies do love fish ball noodles pretty a lot too. Located along the East Canal Road (the road on the left from Times Square main lobby), the Kong Chai Kee established their first ever fish ball noodles branch there. They also claimed to be among the few restaurants in the island to have their own family-run factory that produces home-made fish balls the Chiu Chow style with 20 years history.
A bowl of hot, piping home made fish ball noodle on a cold day was simply heavenly. While the fish balls were bouncy and soft, they do lack a tad bit of fish taste imho. I found them not too bad but not too impressible as well
It was still raining by the time we left Causeway Bay and head to the Victoria Harbour and the Avenue of Stars. Funnily enough, it was like deja vu being at the Victoria Harbour, standing right before the parade of vessels and skyline of skyscrapers superimposed over the ridges behind although it was really just my first time there. I guess all the HK dramas and movies once again brought back that sense of familiarization. Even with the dull grayish sky as background, the view was pretty amazing, so it's easy to imagine how stunning the panaromic night view and skyline must-be, especially when the Symphony of Light comes alive at night. We unfortunately did not stay late enough to enjoy the night view or the Symphony of Light as the rain only got heavier as night falls and on rainy days, the Symphony of Light performance will also be cancel anyways.
The view at Victoria Harbour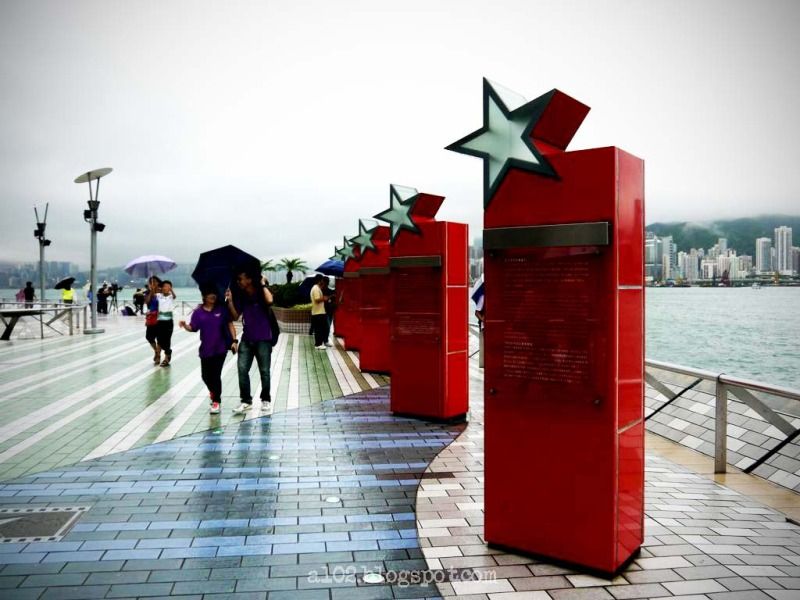 The Avenue of Stars (modeled after Hollywood Walk of Fame) is located along the Victoria Harbour waterfront, honoring some of the most famous people of the Hong Kong film industry in the past decades. Just remember to look down as you walk, as you excitedly look for the hand prints and signatures of some of your most favourite Hong Kong artiste deeply engraved onto their individual 'plate' on the pavement
Who do you think I'm most excited to look for here?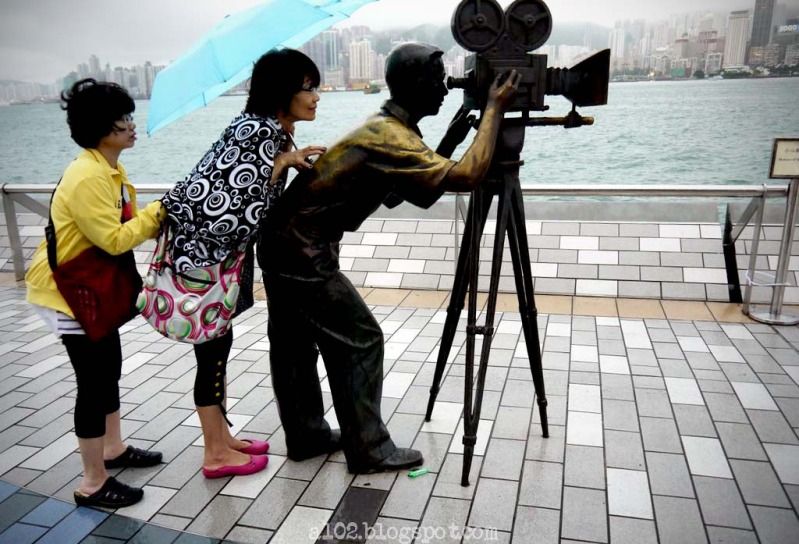 I love this pic. So cute :)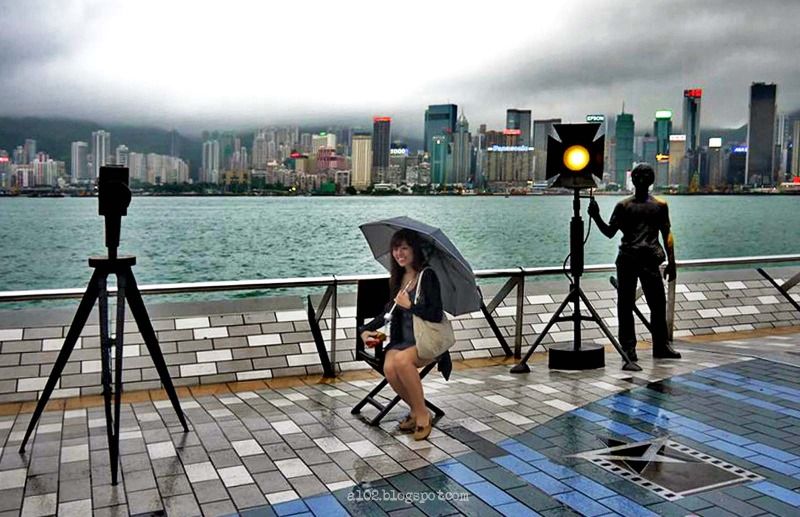 Lights, camera, action
Martial artist and one of HK most legendary artiste - a statue of Bruce Lee at the Avenue of Stars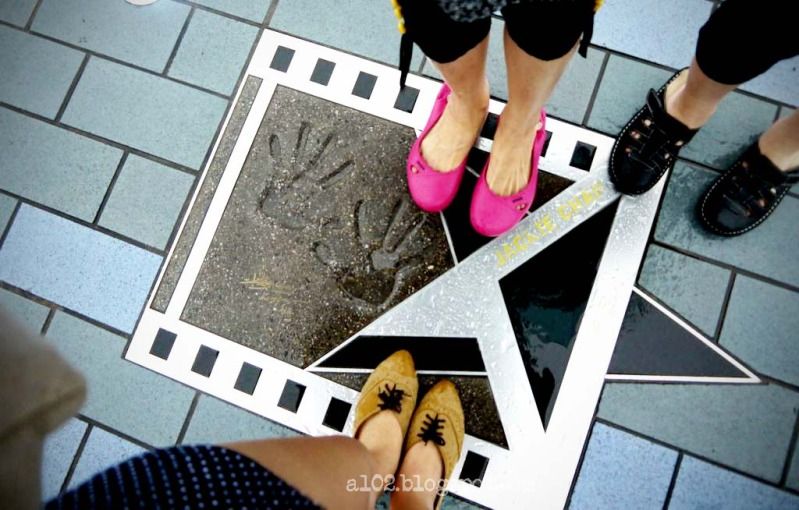 The most popular 'plate' - the plate of Jackie Chan. Seriously, every single minute, there are people queuing to take pictures with his plate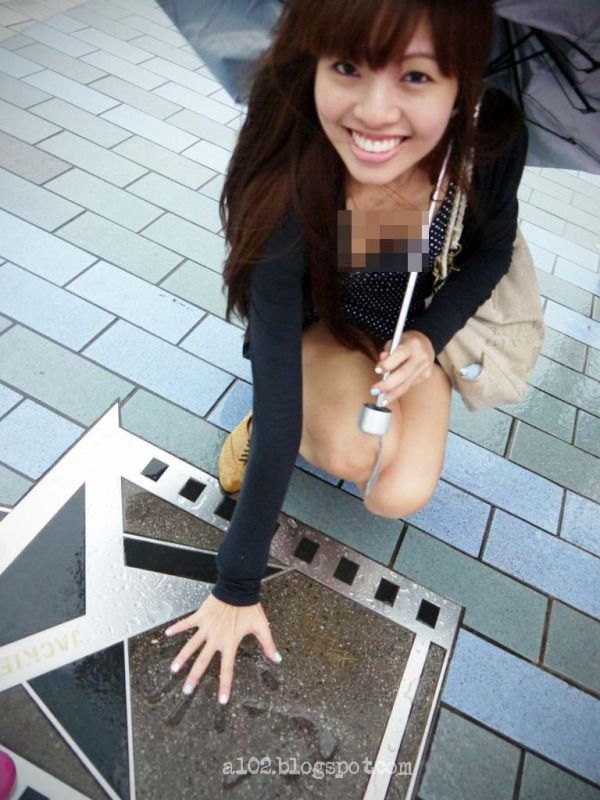 My hand is like only 1/3 of Jackie Chan's? I have got quite small hands. Haha
Ok, maybe 2/3 of his hand size :p
Among some other notable stars that had their hand prints there are like Jet Li, the Four Heavenly Kings (Andy Lau, Jacky Cheung, Aaron Kwok and Leon Lai), Maggie Cheung, Tony Leung, Stephen Chow, Chow Yun Fatt, the Hui brothers (Sam and Michael Hui), director John Woo and even our very own Michelle Yeoh! But out of the 100 plus list of stars they have there, they actually do NOT have Raymond Lam or Louis Koo!! Like why? They are both like my favourite Hong Kong stars and it was quite a bummer I couldn't find their names there :(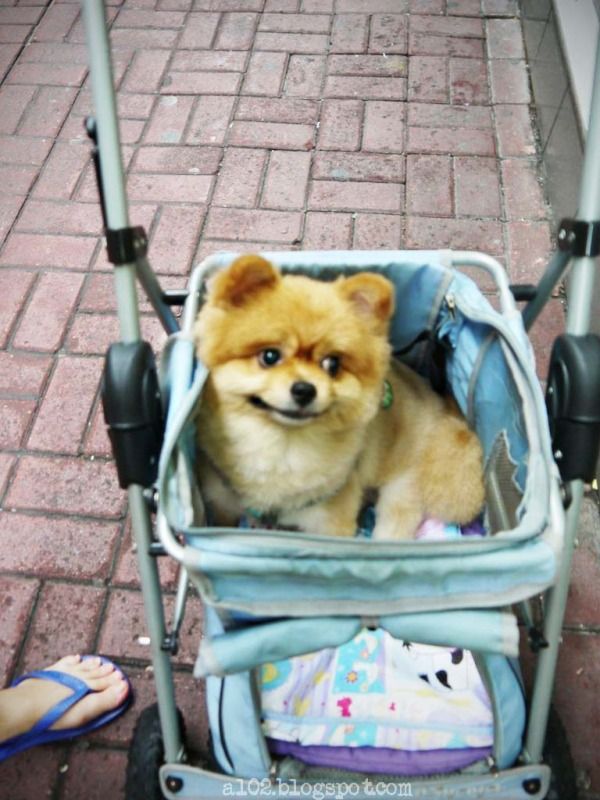 The Hong Kies super love dogs too I realized. I can easily see Filipino maids bringing their dogs out for walks especially in the morning. This pomeranian had the luxury of going around in a baby's pram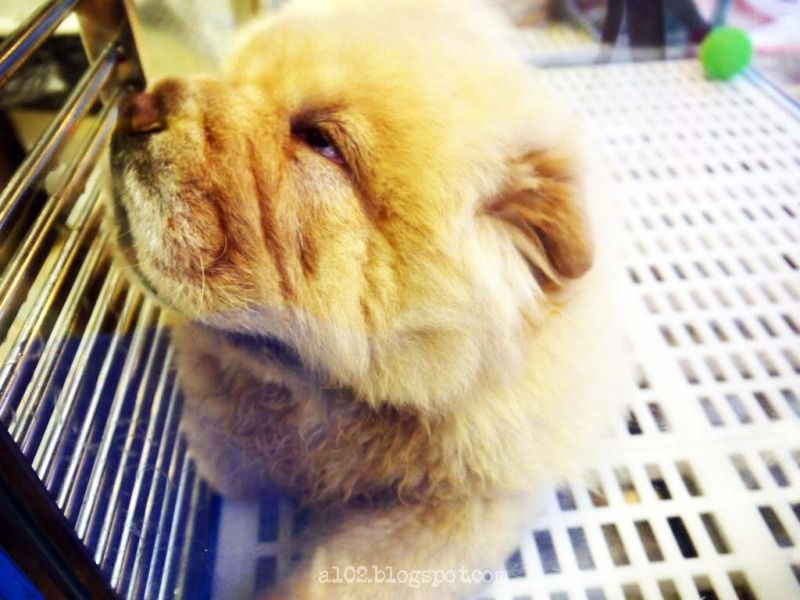 This super fat and fluffy chow chow is only like 1 month old. Such a poser too. He is so super duper cute I want to kidnap him home can
Mongkok - the most densely populated city in the world in fact (according to the Guinness World of Records) where they still preserves the traditional characteristics of HK with the array of markets, small shops and food stalls that are fast disappearing in rapidly developing Hong Kong. It is where more affordable, trendy and fashionable shopping, a mixture of old and new multi-storey buildings, brightly painted and lit huge signboards sticking out everywhere and good, yummy food can be found in abundant. It must be pretty crazy to live in Mongkok, having to squeeze your way through your daily life with thousands more of people; from lala teenagers to stylishly dressed men in blazers and ties and women in classy working suits at every corner of the district all the time
Argyle Street- one of the busiest street in Mongkok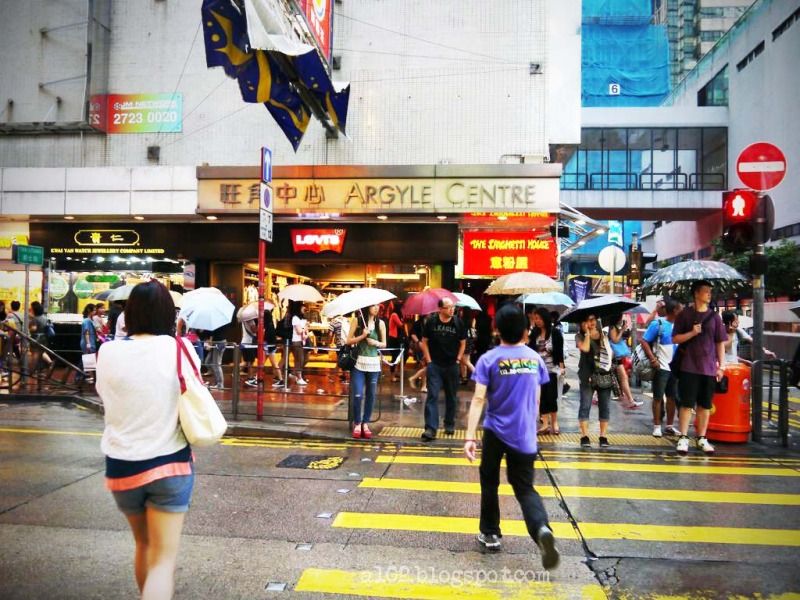 The Argyle Shopping Centre located less than 5 minutes walk from my guesthouse! Such bliss. They sell a lot of Korean/ Japan/ Bangkok style boutique clothes as compared to Hong Kong style and they are having summer sales when I was there so I managed to get quite a bit of good shopping from there. It's just that I kinda noticed a lot of their items are similar to those that I saw in Bangkok recently. Sometimes I'm just confused as to whether it's the Korean/ Jap/ HK style that Bangkok sells or the Korean/ Jap/ Bangkok style that HK sells if that makes sense
There are a few entrances to Argyle shopping centre and another one of them is directly opposite the exit D1 or D2 of the Mongkok MTR station
Among some of the stuff selling at Argyle shopping centre
Good news for Sasa fans. Sasa is everywhere in Hong Kong. You can find literally find one Sasa every few metres apart. And the best thing is, Sasa in Hong Kong is actually really cheap. It's like 1 set of Dolly Wink falsies is only RM 42 in HK and they are selling for RM 55 in Malaysia and 1 bottle of DKNY 'Be Delicious' perfume for RM 130-150 in Sasa HK *regret mode*
Mongkok on a rainy night
My sis doesn't want to show her face here that's why it is pixelated
Busy Mongkok traffic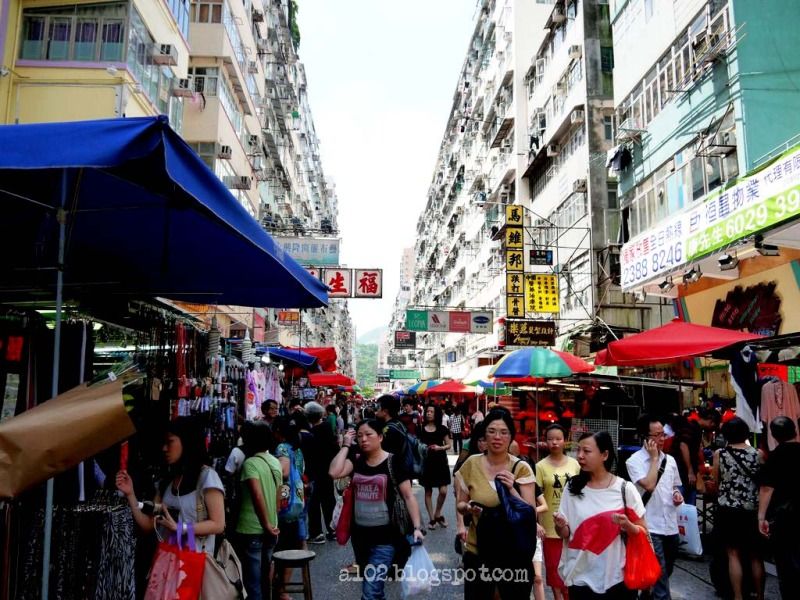 Fa Yuen Street market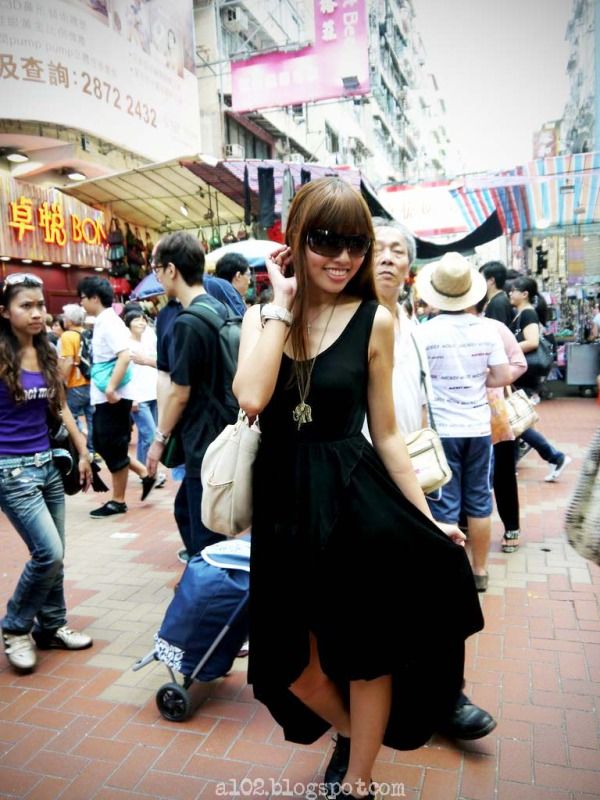 At the Ladies (or also known as Tung Choi Street) market. I got the dress from Argyle mall for only HKD 80. Such a steal!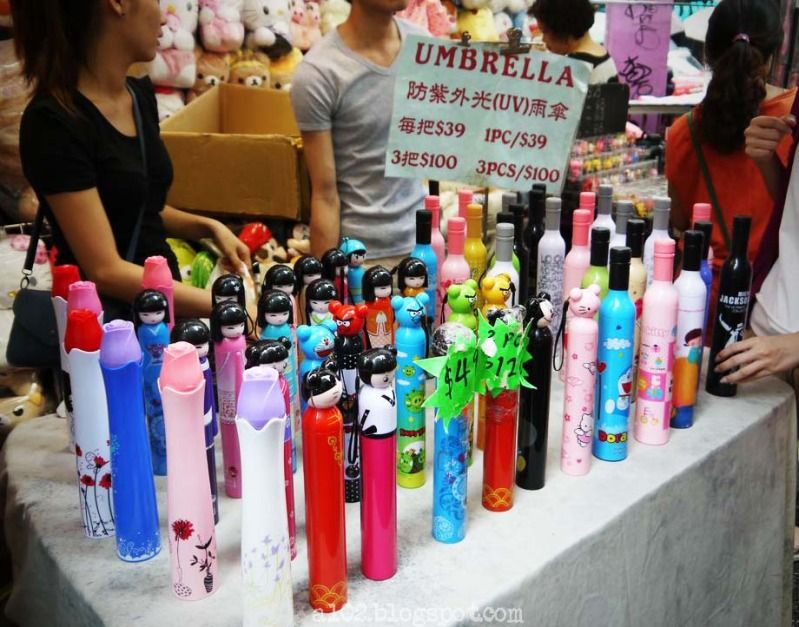 As it was raining so frequently, the umbrella quickly became my best friend throughout my trip. They are actually selling these fanciful umbrellas pretty cheap at the Ladies Market. We managed to find one stall that sold us these fanciful, cute umbrellas for HKD 30 (about RM 12) one
A whole lot of funky, cute and humorous luggage tags sold at HKD 20 (after bargaining) one. Almost same price as those similar luggage tags sold at the Platinum Mall in Bangkok. I just couldn't resist temptations like that, buying all those totally unnecessary but irresistibly adorable knick knacks
Other stalls around Ladies Market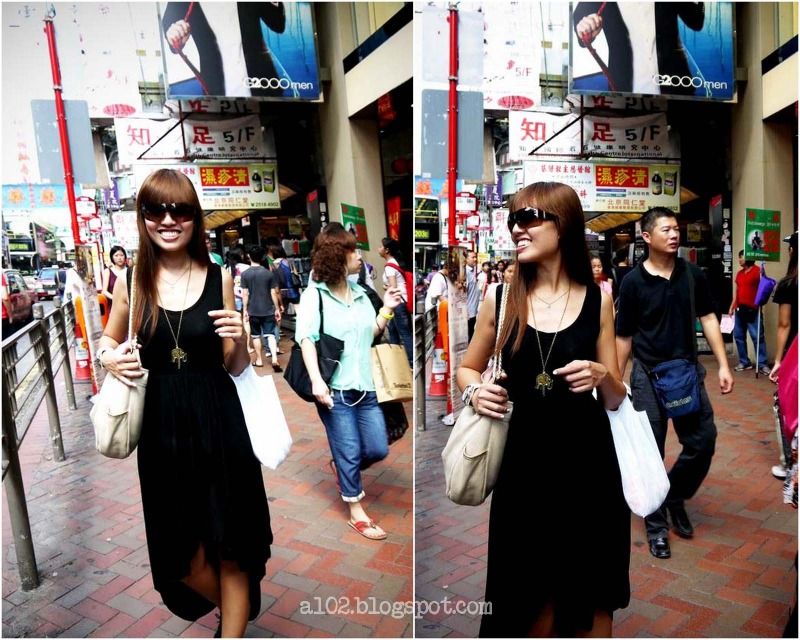 Blending in at the hustling streets of Mongkok
The famous Nathan Road
Brightly painted (and lit at night) huge signboards sticking out are a trademark of this district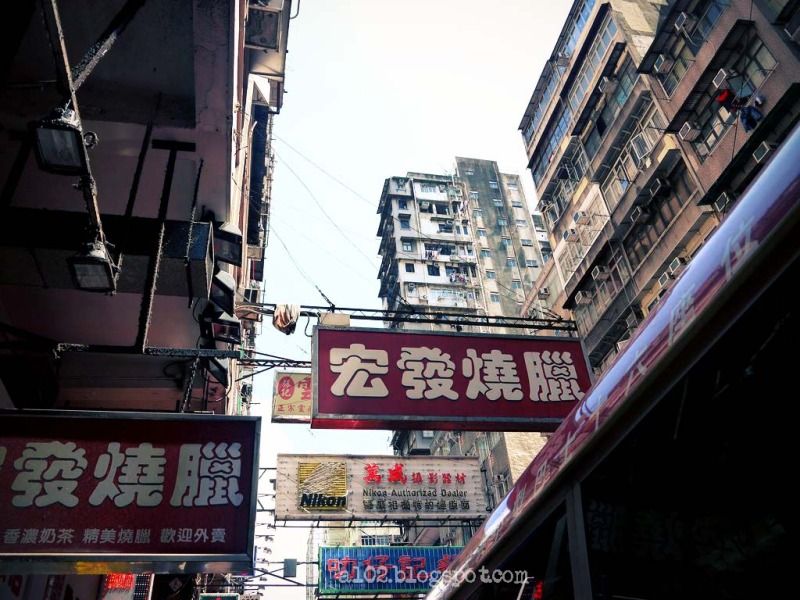 You know you are in Mongkok when you see these many signboards
Finally, on our last day in Hong Kong- a sunny day with the sun gently warming up the city
My whole recent trip to Hong Kong can be akin to eating stinky tofu really. We started out pretty rough and I didn't fancy the whole city much initially; so packed with people, so many traffic, so hectic, so busy and so cosmopolitan. Furthermore, the wet and damp weather didn't help much. But like the stinky tofu, (you know once you decided to bypass the smell and slowly savour it's real taste) once we starts savouring the flavours of the city in more depth, we realized beyond those sea of people, fast pace lifestyle, tall skyscrapers and mad traffic, Hong Kong has plenty of precious gems hidden waiting to be explore and to love as well. So, my impression towards the whole city pretty much shifted from the negative side to the positive side of the spectrum over the five days I was there. I will blog more about what to love or what gems of theirs actually changed my impression about this city in my coming posts, so till then, stay tuned and have a good Hari Raya weekend. :)