Rumoured to be among the best Italian restaurants in Johor Bahru, we decided to celebrate HT's birthday going Italian and checked it out last night. My previous attempts to dine there had always been futile, having to miss dining there each time after finding out that they were full house for the night (Yes, their business is just so good like that especially during peak hours, so if you don't call to reserve in advance, there are high chances you won't be able to get a table walking in).

Hence, I was pretty delighted when they announced that they had a table for us despite walking in once again to find it fully packed. I know, I should had called to reserve in advance, but in JB, we are still pretty fortunate to be able to get tables even at popular restaurants without reservation most of the time, thus it slipped my mind once again to call and made reservations. Thankfully, it had passed dinner time and some diners were already leaving so we had our table this time round. Located previously at Taman Sri Setia (the start/end point of the current EDL near the Malaysian checkpoint), they had moved to Taman Pelangi for quite a while now and they are bustling with people more than ever.

Everything in their menu has an Italian name but fret not if you are as illiterate to Italian as I'm because below it will be the description of the dish in English. They also have a 'special menu' section where they have a lists of dishes that they change every weekly or monthly so they will have refreshing dishes even for returning customers.


The signature crema di funghi- authentic home cooked mushroom soup to start the night
Bruschetta Al Pomodoro E Basilico- Almost perfect char grilled bread (minus some of the edges that was over grilled) topped with fresh tomatoes and garlic and drizzled with extra virgin olive oil and herbs
Melanzane Al Forno Alla Parmigiana - baked eggplants with mozzarella cheese, tomato sauce and basil.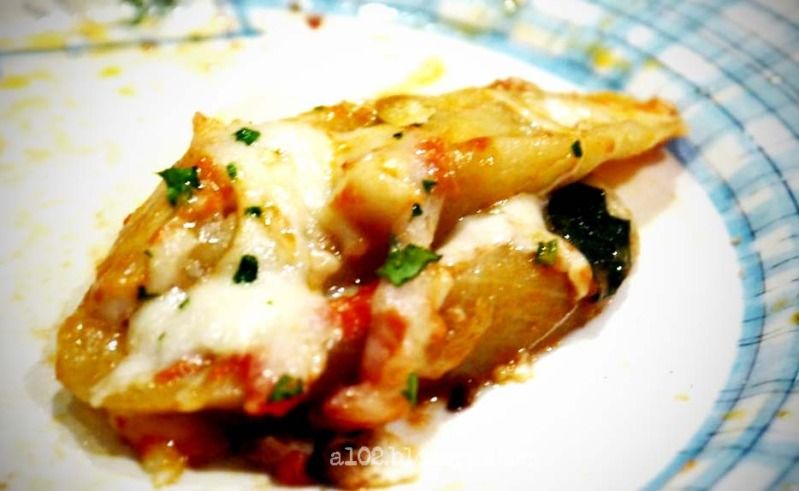 Individually, this is how the baked eggplant looks like. This was actually my least favourite dish of the night. They are more to the bland side and I thought the eggplants were a bit too watery and not cheesy enough
Any visit to an Italian restaurant will not be complete without a pizza. This is the Pizza All Rucola E Prosciutto D Anitra which in English simply means pizza with tomato, mozzarella, tomatoes, rocket and smoked duck breast. I love how the thin crust is so crispy to perfection and the smoked duck was heavenly to be eaten together. The downside though was that there were too few slices of the smoked duck and cheese! Seriously I realized they don't exactly bathed their food in abundant cheese as most of their food are simply not cheesy enough but mum really likes it because she says it's healthier with less cheese. T_T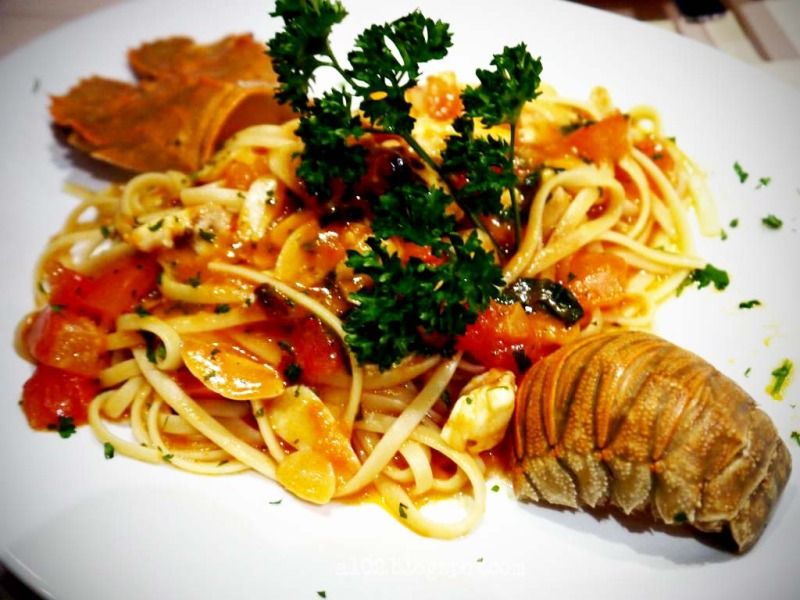 Linguine All' Aragosta - Linguine with baby lobster, garlic, chilli, extra virgin olive oil and fresh tomatoe. This is a cross between a sourish sweet taste and tinge of spiciness. I also love the freshness of the baby lobster
Spaghetti Alle Vongole E Vino Bianco - Spaghetti with fresh clams, garlic, extra virgin olive oil and a splashed of white wine. The clams were really as fresh as their name indicates and the splash of white wine was definitely delightful to the palate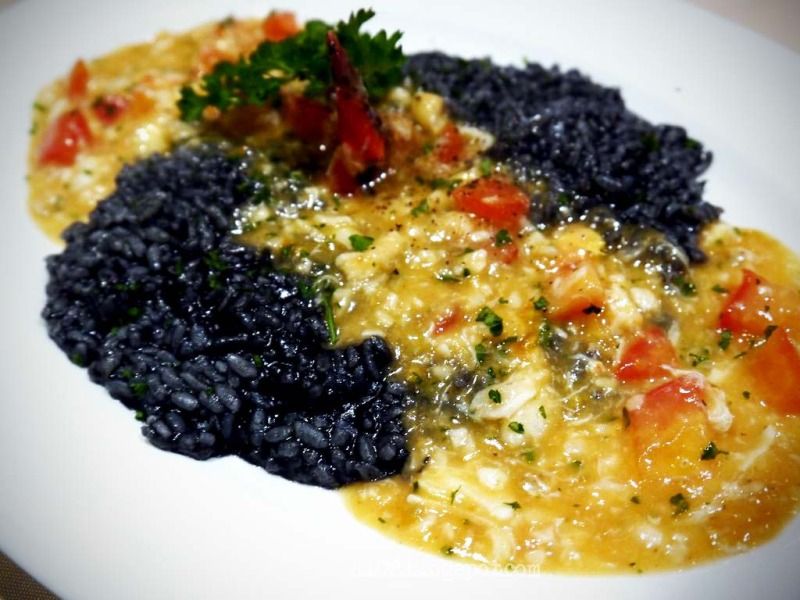 Risotto Al Nero Di Seppia E Polpa Di Granchio- Italian rice cooked with black squid ink (hence explaining the black color of the rice) and fresh crab meat
Grilled salmon fillet with brocoli, mustard sauce and potatoes. The salmon fillet was nicely done making each bite more tantalizing than before
Cranberry and raspberry sparkling fruit drink
Lastly, the birthday cake for desert. I was so excited when I first saw this fruit pavlova at Lavender the other day. I mean seriously, it is very difficult to look for pavlova in JB. In fact, I don't think I ever saw any place selling them before until recently. The verdict? The crust is pretty crispy alright but the inside is not as soft and light as it should have really been. It kinda have too much cream on the inside. But overall, it's passable with the fruits and crispy crust covering up for the cream and at least, it is available to satisfy my pavlova craves
The birthday boy ♥
Overall, the food at Rosmarino wasn't disappointing. It is pretty good Italian food (I rate 8/10) but as a cheeseaholic, I wish they had a tee wee bit more of cheese in my pizza instead. None the less, I still love their pizza; very flavorful and authentic, pastas, salmon and the mushroom soup. Besides, they have very good service and a nice, relax, comfortable ambience which adds on to their plus points. It is a little pricey to dine there but I think worth it for an enjoyable dinner. Now at least I found another place to head to whenever I craves for authentic thin crust, flavorful pizzas and pastas. And I personally do recommend to call and reserve in advance especially for big groups or peak hours to avoid disappointment of not having tables. :)
Rosmarino Italian Restaurant Sdn Bhd
65, Jalan Kuning 2,
Taman Pelangi,
80400 Johor Bahru
Tel : 07-3339033
Closed on Monday
PS : This is not an advertorial or paid review. All opinions are based on yours truly POV only, hence yours truly is not responsible for any discrimination in taste or opinion. :)