HT and I like to try to have a date night at least once a month. It can be anything from a simple good meal at any of our local favourite joint to splurging at some atas restaurant, but the point is at least once a month, we get dressed up and go out on a date. Hence, over Merdeka (National) Day, as we both had our day off for the week, we decided to drive into Singapore and satisfied ourselves with some really delicious food.


My all new 'I-Love-London' passport cover, ironically bought in Hong Kong for only HKD 20 (about RM 8). I really love it's cute design ♥
Outfit for the day
High-low dress - Hong Kong
Necklace - Forever 21
Watch - Fossil
Bracelet - Taiwan
Bag - Burberry Blue label
Wedge - Charles and Keith
One of my all time favourite food is definitely the Japanese food (I guess by now anyone who knows me long enough or who have been following this blog will have realize) and among the Japanese food, the ramen is definitely on the top of the list. Like seriously, give me a bowl of ramen at anytime of the day and I almost surely cannot resist it.
Thus, we decided to pay Ippudo Ramen, one of Japan's renowned ramen restaurant a visit. Having two branches here in Singapore (one at Mandarin Gallery along Orchard road and the other at UE Square), we went to the one at Mandarin Gallery. If you haven't heard of it, this ramen restaurant is so popular since their opening in 2009 that at every lunch or dinner time, there are definitely queues of people waiting to dine in their restaurant. We were there at about 6 pm, shortly before the dinner rush begun, so we managed to get a table without having to wait or queue.
The spicy shrimp mayo - these lightly battered deep fried juicy prawns dip in slighly spicy mayonnaise
is one good appetizer
The 5-kinds Cheese Jaga Balls - tantalizing little potato cheese balls in five different flavours that unfortunately all tasted pretty much the same to us. I felt that these cheese balls have more potato than cheese in them
Can't wait to tug into the hearty bowl of ramen!
One of the best original tonkotsu I have tried, the Shiromaru Motoaji- The broth itself, being a little creamy but still delicate have a distinctive strong but seriously aromatic pork bone taste that in combination with their springy, self-made thin noodles and luscious, glimmering piece of rosu chashu (pork loin) have this bowl of classic Hakata-style ramen sent delightful shivers down the palate with every mouthful
The Akamaru Shinaji - This more refined, modern style ramen has broth more enhanced with miso paste and garlic oil serves together with the pork belly also sends mouthful of delightful shivers down the palate for those who enjoy a twist of garlic frangrance to their tonkotsu and a little more fat in their buta
The distinguish noodles. You can choose to have your noodles done soft, medium or hard but my personal favourite is the soft kind
Add ons such as the gorgeous tamago, pork belly, tender pork cubes or a combination of all named the Akamaru Special (a combo of tamago, bamboo shoots and pork cubes) are also available
Unlike many Japanese ramen restaurant, Ippudo with it's warm, slightly dim lightings has a more classy and vibrant vibe
Aside from a whole other variety of ramens that we didn't got to try, they do have other Japanese appetizers and side dishes such as the gyoza, pork bun and rice dishes. However, they do not have sushi rolls though.
Well, the only thing I didn't like about Ippudo is the lack of privacy. Everyone are seated so closely together it's almost the same as sharing tables and it can get really awkward when you can hear the entire conversation of diners around you and vice versa. I mean seriously, with the tables being all so close by, it's literally more of an eat-and-go restaurant rather than one that you might want to bring your first date to.
Nonetheless, the ramens being the spotlight are definitely heavenly enough, making it worthy going all the way to Singapore just to have a taste of it.
:)
Ippudo Ramen Restaurant @ Mandarin Gallery,
333A, Orchard Road,
#04-02/03/04
Singapore 238867
Tel : +65- 6235 2797
The evening traffic at Orchard Road on a Friday
Despite the very delicious ramen, I was having very strong cravings for some real good chocolate (read : lava cake), hence after a little shopping at the nearby malls, we proceeded to one of my favourite chocolate bar, the Max Brenner (click to read my previous post on Max Brenner) for some late night sinful indulgence. Seriously, it is really the place to be for all chocolate lovers.
Just being in that place smelling the sweet aroma of chocolate released my endorphins already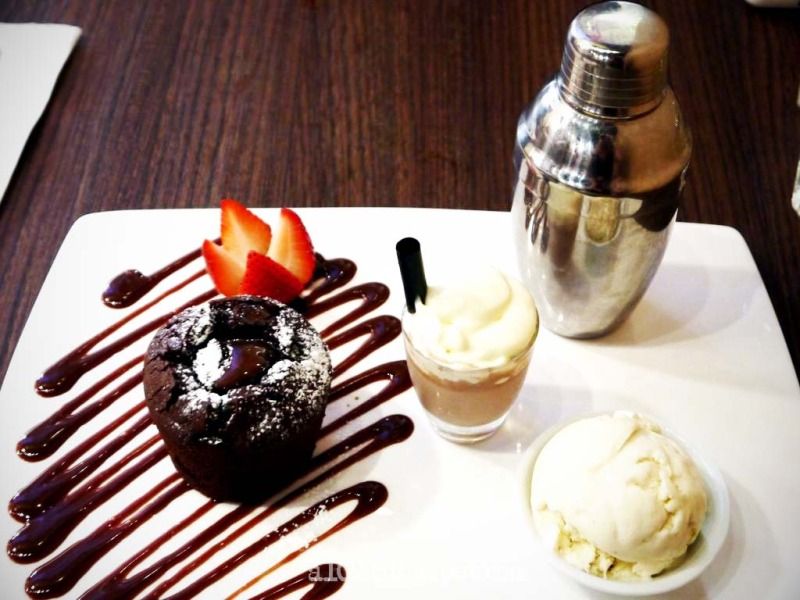 The Melting Chocolate Truffle Heart Cake and shake served with vanilla ice cream, strawberry and a miniature iced milk chocolate shot is one of the BEST lava cake ever
The chocolate rich cake filled with lushful and enticing chocolate also comes with a bottle of free flow chocolate that we could add on for a truly sinful chocolate love affair. There's just no way anyone will not feel happy finishing up that piece of oozing, tantalizing, mouth-watering lava cake (best eaten with the vanilla ice cream), at least I know this is definitely my no.1 comfort food. Just looking and thinking of it makes me drown in some degree of happiness already
Oh, the chocolate,oh chocolate! Yum to the max ♥
The Suckao - Do-it-yourself chocolate shot
So one gets to mix the milk with as much of the chocolate chips as they prefer and HT's one was one rich, concentrated wicked shot of dark chocolate
I decided to tone down all those divine dark chocolate with a cup of strawberry white chocolate smoothie blending pure white chocolate truffle, yogurt and fresh strawberries. The sourish sweet combinaton is certainly a perfect finish for the sugar rush
All those sinful, divine, lusty, tempting chocolate definitely makes me a happy happy girl ♥ (trust me, I don't usually take so many duck lip pictures)
Max Brenner Chocolate Bar,
8 Raffles Avenue,
#01-06/08, Esplanade Mall,
Singapore 039892
Tel : +65- 6235 9556
The Singapore skyline from the Esplanade
It was a perfect date night, with all the chocolate partially responsible for the serotonin surge that surely elevated my mood. Speaking of how good food can keep one happy too. JB, can we have an Ippudo and Max Brenner too pretty please? There's just too many Taiwanese and HK dessert shops around JB, I need a good chocolate bar too.
Seriously, when life is so good and if anyone tries to ruin it for you just because they are sour grapes like that, forget about them and treat yourself with these savoury ramen and end your day by balancing it with this perfect chocolate truffle heart cake instead. A definite love to spend with the love one. ♥ :)
PS : This is not an advertorial or paid review. All opinions are based on yours truly POV only, hence yours truly is not responsible for any discrimination in taste or opinion. :)