Revisited the super gorgeous paradise Perhentian early last month, a few days after my birthday. My first visit there was in 2010 (click here to read previous post and see beautiful pictures) and since then, Perhentian Island has always hold the top spot as my most favourite place in Malaysia. I mean seriously, if oozing, sinful chocolate lava cake is my no.1 comfort food, Long Beach Perhentian Kecil is my no.1 comfort destination locally.

We decided to take the long drive up instead of flying because we were diving Perhentian Island this time round so we couldn't afford the flight interval time (from our last dive). I was super excited to revisit the island again because I had missed it so much and this time round, we would be diving instead! It was definitely a nostalgic drive up Turtle Land (oh, how I missed using that term. haha!) and as HT said it, I don't think I had ever enjoyed the scenery along that part of the east coast so much.

Despite it quite being the monsoon season already, it was still gorgeously sunny at Perhentian. For the three days we were there, the sun gave us absolutely generous amount of vitamin D, tanning us at the same time making me at least three times tanner than I already am (not that I'm complaining). The sky was perfectly blue with white fluffy clouds floating in the distance during the day and dotted with bright blinking stars at night, the sea water still as crystal clear as before you just want to soak in them forever and those soft, warm, white sand so gentle to your feet you will want to walk in them forever too. I'm honestly not exaggerating. That is how beautiful and mesmerizing Perhentian is, although I will have to admit the amount of garbage gathered had increased significantly from my last visit. The Long Beach is one of the only remaining gem that is clear of dead corals and that's one of the reason I loooooveeeeeeeeeeeeeeeeeeeeeeeee it so much.


Just the thought of the place sends me gush of happiness already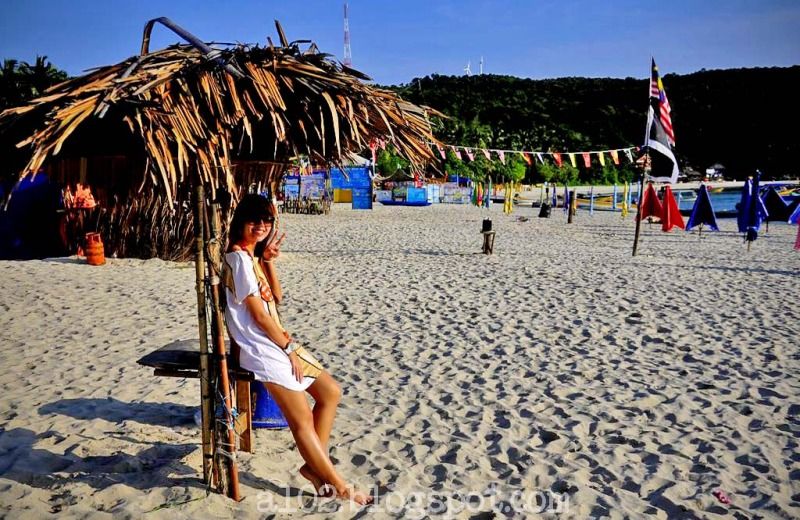 The Long Beach at 8 in the morning, the best time to camwhore because there are just so few people around it's almost like your own private beach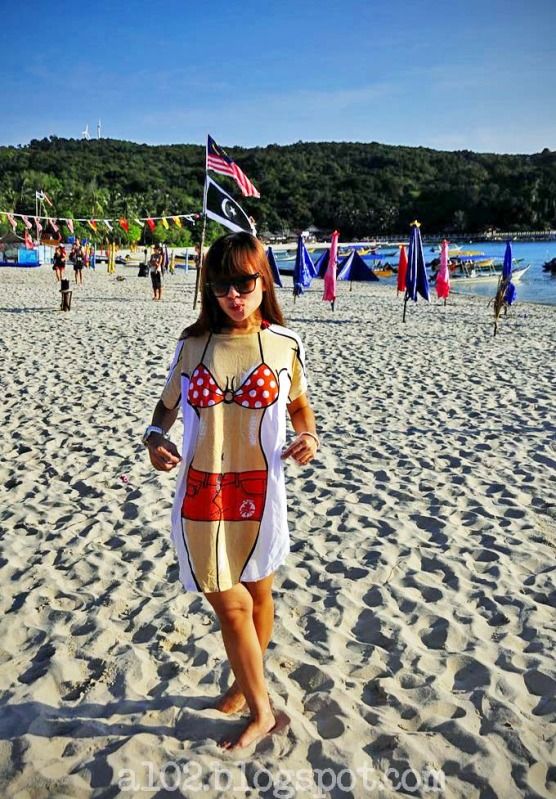 I wish I had a bikini body like that! Haha! Got the shirt from Bangkok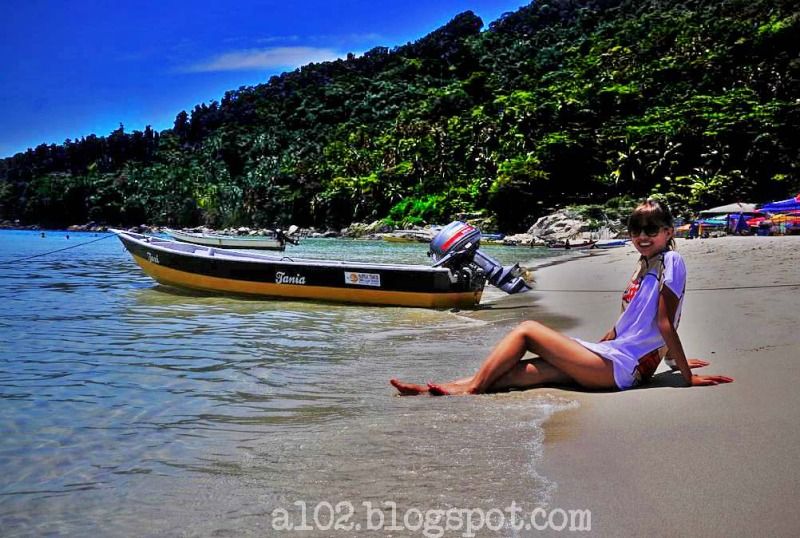 When we were not diving, we just sit around the beach and chill as clear, lukewarm water bathe our feet and stunning view feed our eyes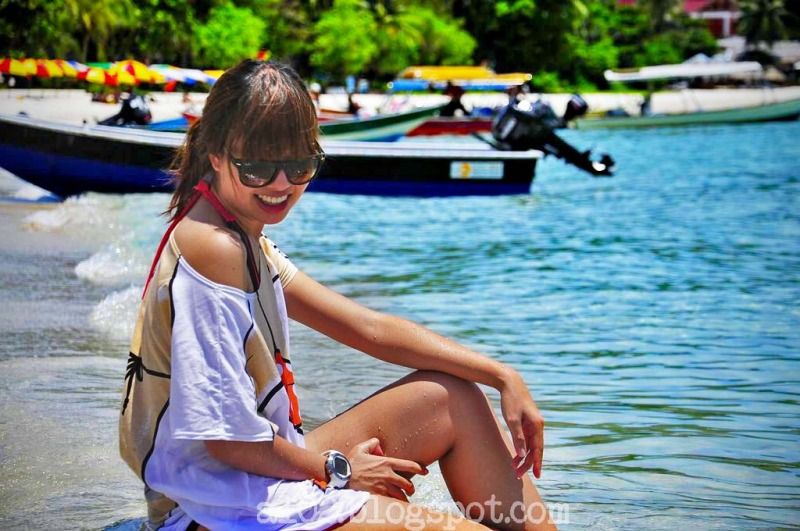 The island is so so so gorgeous I can't help putting in a few more pictures of it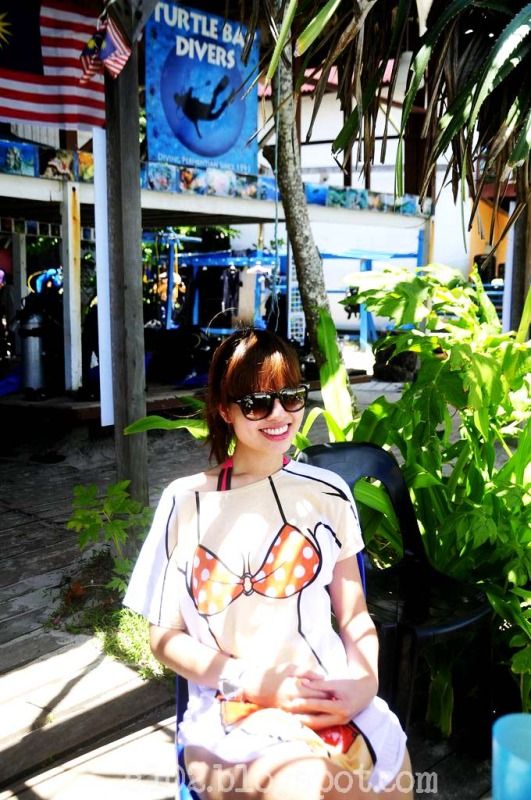 We bought the dive package from Turtle Bay Divers during the MIDE at only RM 450 per person that includes accomodation, equipment rental and a dive master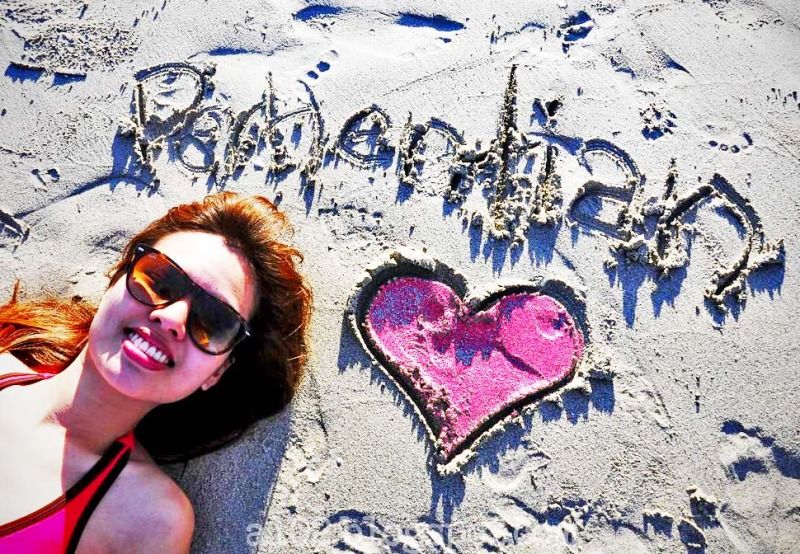 ♥
Such is bliss - spending the evening washing away all tiredness by soaking in warm, clear sea water as the last rays of sun glows through the sky watching ships and boats passed far away in the horizon
Between dives
Dive sites around Perhentian Island. We did a total of 6 dives in 3 days- diving Batu Layar, D' Lagoon, the Pinnacle aka Temple of the Sea, Terumbu Tiga, Shark Point and Sugar Wreck; one of the few wreck dive site allowed for open water divers and it was very exciting diving around the wreck site as it is more challenging and sort of our first wreck dive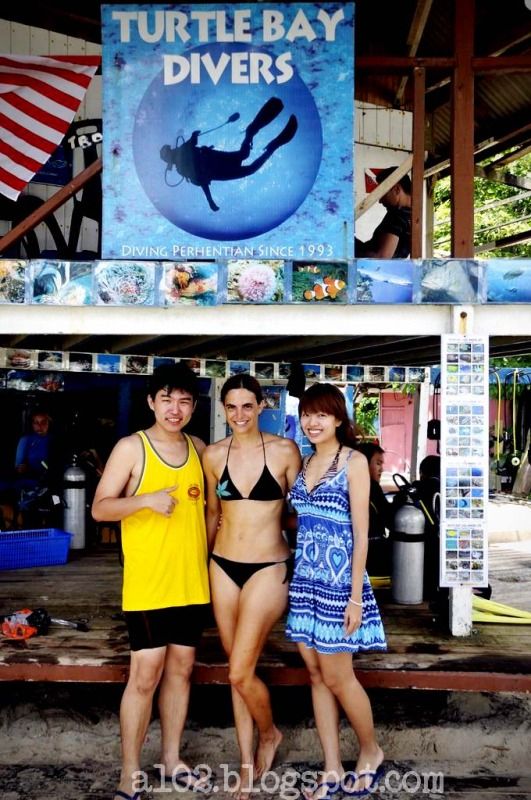 HT, Sandra and I post-dive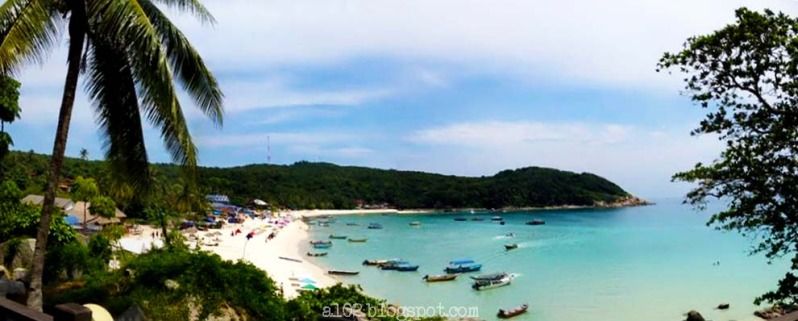 More alluring views of the island to delight the eyes
Seriously, I'm no pro at taking underwater pictures, but the underwater world is just too captivating I cannot resist trying to take pictures of those charming sea creatures as well. I simply love the feeling of diving (minus the equalizing part)- the feeling of being able to swim slowly deep in the sea surrounded by the vast marine life, blending in with those pretty and cute yet some potentially dangerous sea fishes and hearing nothing but just the music of the sea. And of course, unlike snorkeling, with diving I really got to know those unique sea creatures better as we also learn their names and learn to identify them.
This dive trip had certainly been rewarding even though we missed the whale shark that actually came by the day before. None the less, we managed to spot some really interesting and exquisite tropical marine life like the bamboo shark, coral catshark, blue spotted stingray, Jenkin's Whipray, white-eyed moray eel, zebra lionfish, scorpion fish, indian ocean walkman, starry pufferfish, black-spotted pufferfish, reticulated pufferfish (but no, all the pufferfishes did not blow up like how I had imagine them to be), yellow boxfish juvenile, shaded batfish, humphead parrotfish, barracudas, porcupinefish, turtles and my beloved western clownfish among others. Honestly, maybe if I had not take up medicine, I might just be doing marine biology. hehe!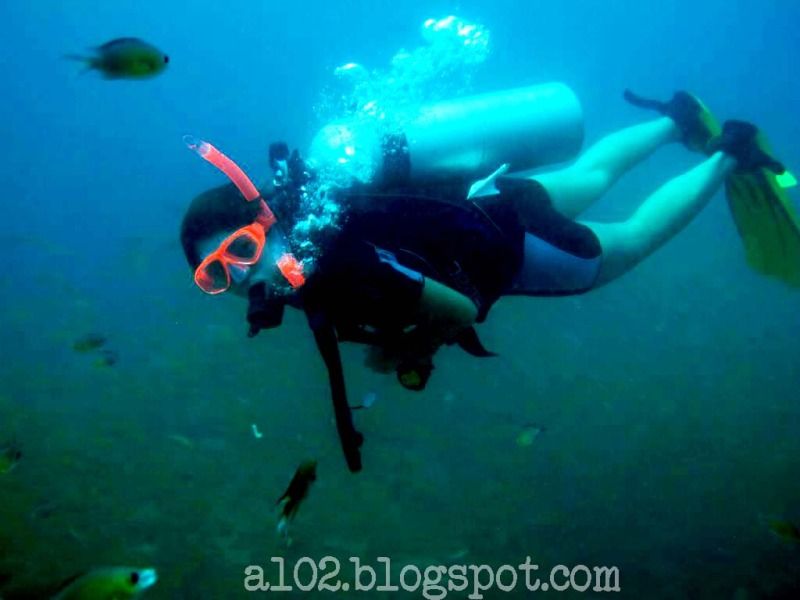 The entire school of yellowtail barracuda in the background (not clearly seen here though unfortunately)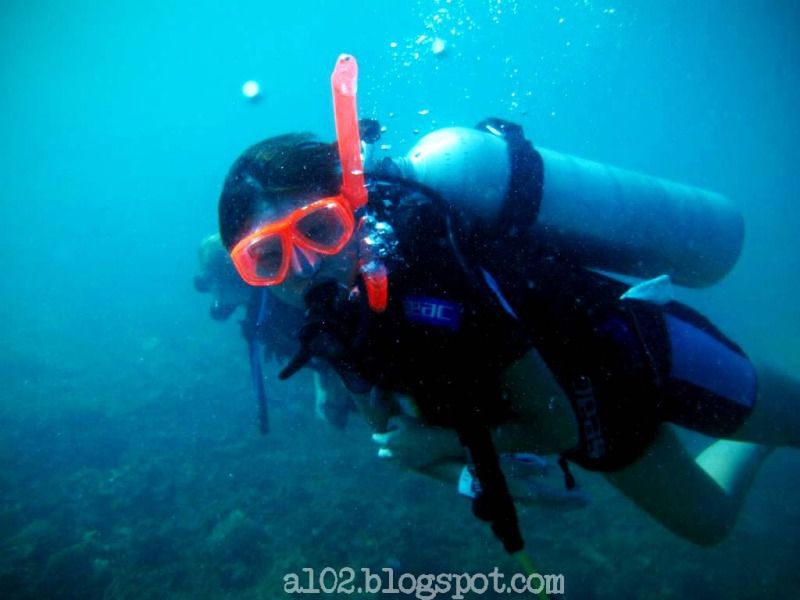 Diving Perhentian Island 2012
With the rest of the dive buddies
The absolutely cuteeeee Western clownfishes. They get two pics because they are my favourite fish ♥
The school of yellowtail barracudas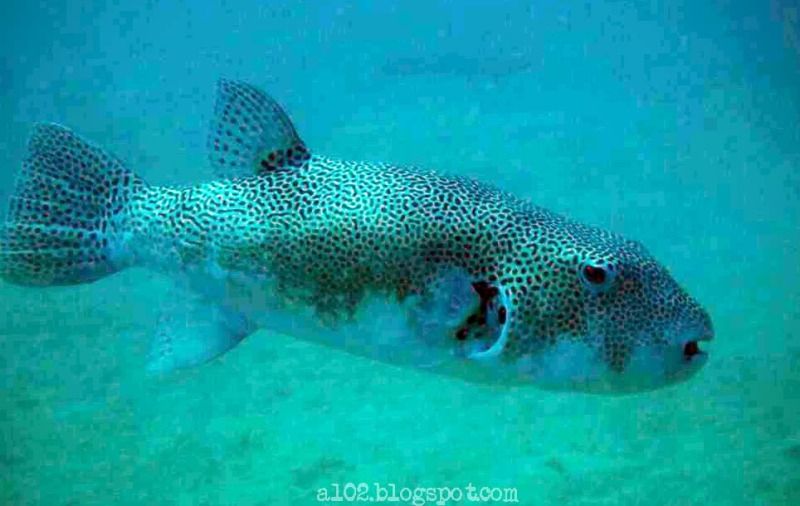 Say hello to the Starry Pufferfish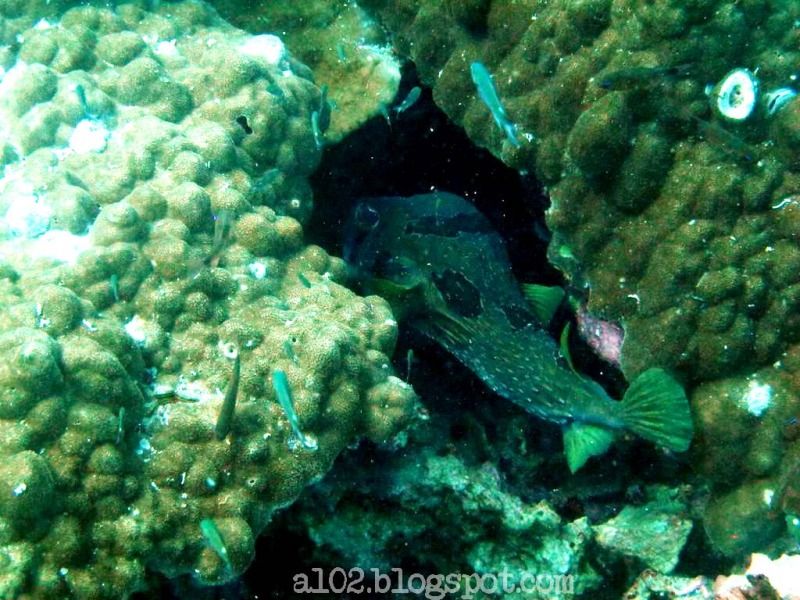 This shy fella trying to hide itself is the black botched porcupinefish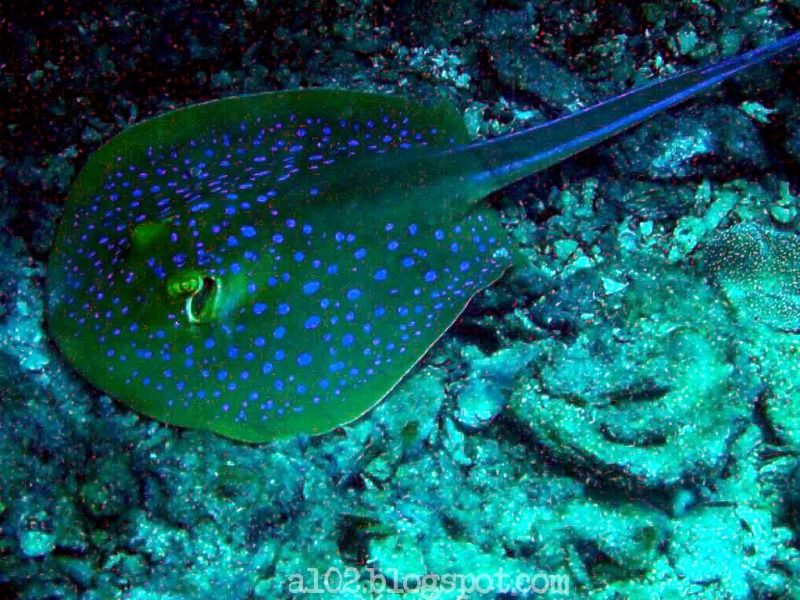 The blue-spotted stingray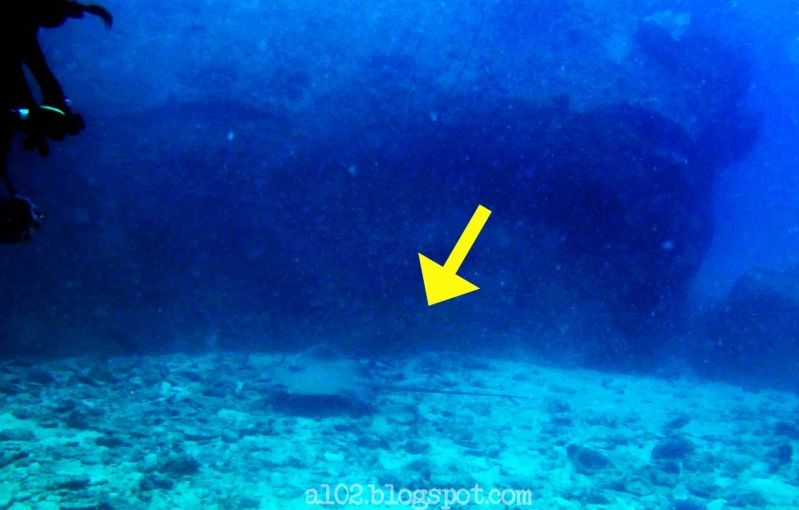 The really huge Jenkin's whipray that was moving really fast too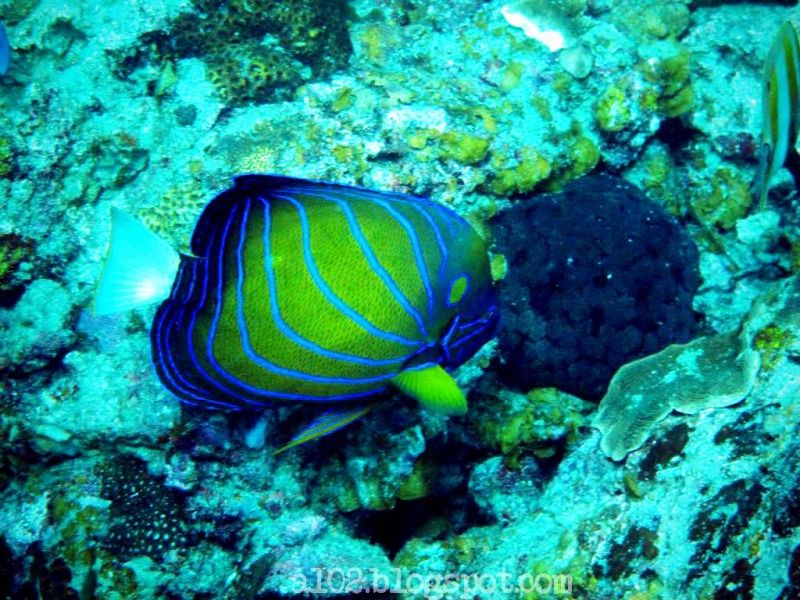 The very pretty blue ringed angelfish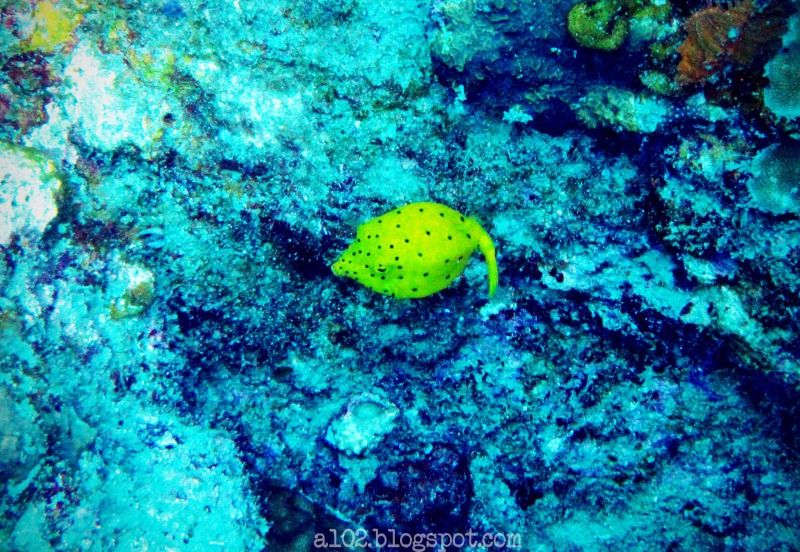 The yellow boxfish juvenile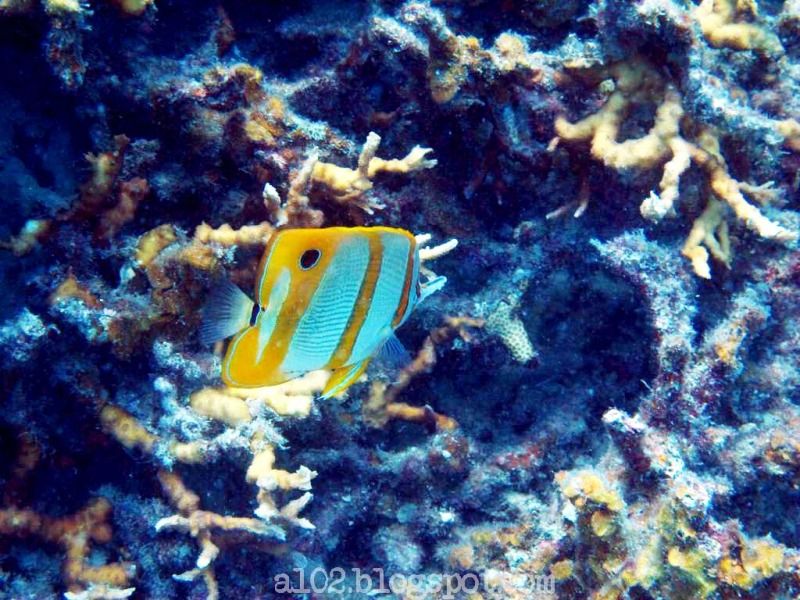 The orange-banded coralfish
Another of my favourite- the very pretty rainbow parrot fish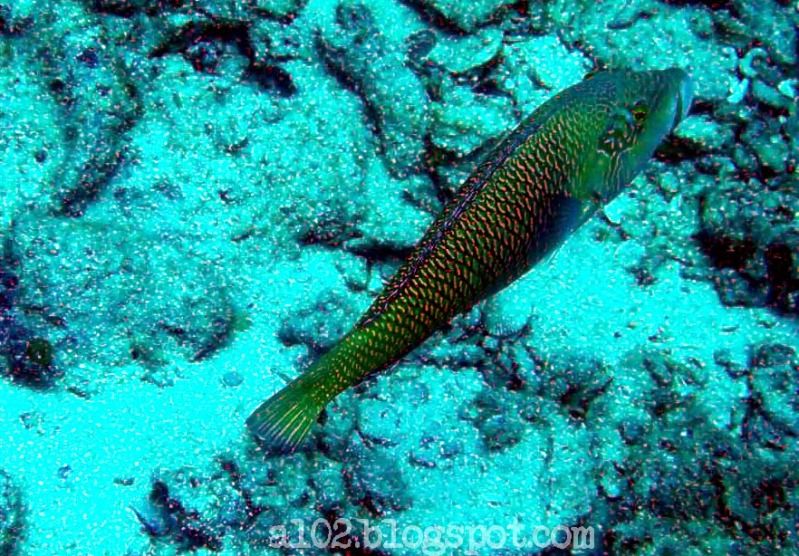 Another family of the parrot fish
A Nudibranch - the Funeral Juveno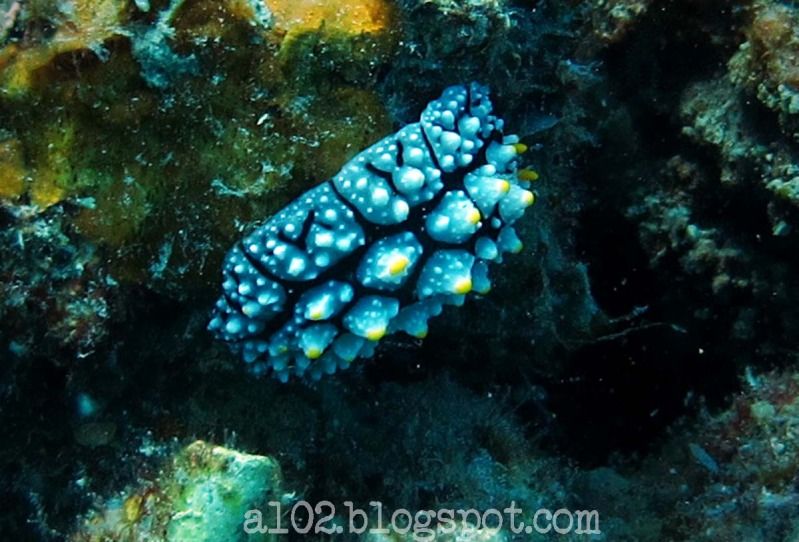 Another colourful Nudibranch- Phyllidia varicosa
The very well camouflaged Indian Ocean Walkman!
Try identifying the Indian Ocean Walkman here. Seriously they are so cleverly camouflaged







The smooth flutemouth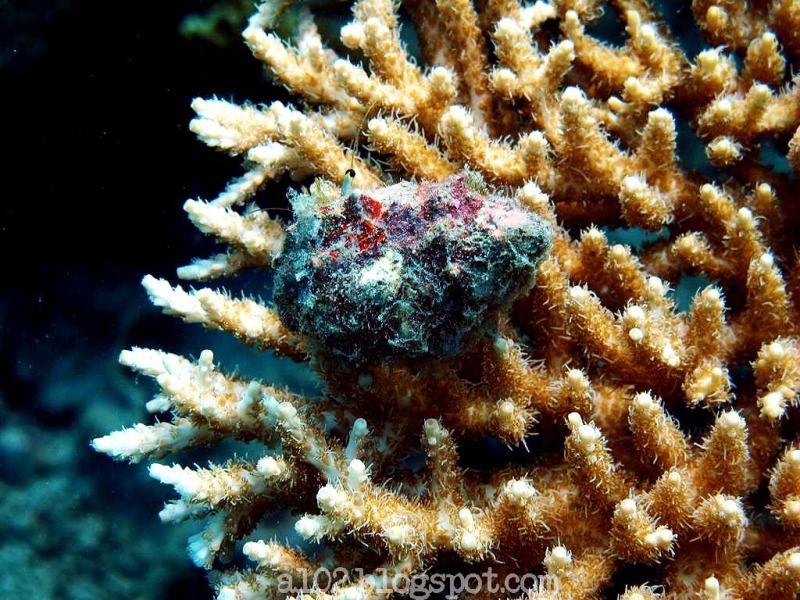 The hermit crab
Top view of the hermit crab
Saw a few green sea turtles but only managed to get one good shot of this green sea turtle with the shark suckers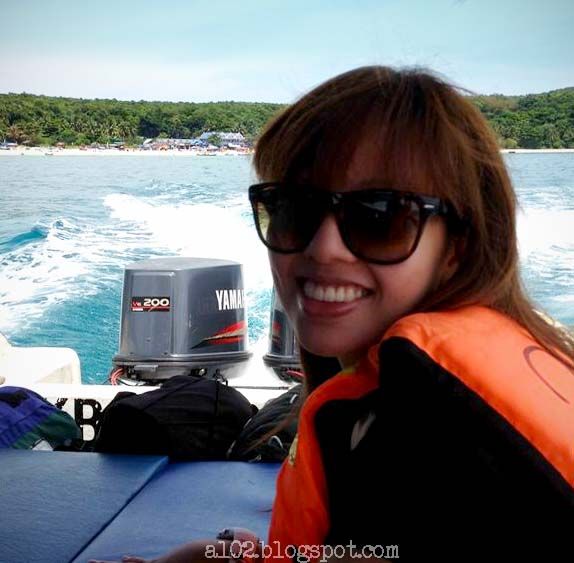 Bidding the infreakingsanely beautiful little paradise goodbye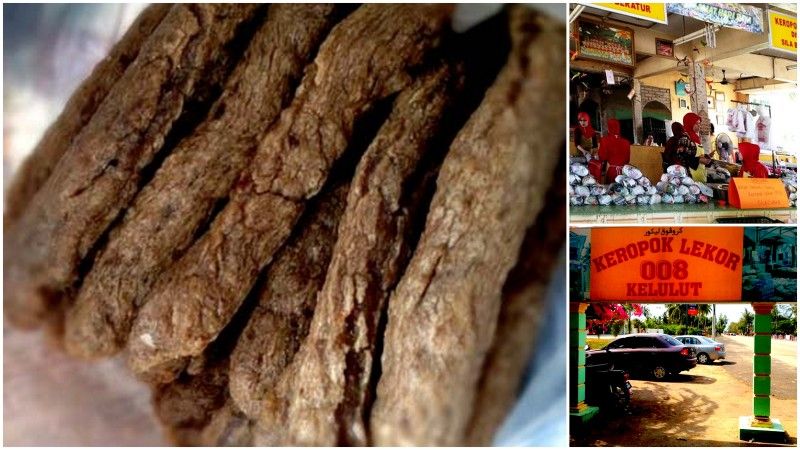 Since we were in Turtle Land, took the opportunity to buy some keropok lekor from one of Turtle Land (Kuala Terengganu) most famous keropok lekor stall. It's RM 5 for 20 keropok lekor! Other than the fried one, this stall also sells the steam one which I don't quite fancy and they are actually coming up with a new cheese flavour one (which we had the liberty to try but imho there's not much cheese), so a fusion of cheese keropok lekor next time?
As I had said before, the fruit juices of Kuala Terengganu are the best in the whole Malaysia. Nowhere else can you get such huge, pure and concentrated fruit juices at such cheap price (like only RM 3 per glass) and the most unique part is in fact, there are famous for their mix fruit juices so try that if you ever drop by Turtle Land!
This time round, we stayed at D' Rock Garden also on the Long Beach which like it's name indicates, located on the rocks so we get to enjoy beautiful seaview scenery even from our rooms. But the downside being, it is quite a climb to get to our chalets so unless one is absolutely physically fit, if not it can be quite tiring especially after a long day of diving. None the less, it is one of the more affordable chalets (as long as you don't mind basic type of accomodation) and it is on the Long Beach side so I still get to enjoy my favourite part of Perhentian without having to walk across the island or being terrorize by monitor lizards.
Although it was a very short and pretty packed getaway (back to back diving), but being able to spend even a little time secluded on that piece of little paradise just enjoying the pure bliss of waking up to the sound of crashing waves and being greeted by warm, glowing sun, crystal clear water, white soft sand, cool sea breeze, pleasant smell of the salty sea and the bluest sky away from the hectic world is the definite perfect stress-buster. I can't think of a better way to relax an afternoon away other than to just practice the art of doing nothing by a superbly attractive beach, taking in the surrounding with some soothing music, ice-cold milkshake and perhaps a good read or a good sleep under one of those umbrellas (which we now had to rent at RM 10). Not forgetting, the dives itself were already worth the drive up and down JB-KT.
Perhaps just a little community message - let's just all remember to keep the beach and island clean! The reason it is so beautiful and awesomely gorgeous now is because it is still fairly clean so let's all be responsible tourists and maintained it as a paradise as it is now. If not, I for one will definitely be heart-broken to know that my no.1 comfort destination is ruin by garbages from over-tourism.
Seriously, I'm so missing this piece of little paradise now. Anyone, transport me back there now, pretty please? ♥ :)