Back to complete my Hong Kong travelogue. Had been deviating a little in my few previous posts but I was just too excited to share about those celebrations and my diving trip *wink*. Anyhoos, to refresh, click on both links below to read previous Hong Kong posts. :)
Hong Kong Part 1
Hong Kong Part 2

On our 3rd day in the land of glorious dim sum (Hong Kong), we decided to spend it at Hong Kong Disneyland. It was a tough choice really, choosing between two of Hong Kong's most renowned theme parks; the Ocean Park and the Disneyland, but after some consideration, we decided to go for the latter. This was my second time to the Disneyland, my first being to the Tokyo Disneyland in 2008, but all the same, I was just as excited. I don't know about you, but there's just something about Disneyland that constantly makes me happy. Perhaps it's just the simple fact that I enjoy watching lots of Walt Disney movies or just love lots of the Disney quotes so much so that going to Disneyland always felt magical.

Many had commented that the Hong Kong Disneyland is really small etc and indeed it is true, after comparing it to the Tokyo one in my case, but Disneyland being Disneyland, they still have Mickey, Minnie and the rest of the Disney characters, the characteristic "themed lands" such as Tomorrowland, Adventureland, Fantasyland, Main street U.S.A, Grizzly Gulch (equivalent to the Frontierland) that was just recently opened in July and even an Asia exclusive, the Toy Story Land that can only be found in Hong Kong Disneyland (the only other counterpart is in France). They have a few themed lands, rides and attractions lesser but most of the main and popular ones are also there. And of course, being Hong Kong, it's a Disneyland filled with casts that speaks Cantonese, Mandarin and English.


The Disney themed Disneyland MTR has to be the cutest with it's distinctive Mickey's ear windows making even adults felt like kids in it
Interiorly, they also have all these Mickey's ear hand rings on top of many Disney figurines placed all around the MTR
Can't wait to explore the rest of the place already! Even the cold and wet weather could not dampen my spirit of excitement. No matter what number of age I'm, I still love Walt Disney, I still love the magical feeling they always evoke and I still love day dreaming about their fantasy world. I'm still a kid at heart you know (the fact that my 4S cover is Walt Disney is pretty self-explanatory,no? *hehe*)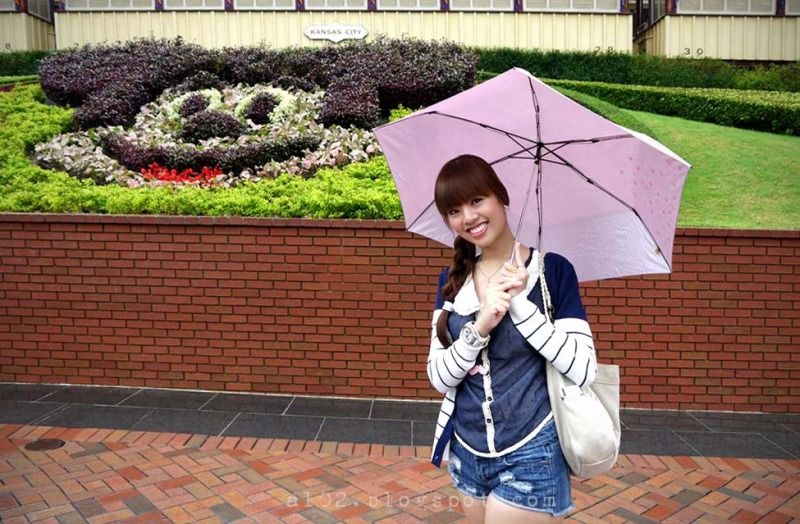 A really tiny and quite distorted Mickey flower arrangement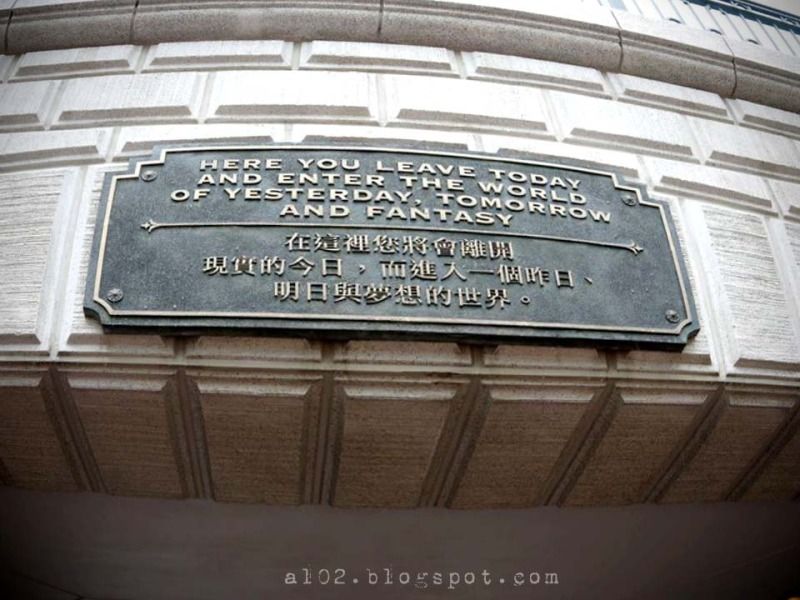 Be prepare as you enter the world of yesterday, tomorrow and fantasy leaving behind today
Bling Mickey's ear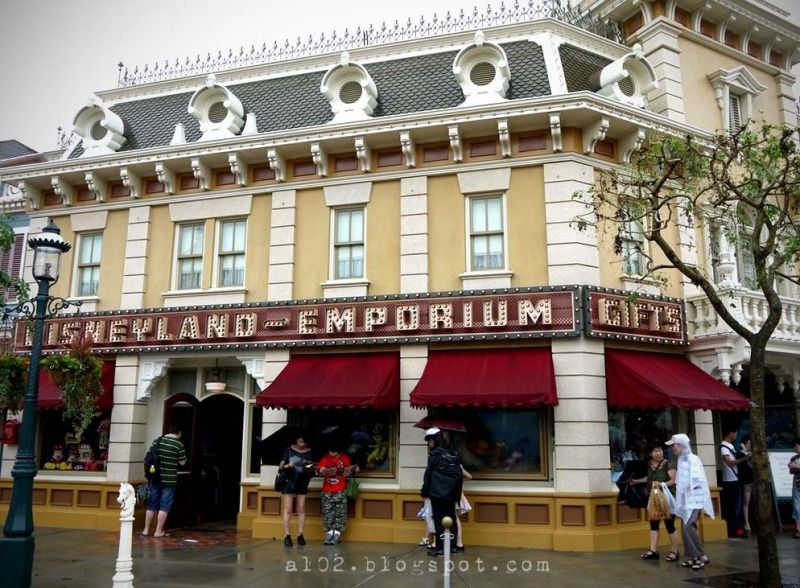 Main Street U.S.A where the main gift and souvenir shops are usually located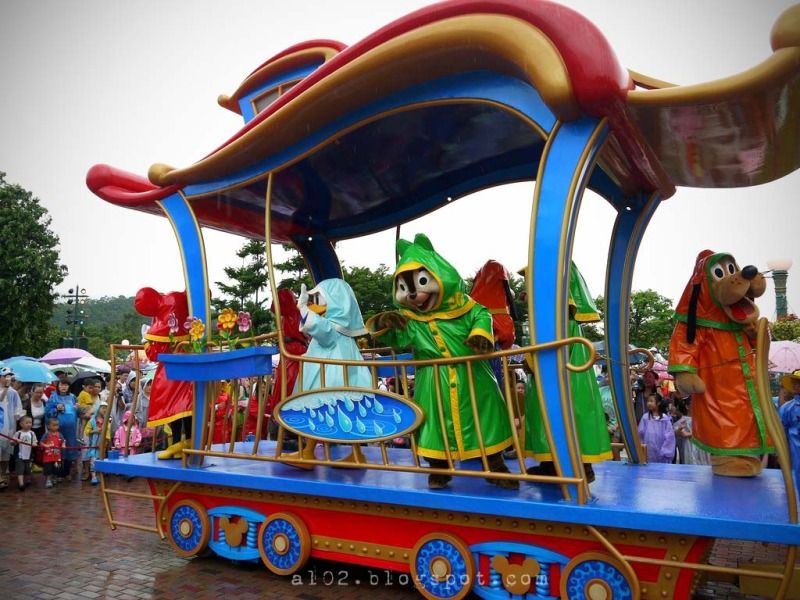 Instead of their usual parade, the Disney crew (Winnie the Pooh and gang, Tinkerbell, Snow White and their gang, the Toy Story gang and lastly the Chipmunks) decided to dance, meet and greet all their delightful fans in the rainy day express as it was raining pretty much still that day
One of the hallmark castle of Disneyland at the centre entryway- the Sleeping Beauty Castle (instead of the Cinderella Castle here), where beyond it, be amaze by all your 'Once Upon A Time' storybook fantasies. It's just kind of a pity that despite being to two Disneyland, I still did not manage to try out all the rides in this land especially the ever popular 'Many Adventures of Winnie the Pooh' because the queue for that ride always exceeds 45 minutes waiting time
The most famous and recognizable mouse of all time, the Mickey Mouse; definitely one of the oldest, timeless and well-loved cartoon character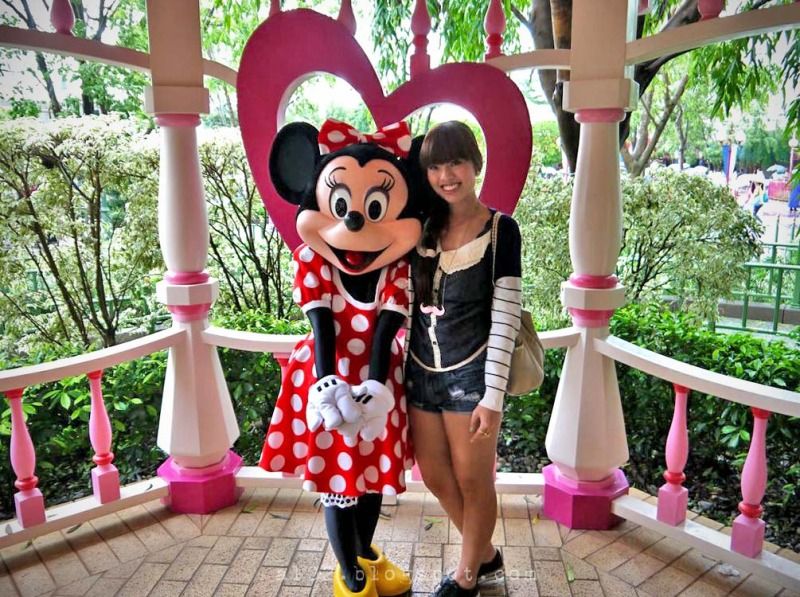 The oh-so pretty and cute love interest of Mickey's, the equally popular Minnie Mouse ♥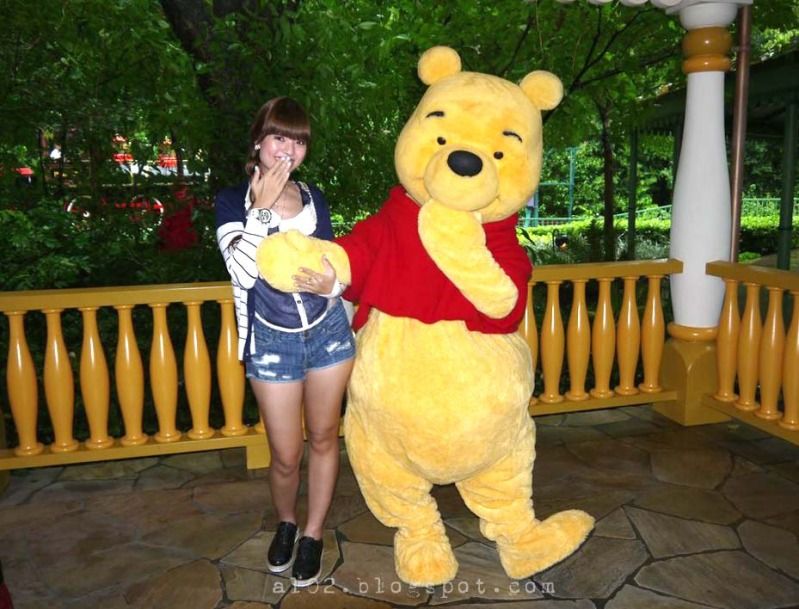 The yellow cuddly honey bear- Winnie the Pooh
Donald Duck Hong Kong style
Although we were in Hong Kong, all of us were having cravings for Japanese
food that day so we all went Japanese for lunch. The very appealing Mickey's ear sushi rice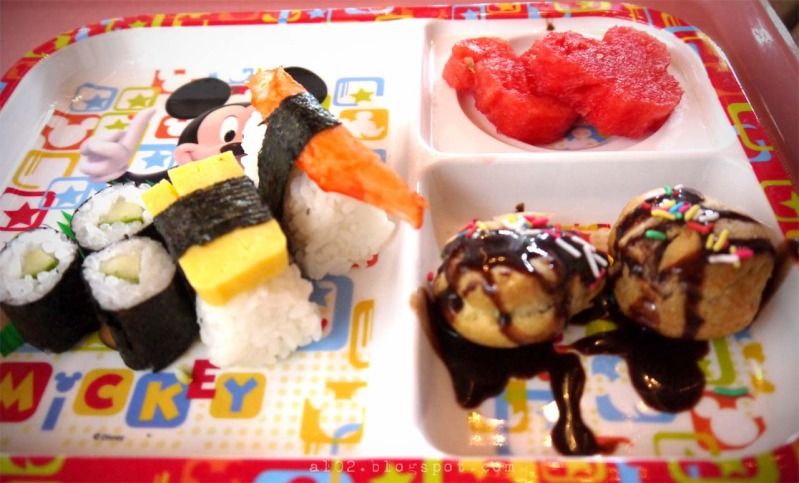 Seriously, they do try to make everything as Mickey themed as possible. Even the fruits are not spared; the Mickey's ear water melon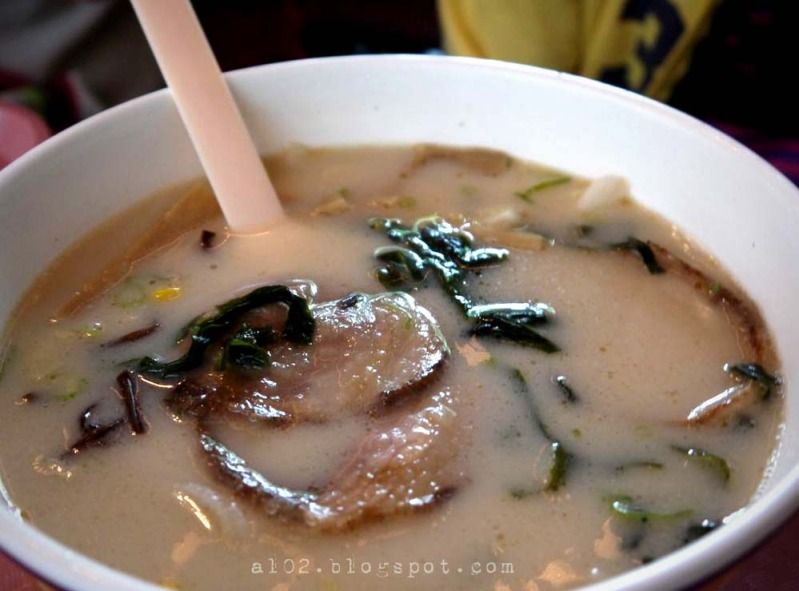 Tonkatsu ramen
After a filling lunch, with renewed energy and finally, the weather God decided to show us some love by stopping the rain. I'm pretty much surprised that there are actually so many people around in spite of the bad weather. And because there are so many people on almost every rides, we actually skipped a vast majority of rides that day and idly spent the rest of our afternoon just walking around, soaking in the magical vibe of Disneyland.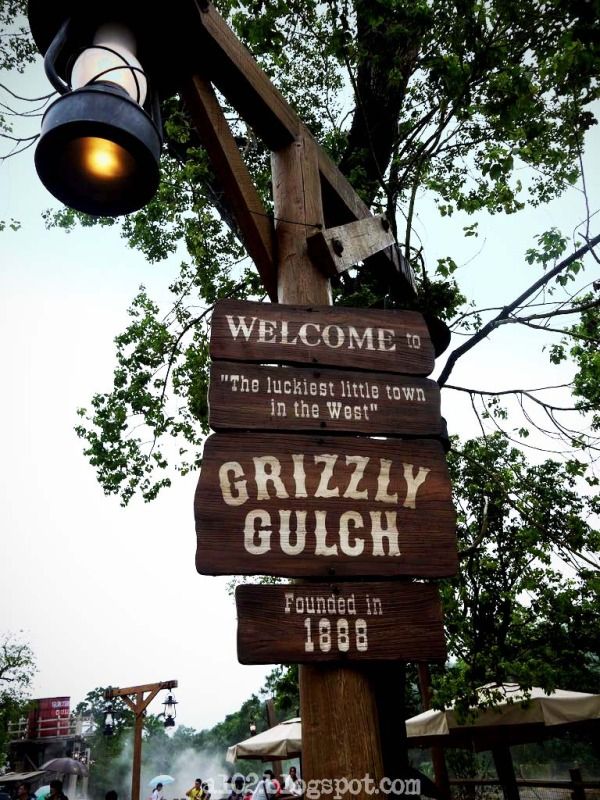 Hoping to chance upon some luck at the 'luckiest little town in the West'. This is the newest themed land to be added to HK Disneyland, just recently open in July this year
The geysers valley
I want to carry that gold nugget home pretty please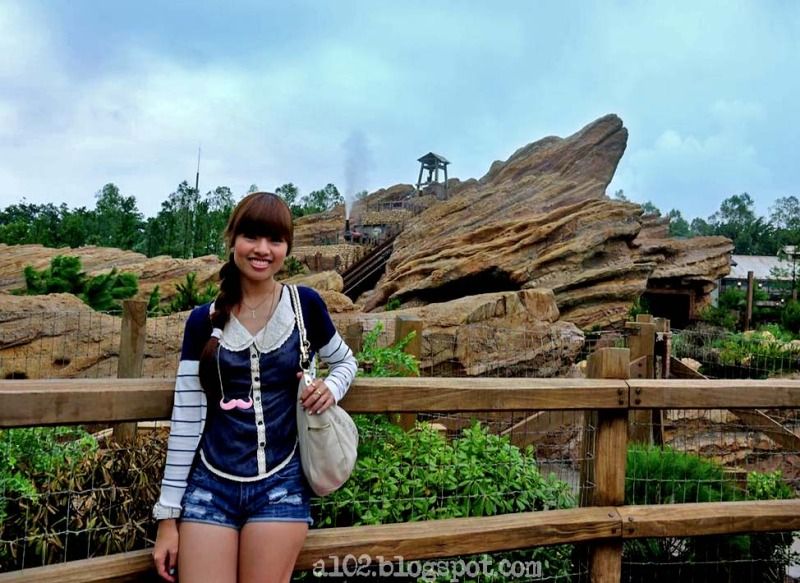 The Big Grizzly Mountain roller coaster that goes backwards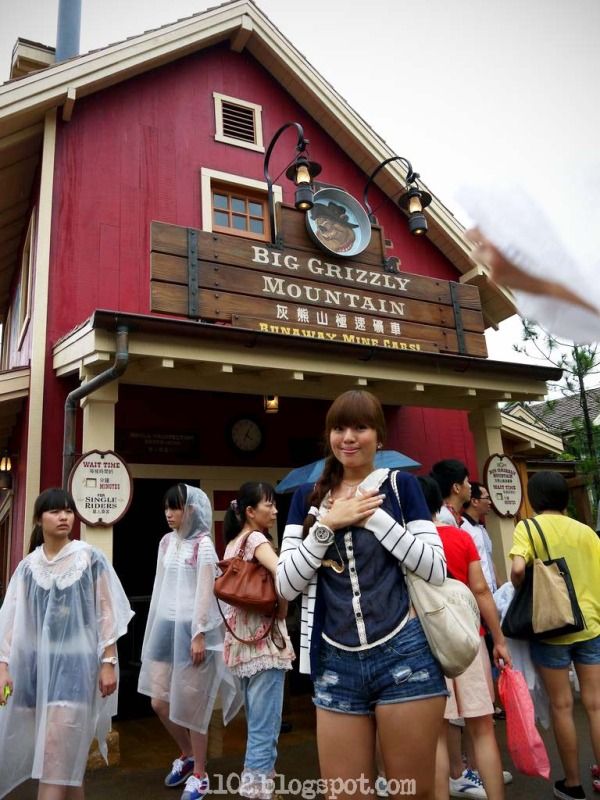 Bracing myself for the Big Grizzly Mountain
The very animated and vibrant Lion King show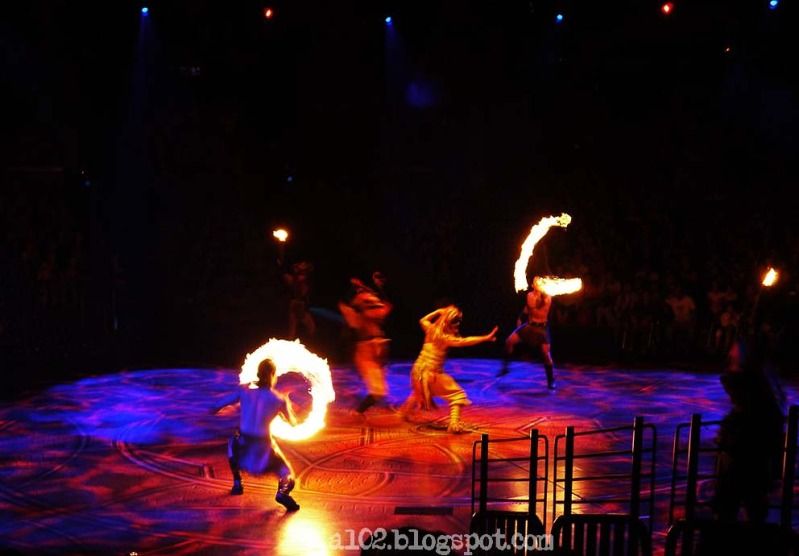 There's even the fire loops
And the entire Lion King crew of course... Hakuna Matata :)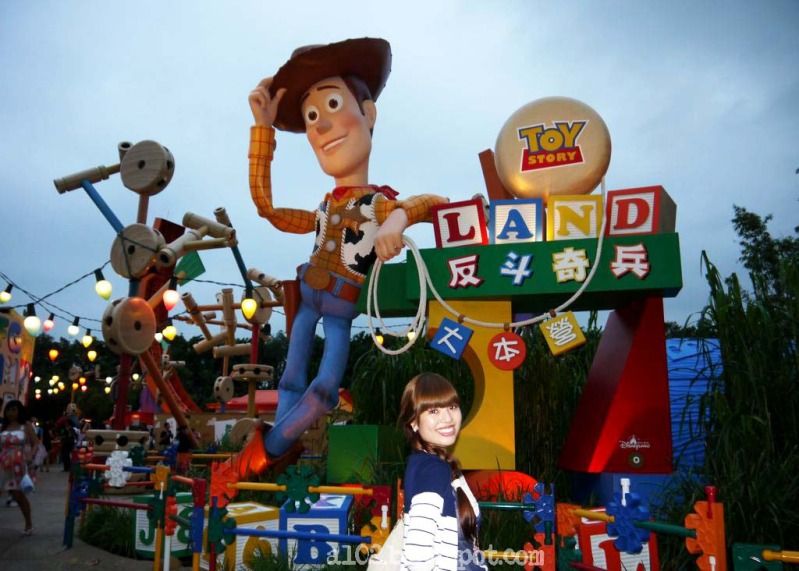 The one and only in Asia- the Toy Story Land, being the only one among the Asia's Disneyland. Based on Pixar's amazing Toy Story movies, any fans of the Toy Story sequels will definitely love it here. I'm quite a big fan of the Toy Story series especially the third one so meeting Woody, Buzz and the rest of Andy's toys at their playland certainly put me on cloud nine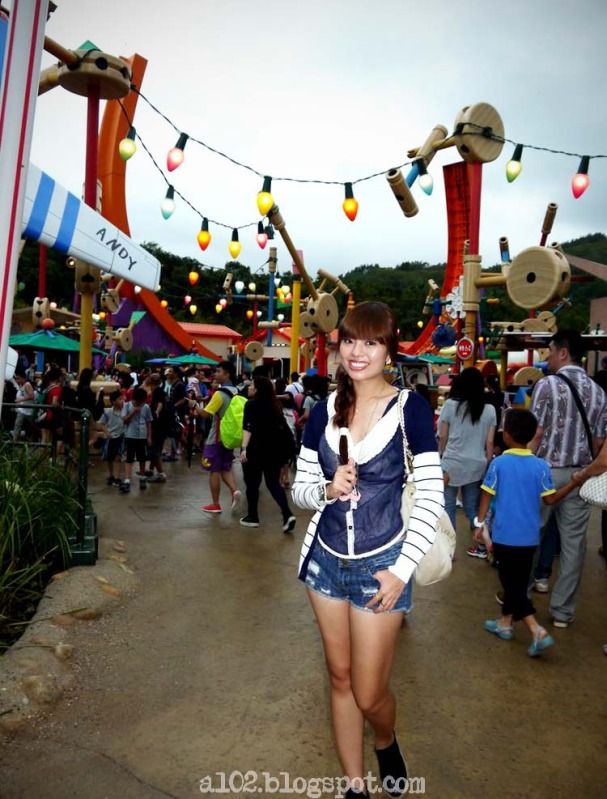 The prominent U-shaped RC racer shuttle coaster that whips one up and over the U-shaped rails as it launches back and forth sending it's riders on a dizzy ride. I was so tempted to give it a go but gave up in the end as there were just too many people queuing for the ride and we were running out of time
This is probably the smallest among all the other themed lands but I just love how colourful and vivid the whole toyland is
The Toy Soldier parachute drop that contrary to it's scary outlook; lifting it's riders to the sky and then dropping them, is not as scary as they really do I reckon. They move so slowly up and down that all their riders will get to parachute down at a really slow pace that releases more serotonin than activating the adrenaline hormones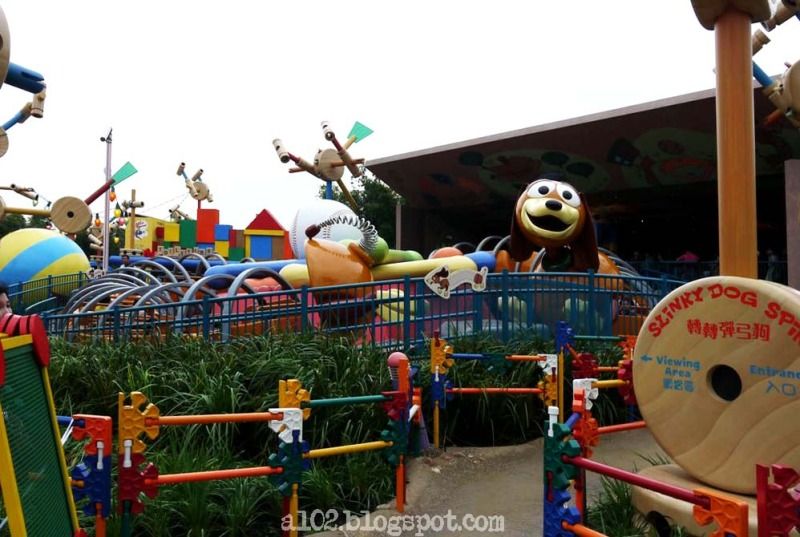 Mr Slinky taking it's riders round and round as it goes round and round chasing it's own tail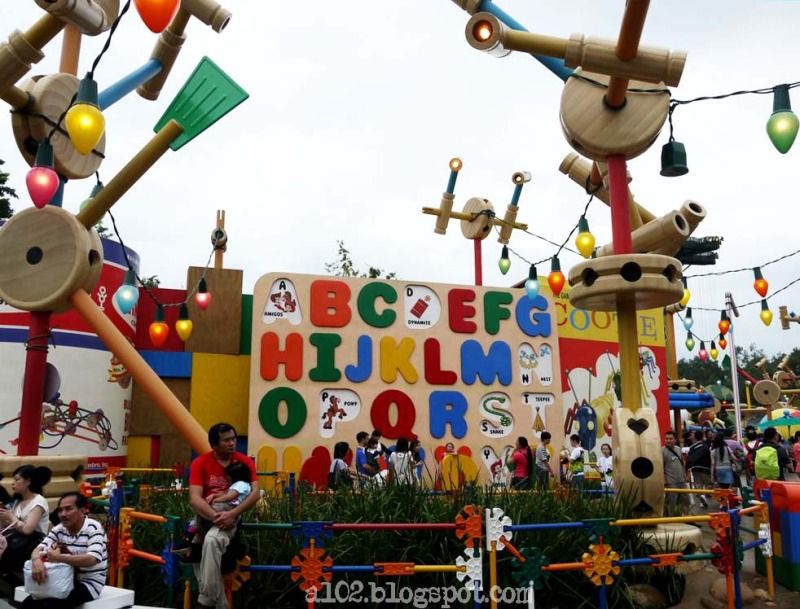 The huge board of alphabet letters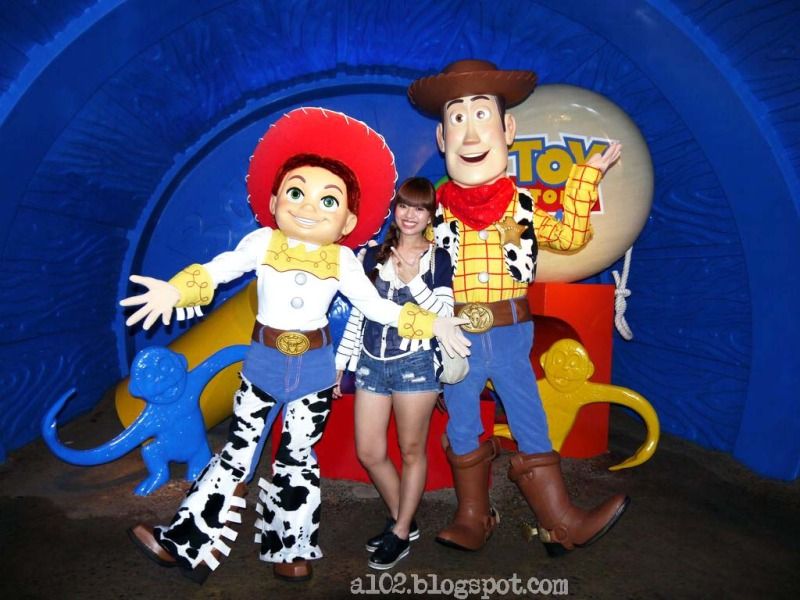 My fav Toy Story characters- say hello to Woody and Jessie ♥
Now, who's that strong lady that can single-handedly lifts up the planet of Tomorrowland? :p Tomorrrowland is definitely my favourite land of all, futuristic and pretty at night with it's glowing neon lights but mainly because my all time no.1 favourite ride in the whole of Disneyland is located here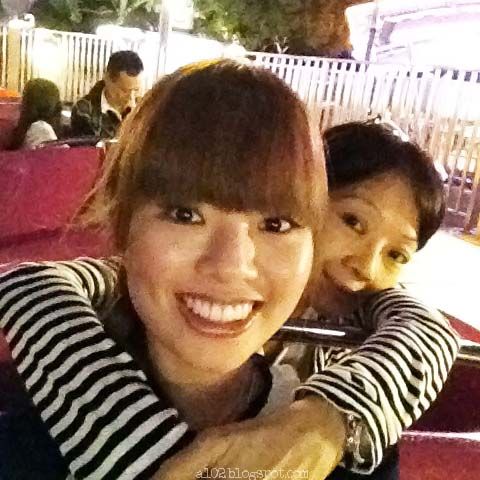 Me and mum on the Astro Orbitor together. Such precious moment ♥
To infinity and beyond!
I loveeeee this ride! This is my favourite and the best ride in the whole of Disneyland imho. I can go on it over and over without feeling tired or sick of it. And the best part, being a single rider means skipping an entire 30 minutes or more of queue and getting into the ride in less than 5 minutes waiting time. Sweet being a single rider at times, no?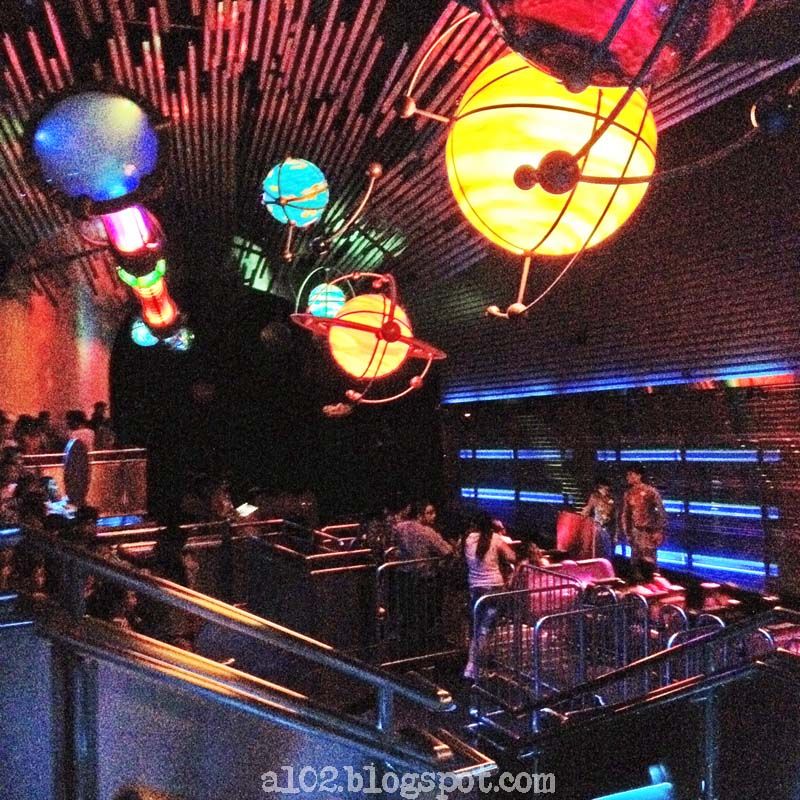 Inside the Space Mountain, one gets onto the steel roller coaster aka the 'rocket' before being zoom off into the darkness at high velocity accelerating as it goes with music, strobe lights flashes, swirling galaxies, thousands of blinking and colourful stars, novas, asteroids and other cosmological bodies spins in and vanishes as our rocket made it's turns and dips. I personally find the whole ride very fun and enjoyable and the fact that the tracts are barely visible in the dark and couple with all those futuristic music, flashing lights, brilliant stars, galaxies right above our head and whats not certainly gives off the illusion of not-knowing-what-to-expect and doubles the excitement ♥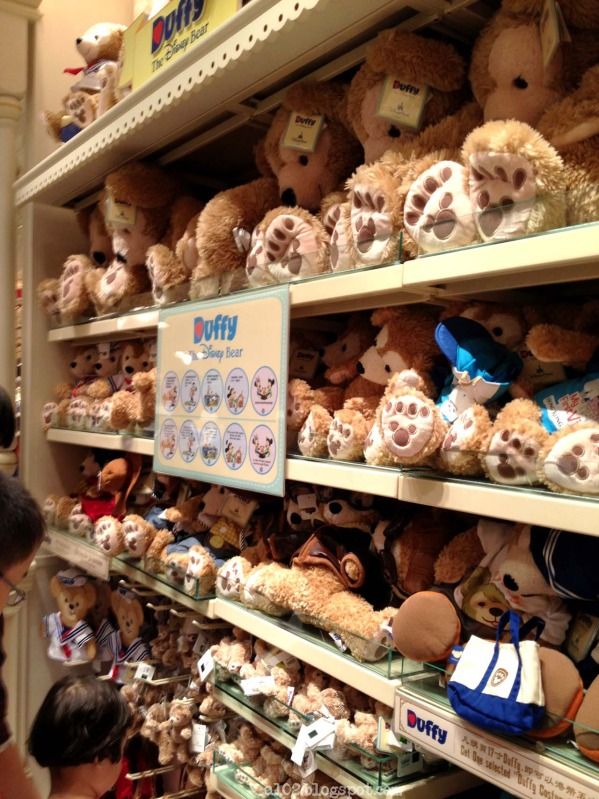 Duffy bears
Probably the only reason why so many people stayed till 9pm was to catch the nightly 10 minutes or so fireworks display gorgeously lighting up the sky above the Sleeping Beauty Castle. We all just watched in awe as bursts of fireworks glitter away and end our day at Disneyland with such a lovely treat to the eyes
One last look at the symbolic and dear Sleeping Beauty Castle at night
In spite of it being a rainy and wet day at the Disneyland, we definitely had a great time there. It was just as magical visiting this magical kids heaven with the parents as it makes you really feel like a kid (albeit a giant one) excited to be surrounded by so many familiar and well-loved Disney characters and stroybooks dreams. Disneyland rides and attractions are ever so gentle they will never gives you those chill down the spine and let your heart do all those gymnastic stunts going on them. The furthest they go to making their rides "scary" is going at high speed or falling from height at a super slow speed so unless you are acrophobia, you will have nothing to worry about. Nonetheless, I still find their rides just as fun as aside from the degree of thrill and excitement they still have in them, they are all such happy rides.
Some of my most favourite rides from the Disneyland are definitely the Space Mountain, It's A Small World, the Big Grizzly Mountain similar to the Big Thunder Mountain Railroad and the Haunted Mansion where they uses the cool hologram concept (unfortunately the Haunted Mansion is not available at Hong Kong Disneyland). Well, seriously I think both kids and adults alike will definitely enjoy and love the Disneyland, with it always giving off such happy, vibrant and stress-free vibe. :)