Almost 2 months after it's official opening, I finally visited Legoland Malaysia about a fortnight ago. Located right here in Johor Bahru at Nusajaya, it certainly is one of the latest sensation among the locals and undeniably attracting a large number of visitors from neighbouring Singapore as well. I was really really excited when I first found out about the project about 2-3 years ago, more so after learning that this first ever Legoland in Asia is build right here in my home state thus making it super convenient for visits.

The Lego bricks play a huge part of my childhood and I have always love them; growing up playing with them and I still remember those immense victory I felt as a kid whenever I managed to complete a Lego model or at other times even when it's just simply playing around with those loose bricks and building anything out of them stimulating the creative side of me. And I don't know if you guys do the same but I even directed storylines for my Lego characters. Hence yes, a Lego based theme park definitely entices me.

However, since their official opening (on September 15) coincides with the end of the year holiday season, we decided to be a litle patient and waited until now before officially checking it out as we see no rush to be part of the massive human jam. There was still quite a massive crowd at Legoland that day but I guessed that's common as it was a weekend. Boasting more than 40 interactive rides and attractions, the Legoland is divided into a total of 7 different lands (The Beginning, Lego Technic, Lego Kingdoms, Imagination, Land of Adventure, Lego City and Miniland).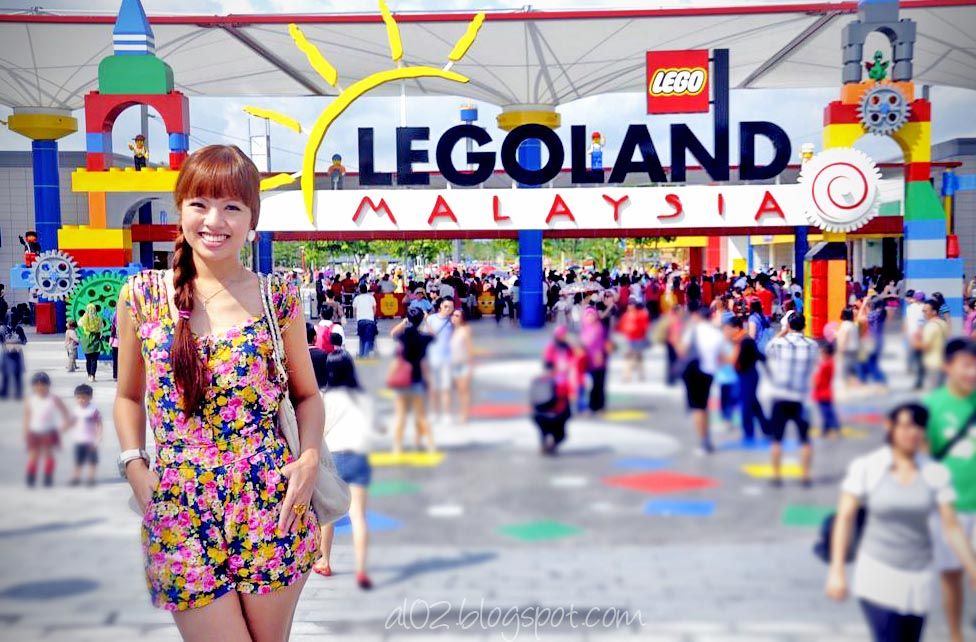 Our very first Asia Legoland theme park and sixth Legoland park i

n the world
The tickets booth. During the initial pre-opening period, people used to queued up to like 3 hours just awaiting to collect their annual passes. Now, the wait can still get up to one hour if there is massi

ve crowd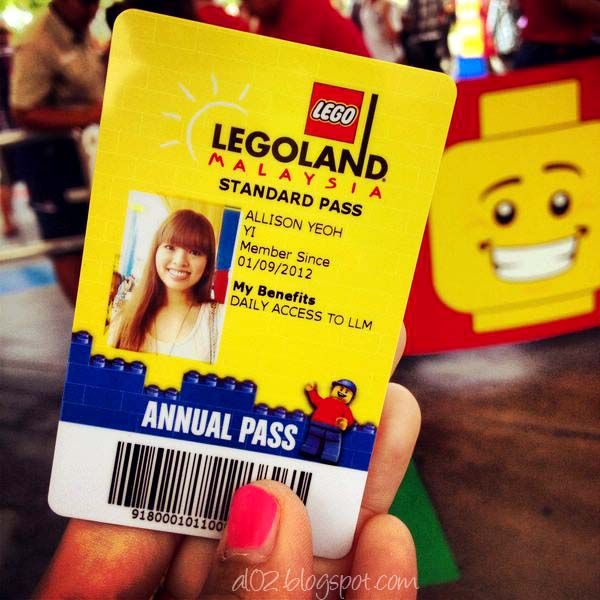 My annual pass. It is definitely more worthy to get the annual pass especially for us, JB folks as not only is the price difference between annual passes and single entry tickets not much, we can have unlimited entrance to the theme park for a whole year so now we can technically go scream our head off

on the roller coasters whenever we felt like it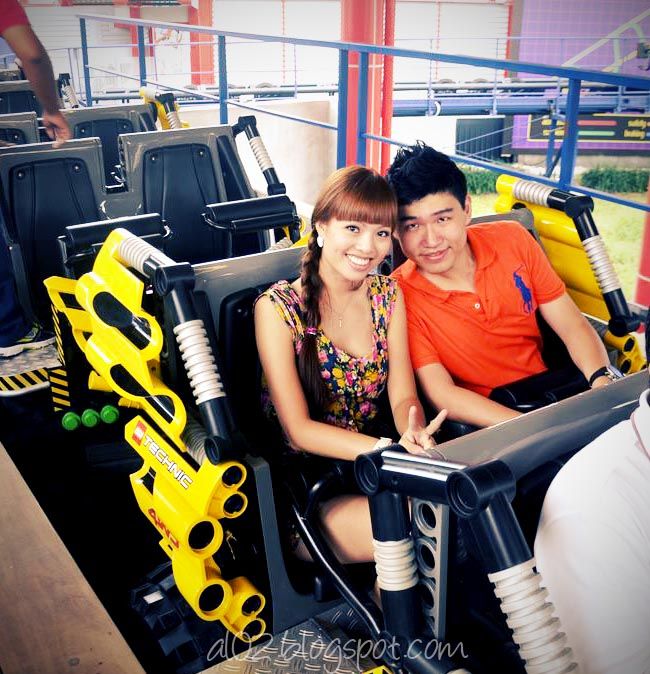 After waiting for an hour, we finally got ourselves onto

o

ur first ride- the Technic Twister which to me, is the most exciting ride of all in Legoland. Despite the one hour wait, at least the 5 minutes or so of little adrenaline rush is still worth it. None the less it is a pretty gentle roller coaster that won't gives you any heart attack defini

tely
Test driving the Technic coaster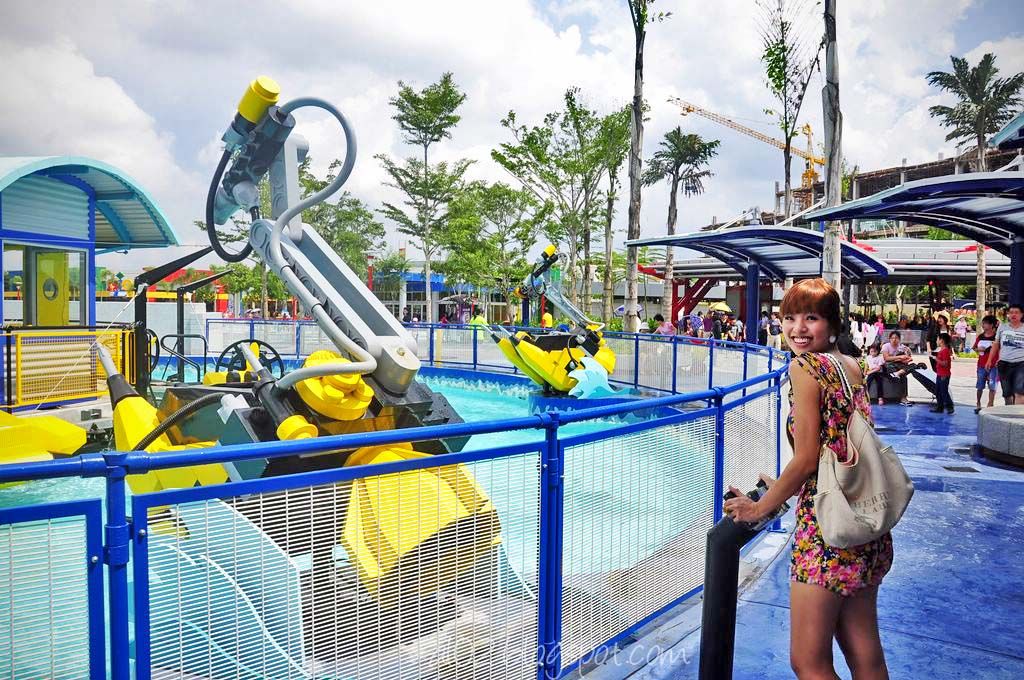 Shooting water at t

he Water splash
The ever wise Einstein in full Lego brick

s
There are two main roller coasters here- the larger Dragon and the smaller Dragon's appreti

ce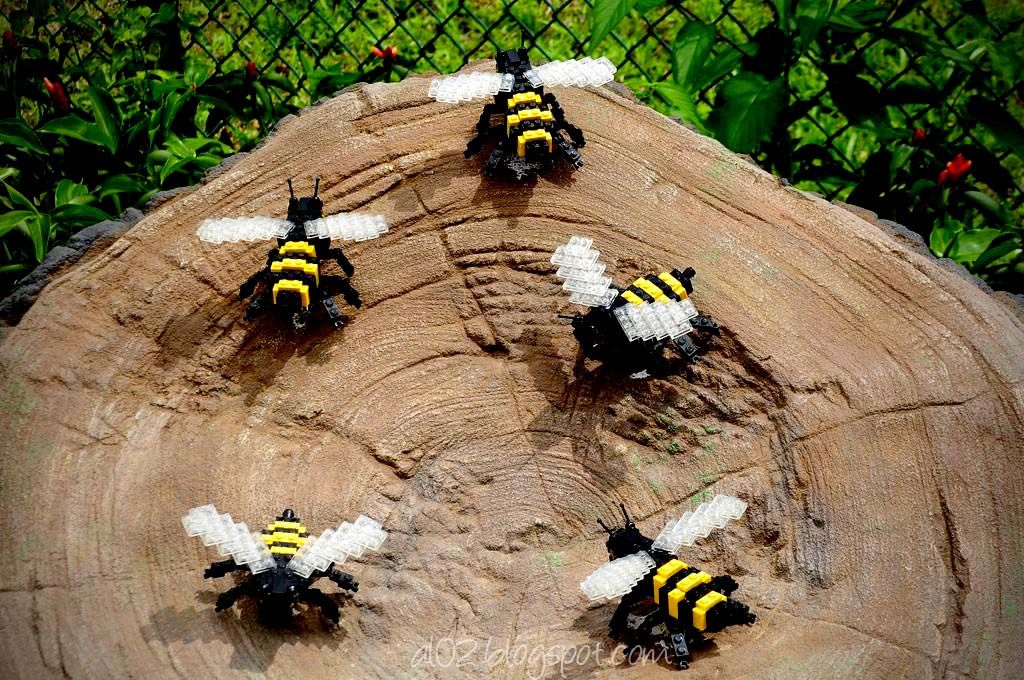 Lego bees

:)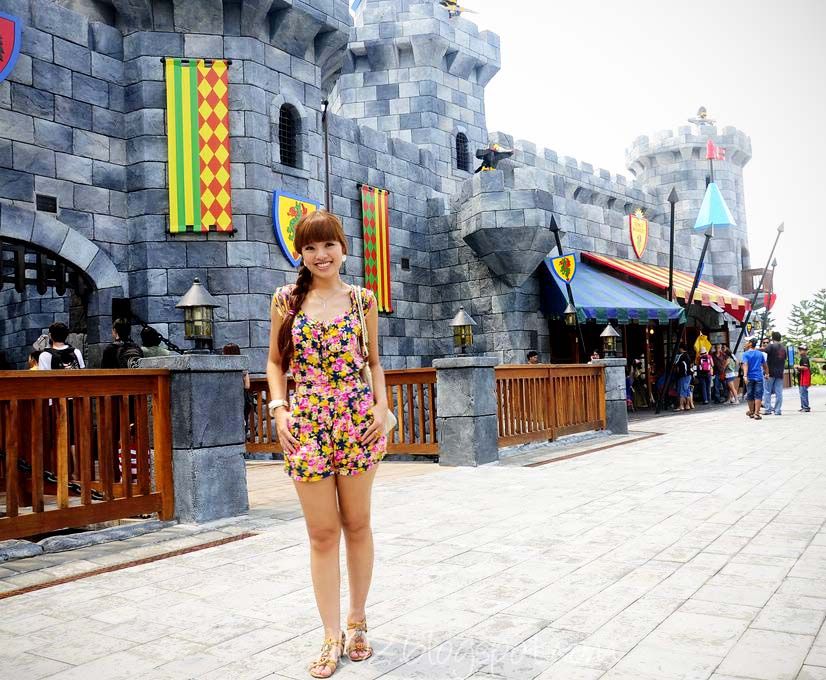 The castle of the

Dragon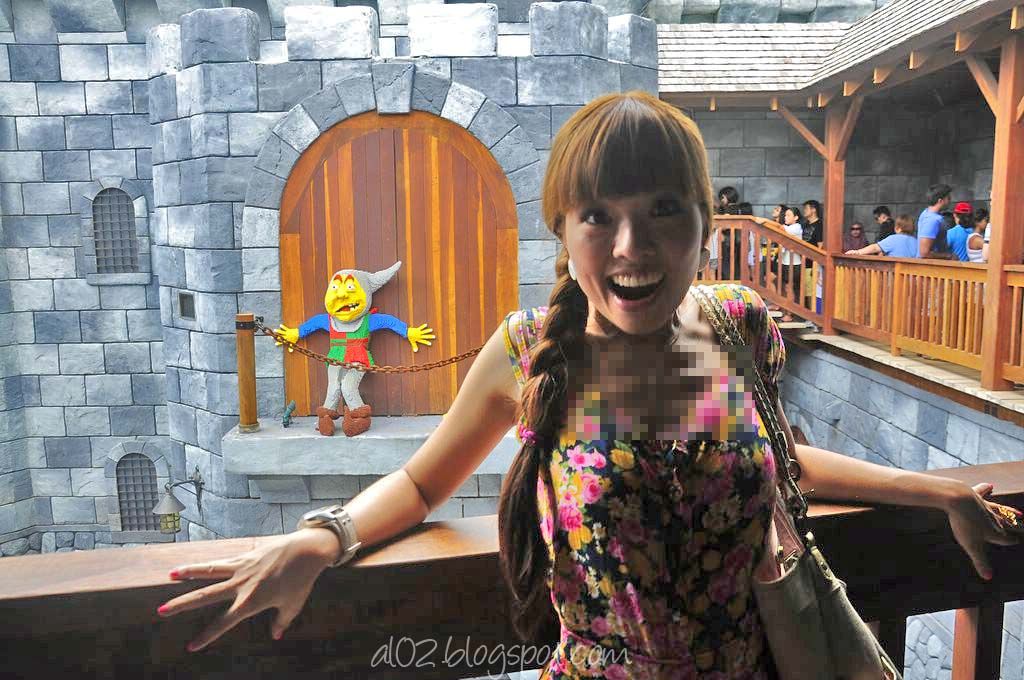 M

imicking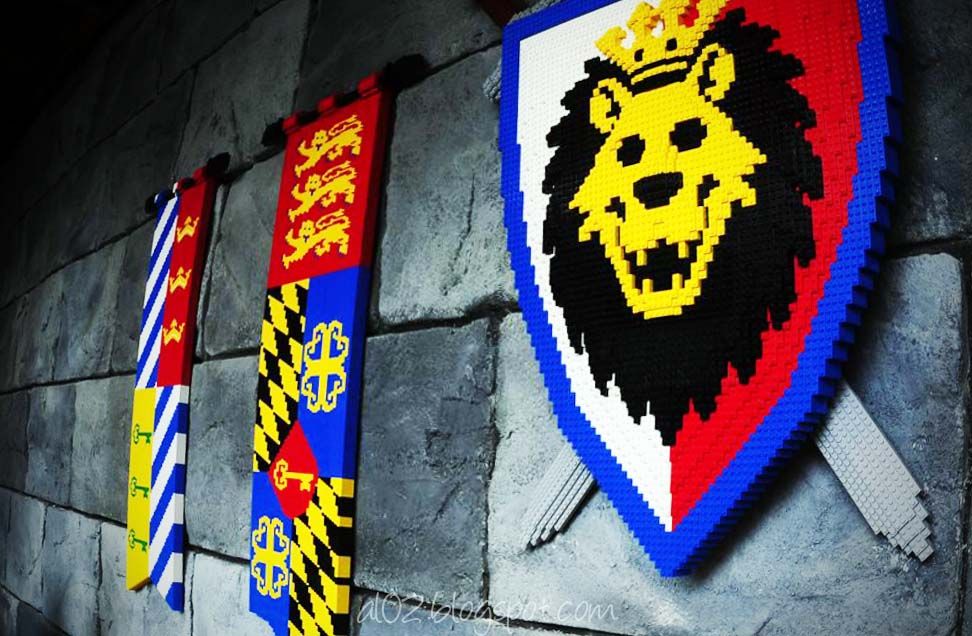 Totally love the all Lego knight's shield a

nd plates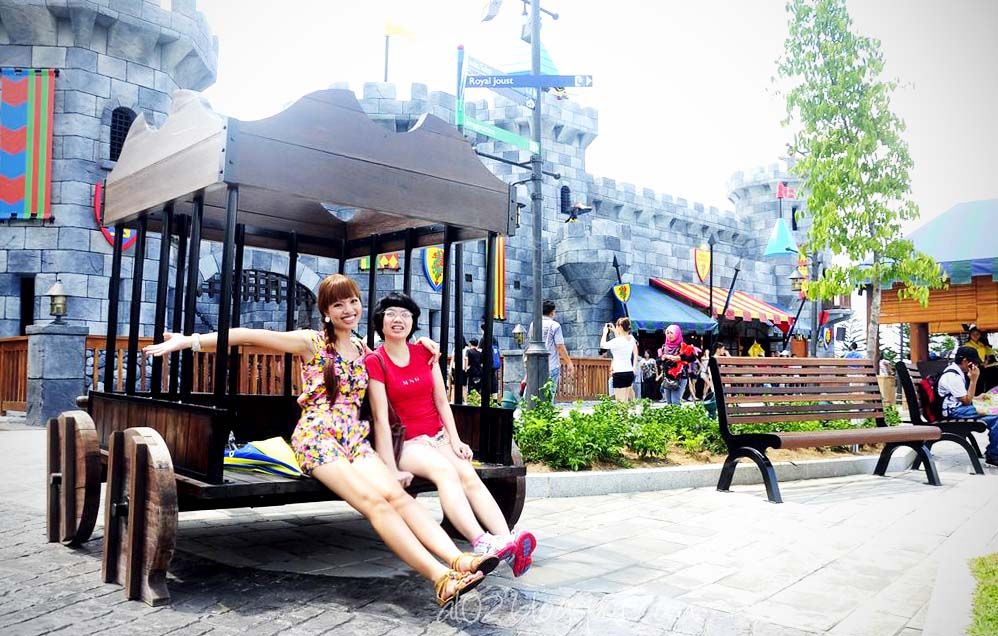 Taking a rest at the bullock cart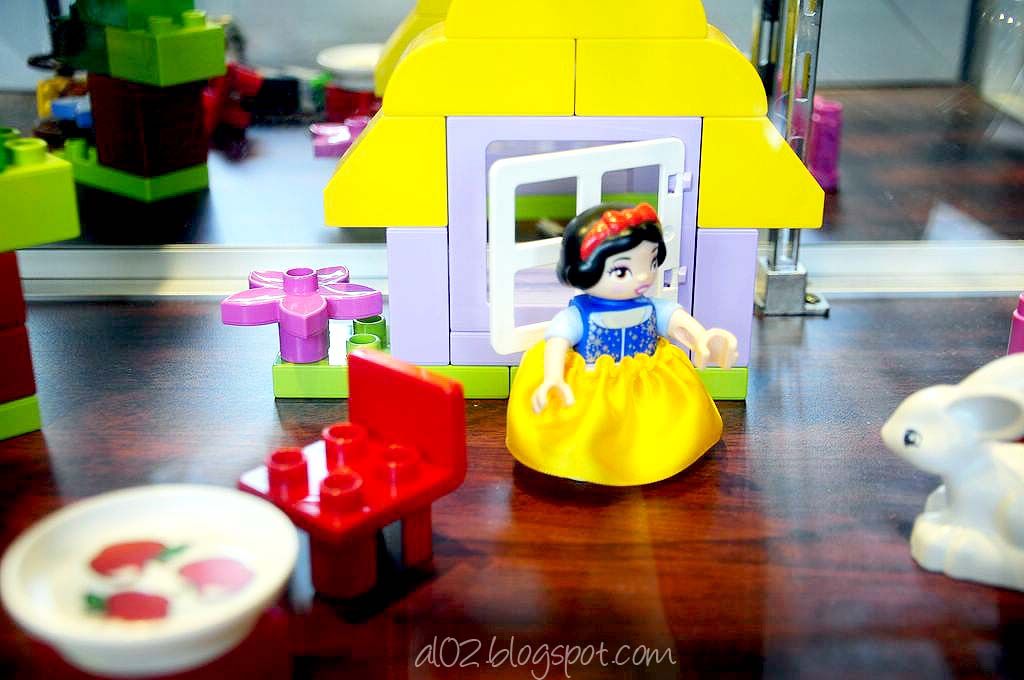 Little girls fa

v-

Snow White Lego set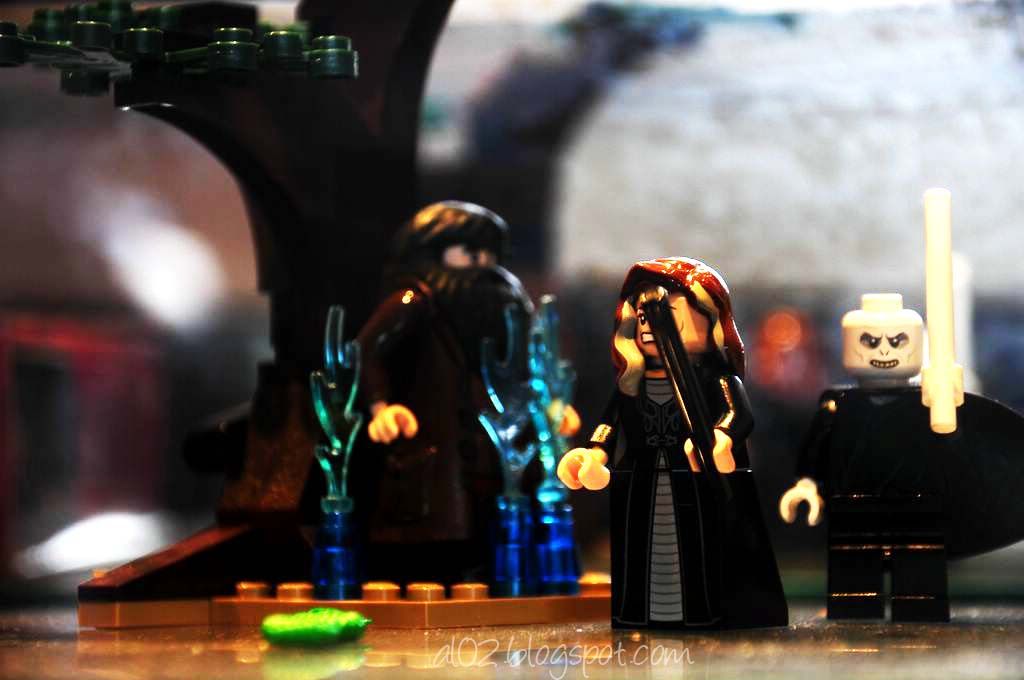 The Harry Potter Lego set. Even Voldemort looks quite

cute as Lego. haha!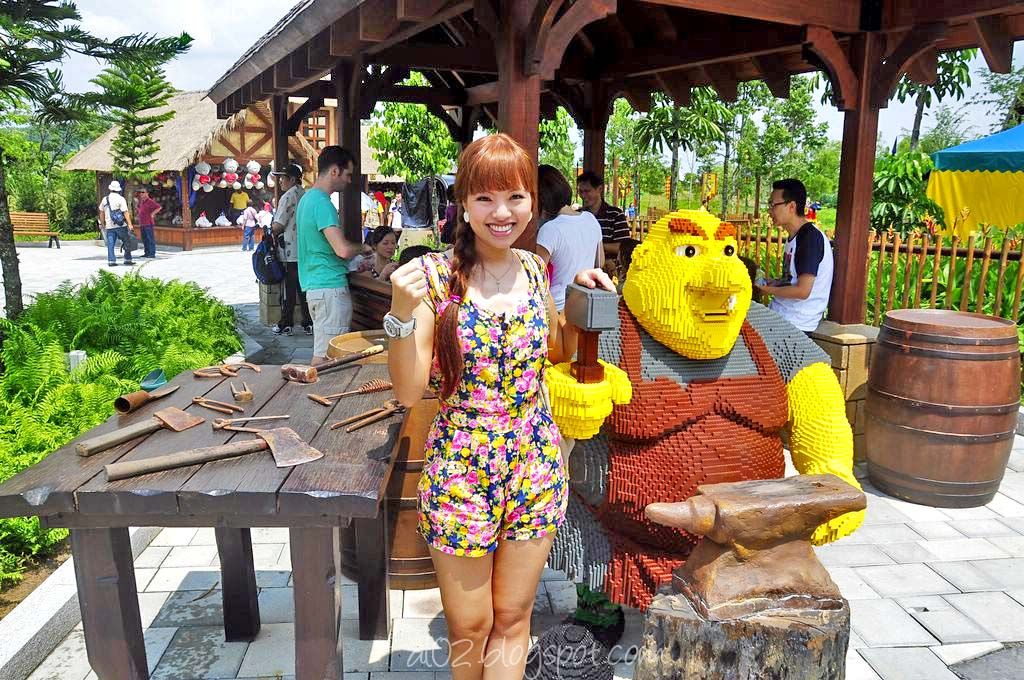 With the axe man
The Kid Power towers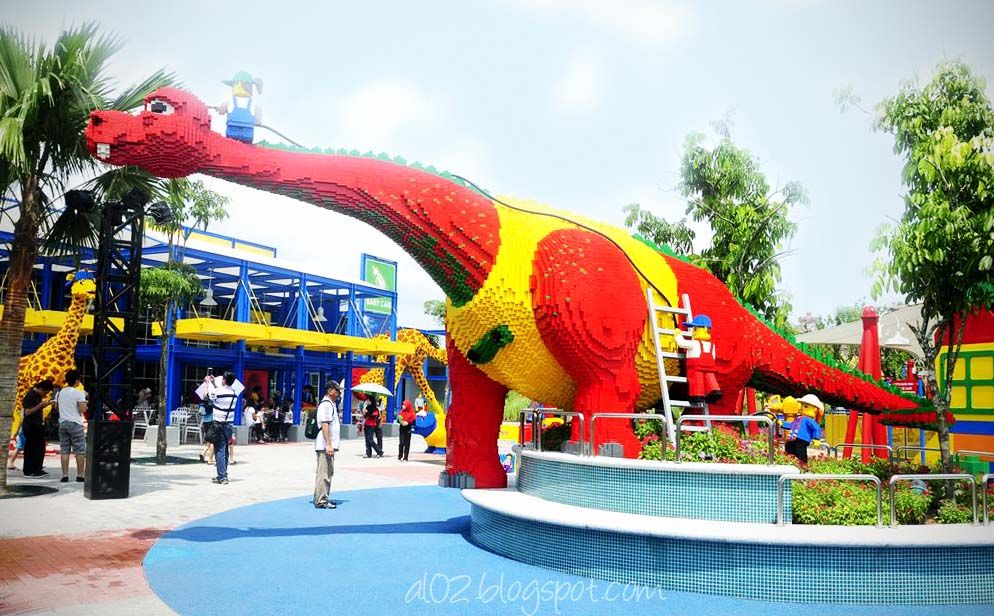 Oh hello there, Mr Dino in red :)
In the lion's mouth
Love t

he giraffe with the football especially
Dino no.2 in red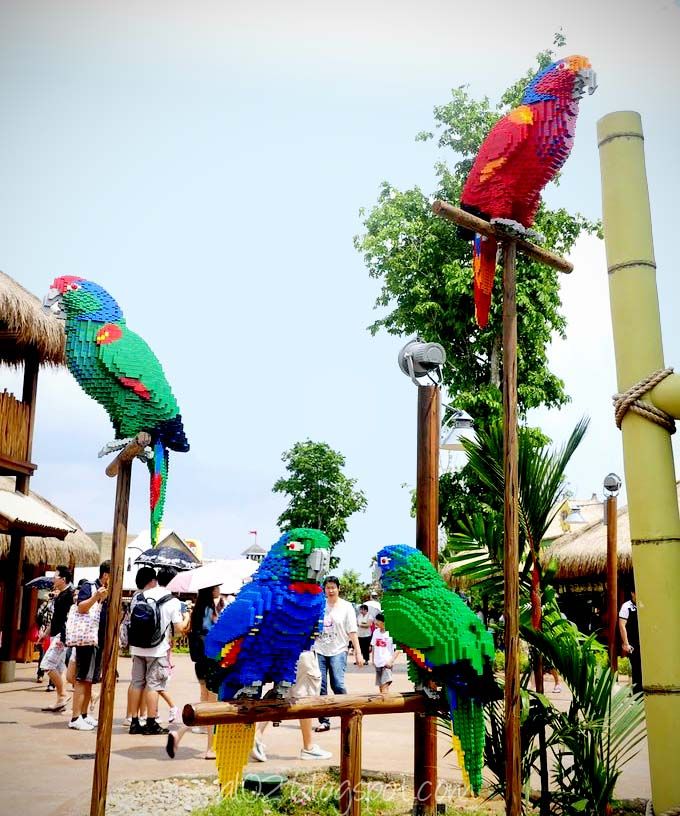 Brick parrots. This is

about the

only part of the whole theme park that has

music
Prepare to get we

t

as you plump down the slide at Dino Island
Familiar much? haha (read here to refresh). The Lego pharaoh greeting adventurers to his lost kingdom where we went around in a jeep shooting targets with a handheld laser gun. My best score was only some 15000 as compared to HT who scored like 20 plus thousand.

W

hat's yours? haha :)
Cute little Egypt boy with his camel
Love the mix of orange! HT trying his luck at the basketball loop. It's RM 10 per token though

(

RM 20 for

3 tokens)
Choo-choo Legoooooo.. waited an hour for this too. Seriously, all the w

ait is certainly a test to patience
At the heart and centre of Legoland is the Miniland. And being

a Legoland in Asia

, our Miniland focus

is

on various well known Asia and South East Asia landmarks and cities. Nothing beats the experience

and memories of having

traveled and personally

made my mark at almost all (except for Myammar) of these distinguished South East Asia landmarks

. This is the ever gorgeous Tanah Lot of Bali :)
Other notable South East Asia Lego landmarks include the Patuxai of Laos, the Angkor Wat of Cambodia, the Singapore flyer

, the temples of Thailand, the floating village of Vietnam and our very own Tanjung Pelepas port
Venturing further from the

SEA/Indo-China region

is Great Wall of China and the Taj Mahal of India. I'm really impressed by how much alike and all the small details that

are

so delic

ately build by Lego entirely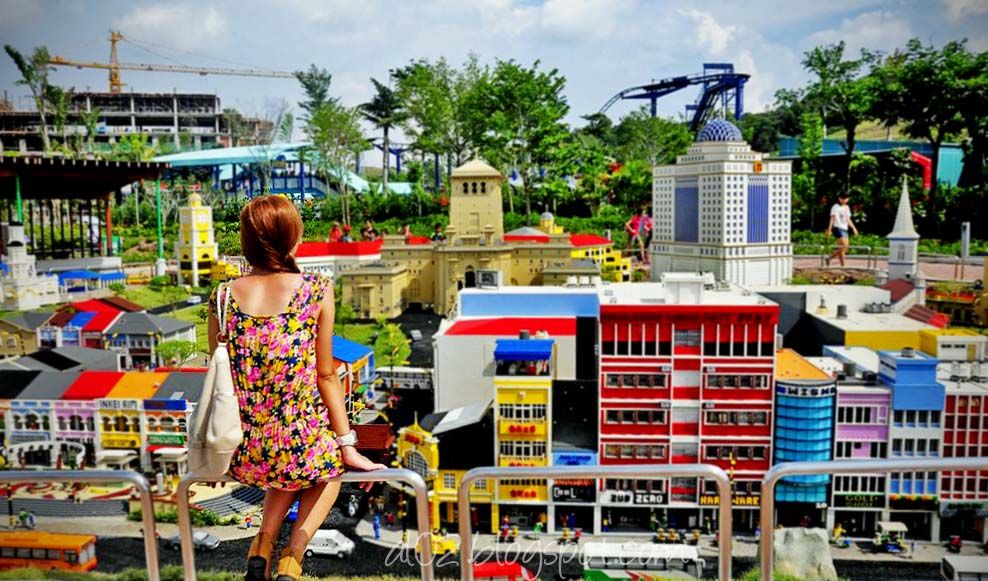 Overlooking the city I grew up and lived in. It will always hold a special place in the corner of my hear

t.

It's almost amusing when I heard someone nearby asking his friends when they saw JB, 'What country is this?'. Speak of the irony of being right here in Johor Bahru but yet not reco

gnizing the very city itself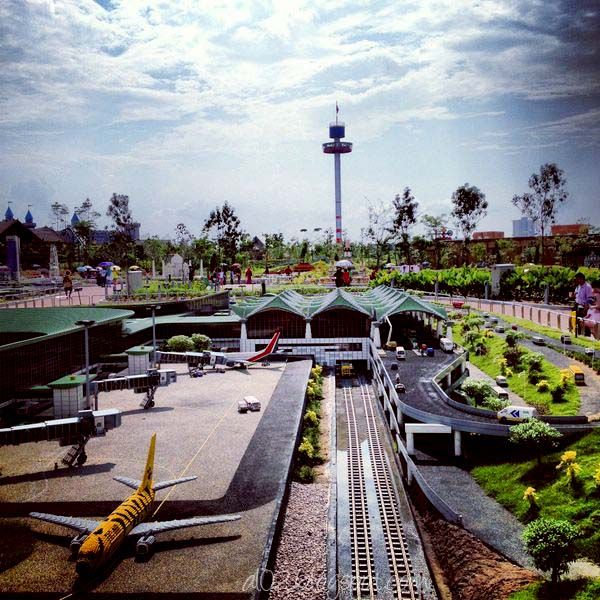 The Kuala Lumpur International

airport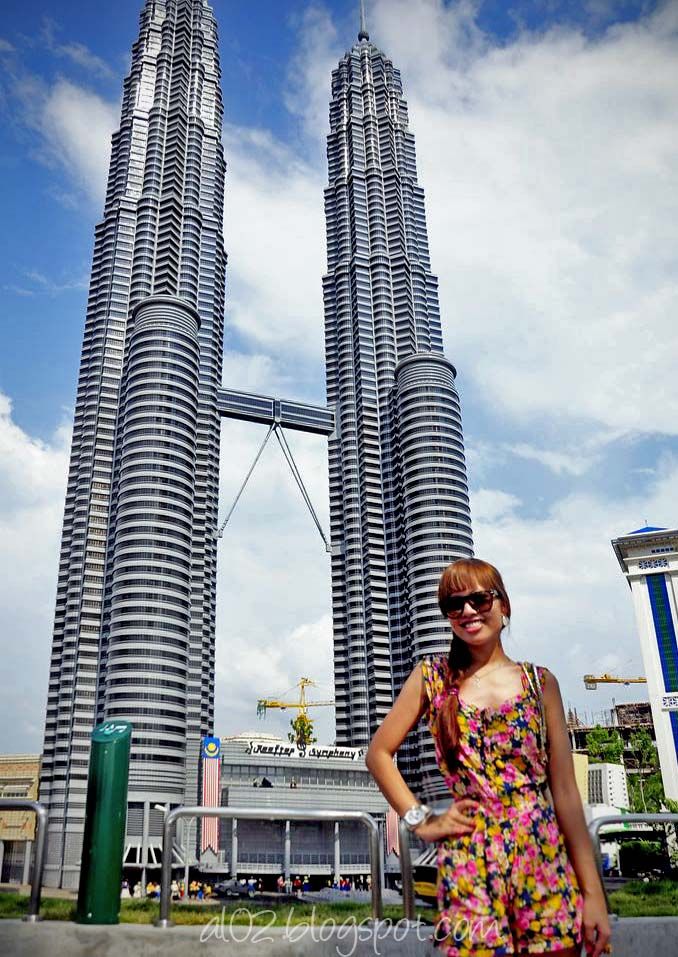 The Petronas twin tower standing at 10m tall and made up of almost half a million bricks is

the record setter for the tallest building at Legoland park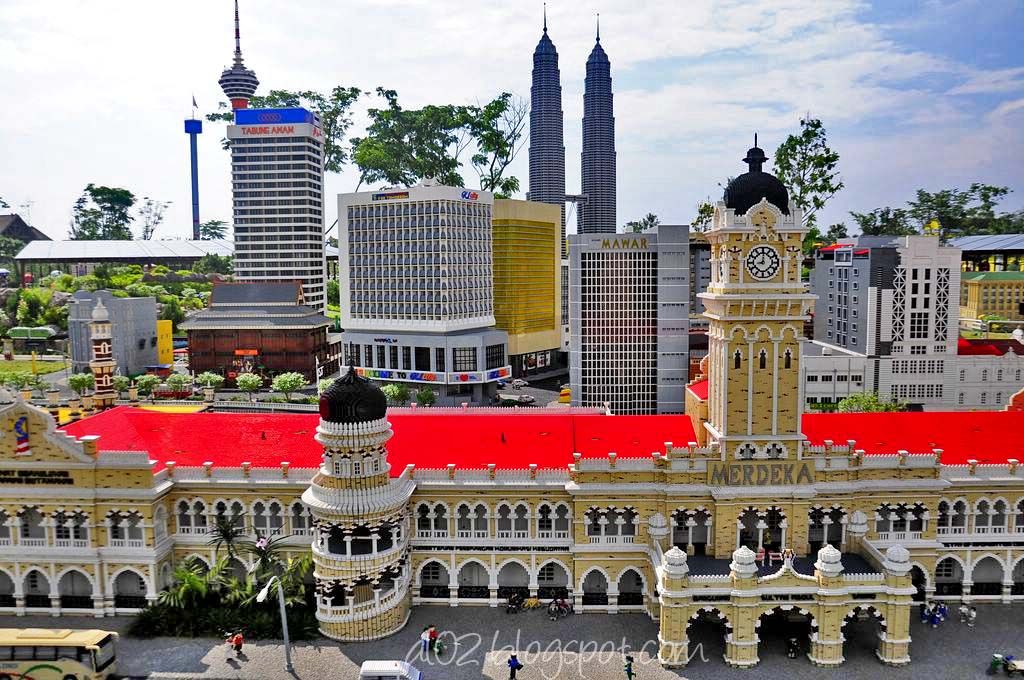 Kuala Lumpur city
The pirate ship with a brick shark. How cute
Uh-oh... a diver's worst fear while diving

:p
Meet Chef Legoman of the Market

restaurants
Mr Lego

cameraman and Miss Lego park guide
The Big Shop- the largest

merchandise

shop at Legoland for souvenirs and

Lego

hunting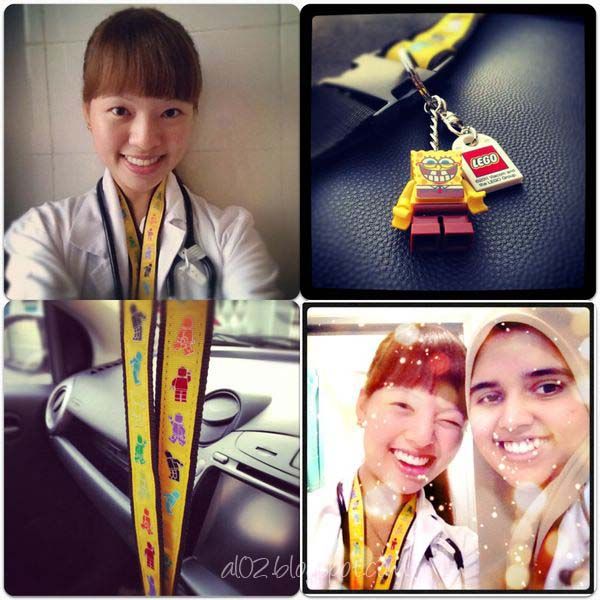 My sou

venirs-

Nothing much particularly caught my eye except for the Legom

en

lanyard which I'm currently wearing to wo

rk and

the Lego

s

pongebob keycha

in
In all honesty, I think kids will definitely love and enjoy Legoland so much more than adults as Legoland is very kids orientated. Most of it's attractions and rides are specially dedicated to kids and even their roller coasters are generally mild. Yes, they do have the drop off from height but it's never a very steep drop nor does the roller coasters go at super fast speed that is hair-raising and adrenaline pumping enough to trigger heart attacks. My favourite 4 rides are the Technic twister, the Dragon, the Lost Kingdom Adventure and Dino Island. The queue were crazy (all about an hour) but I really like those rides. The 4D studio though was quite a huge upset as the chairs could not even move when it's supposedly a 4D experience. The stage show too has really nothing much to shout about (they could at least make it funny and more light hearted) I think it's worth the skip. The rest of their rides are mainly just fun rides to simply enjoy with your company.
Personally, I find Legoland Malaysia a bit too sparse too. Yes, they are planting some like 4000 trees around but with all the trees still at their primitive stages, there's barely any shades and it's extremely hot to walk around unless it rains. Even with the umbrella, we all went home with some degree of sunburn each. So yes, you know you need plenty of water, the umbrella, the hat, the sunglass and sunscreen definitely. While there are a good number of brickmen and even animals made out of 100% Lego bricks all around the theme park, I find the lack of mascots appearance a little disappointing. It's always entertaining to have intermittent street performances by real life mascots dancing around, shaking hand and taking pictures just to make the whole place and atmosphere more lively imho.
There's a mall (Medini Mall) only about 1 minute walk outside Legoland filled with a lot of restaurants, so food are conveniently available around Legoland. Overall, we did had our fair share of laughter and we did enjoyed our day at Legoland still but mainly it's because of the company that you hang out with that matters the most at the end of the day, no? Now, will I go back again? Certainly yes especially since I have the annual pass and I can't wait already till the Lego water theme park opens next year. :)