Ain't it exciting? Christmas is less than a week away and it's such joy to just indulge in those sweet Christmas songs especially on cold nights like these past few days. Anyways, during the end of my previous rotation last month, I managed to get a few days leaves from work and thus, making full good use of it to spend some family time traveling. This time round, we decided to fly ourselves to Sandakan since B is also currently living there and thus making it a very good opportunity to explore this second largest, historical and nature-rich city in the Land Below the Wind with an awesome 'semi-local' guide. Nothing beats traveling with someone who is familiar with the place as that way, we get to truly enjoy the authentic flavours of the place.
Unlike
Kota Kinabalu
(the biggest city of Sabah) or world renowned diving destination, Sipadan Island, Sandakan on the contrary is a less popular tourist destination in Sabah. While it is definitely not somewhere you will go if shopping or adventure adrenaline-kicking activities such as deep sea diving, mountain climbing and white water rafting is what you are seeking for, it is the perfect getaway for all seafood nazis and those seeking a qu
iet
, simple and relaxing close-to-nature holiday.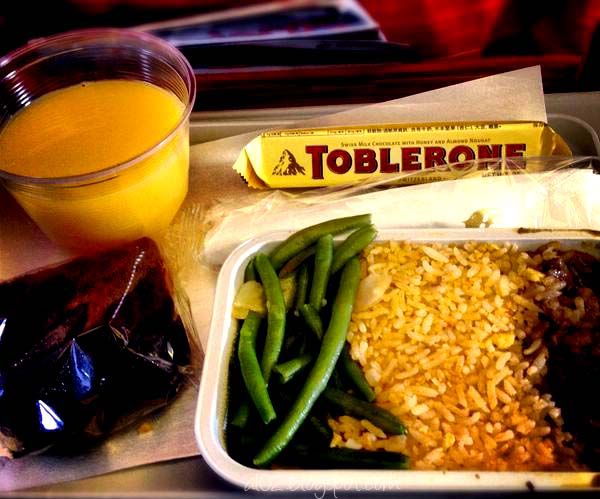 Flying MAS

this time. Love the Toblerone on the in flight menu
After about 2 hours flight from Kuala Lumpur, we finally arrived at Sandakan greeted warmly by B and just in time for dinner. Our first dinner in Sandakan was seafood of course

as

Sandakan is really really known for their abundant fresh and cheap seafood. Most of the seafood restaurants boast to only sell fresh catch of the day and not frozen seafood. Hence, it is also no surprise that seafood restaurants in Sandakan are like mushrooms after rain. But do bear in mind though tha

t

while there are the good restaurant

s, there are also the bad ones.
The first seafood restaurant that we went to is

t

he Sim Sim 88 at this plac

e

call

Sim Sim.

Rumoured to be one of the best seafood restaurant in Sandakan

, this

restaurant is located right in the middle of a floating fisherman village with the houses all standing on stilts. B said many locals he knows had recommended this seafood restaurant

to him

too. This restaurant is on Bridge no.8 so be sure to look for the correct bridge else you

might end up walking into someone elses house in the dark.
Clockwise from top left : Sauteed flower crab, lala, steamed fish and fried tiger pr

awns
All their seafood are display like those in a wet market

instead of live in aquariums but they assured us that they are still fresh catch of the day. We wanted to h

ave

the crabs but all their crabs were sold out even at 7.30 pm. Overall, while their food is good and fresh, they are certainly not the best seafood I had tasted. And their prices although reasonable, are not exactly as cheap as we had expected. Seriously, I felt the restaurant

i

s

kinda a little too overrated.

None the less

t

heir overall ambience is quite nice with

the seaview

and cool sea breeze.

S

peaking Cantonese helps here too as it seems they felt more akin to Canto speaking customers and allows

a bigger slash in seafood prices.
Aside from cooked seafood, they do sell raw seafood too which the

y

readily and expertly package specially f

or

take

aways. And I must say, their raw seafood are the really cheap ones. Dad bought a

raw

lobster and a humphead wrasse from them on our last day in Sandakan and the lobster is only RM 60/kg while the humphead wrasse

was

like RM 1

5

0/kg or something like that.
At Bridge no.8, there are actually 2 seafood restaurants located side by side to each other and Sim Sim 88 is on the RIGHT. B tried the one of the left before and he said comparatively, Sim Sim 88 that we we

nt to is still the better one
Well, being a city filled with the smell of fresh sweet seafood everywhere, we of course can't be settled with just one seafood meal. Thus, we went again to another seafood restaurant, this time the Ang Ban Guan for another round of seafood indulgence. Located also at Buli Sim Sim along the main road Jalan Buli

Sim Sim,

this less fancy, unsuspecting wooden seafood restaurant serves even better and cheaper seafood than their above counterpart imho. And they ha

ve faster service as well.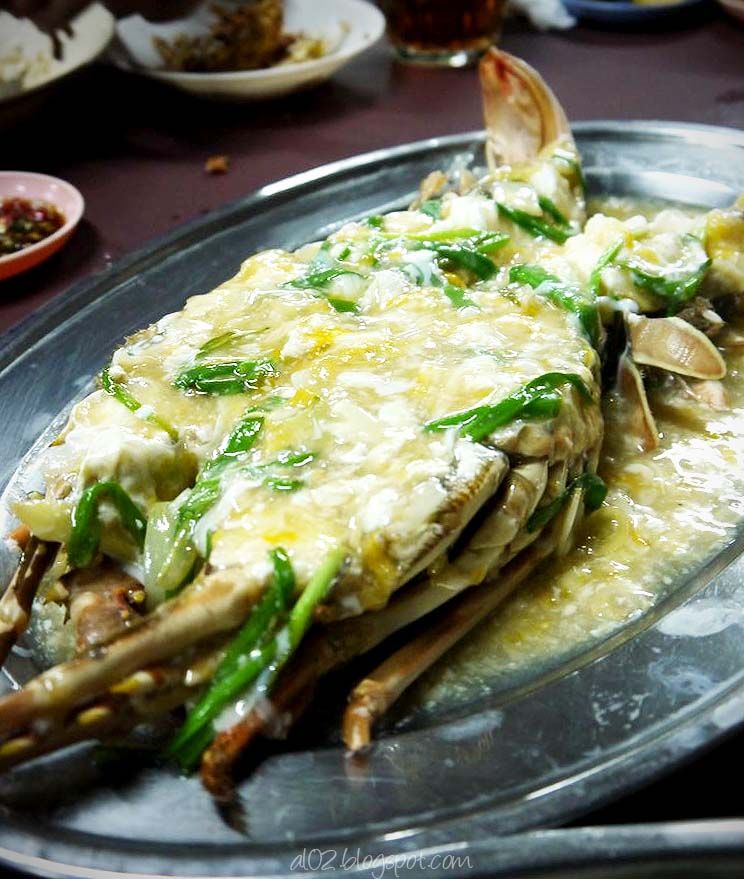 Steamed lobster

with their superior sauce. Totally love how fresh and juicy the lobster tasted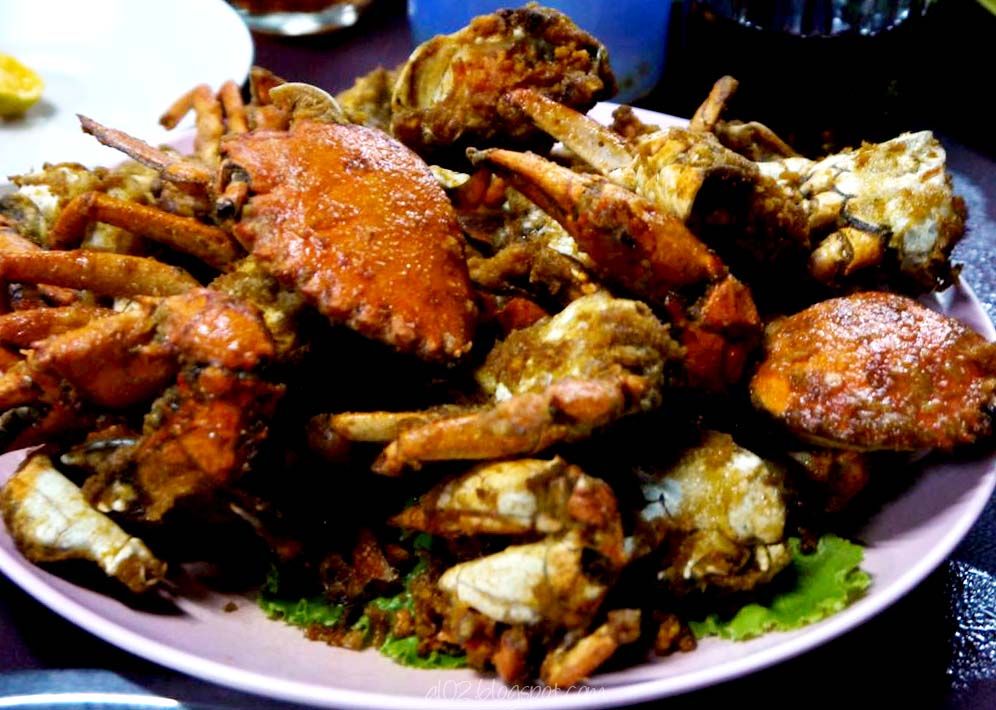 Ba

ked butter crabs. Such love
Steamed fish. The fish was really really fresh too
Home made

seafood beancurd
The

unsuspecting seafood gem
I really enjoyed my seafood here more because I think their seafood tasted

even

better. Besides, their seafood are also fresh catch of the day, hence the freshness assured and being less fancy means

the prices here are definitely cheaper too.
The people in Sandakan loves seafood so much so that they not only literally have seafood in every single meal, they also have seafood in their dumplings and bak kut teh. Thus, another must try in Sandakan is their century egg dumplings (pei dan gao). Op

en

only during breakfast till lunch, this humble restaurant is on bridge no.

7

at Sim Sim. Likewise located among the floating villages and extending into the ocean, it was certainly appetizing and amazing to be seated right next to the ocean while enjoying these simple yet unique

breakfast.
The amazing century egg dumplings (pei dan gao) comes in two version- the dr

y and soup version. I personally prefer the dry to the soup version more
The soup version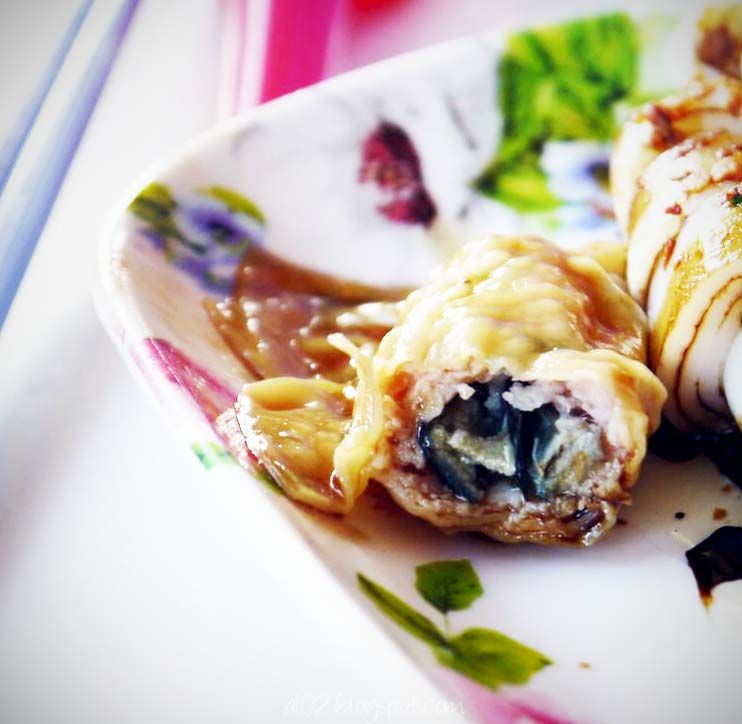 Each dumpling is neatly fil

l

with a mixture of pork, seafood and a fat

slice of century egg
Their seafood

with

springy noodle are also popular here so don't forget to try them as well. Those prawns are so fat and juicy while their fish slices are so chewy and tender. Other seafood accompanying the prawns and fishes in that delightful bowl of seafood

are the fish maws and prawn balls
S

andakan springy noodle
In case you don't like seafood that much, you can opt for a bowl of char siew with century egg dump

ling noodle
Rice noodle (chee cheong fun) Sandakan style. Thicker, tighter

,

drenched with thick soy sauce and drizzled with fried

garlic

. However, I find th

is rather plain tasting though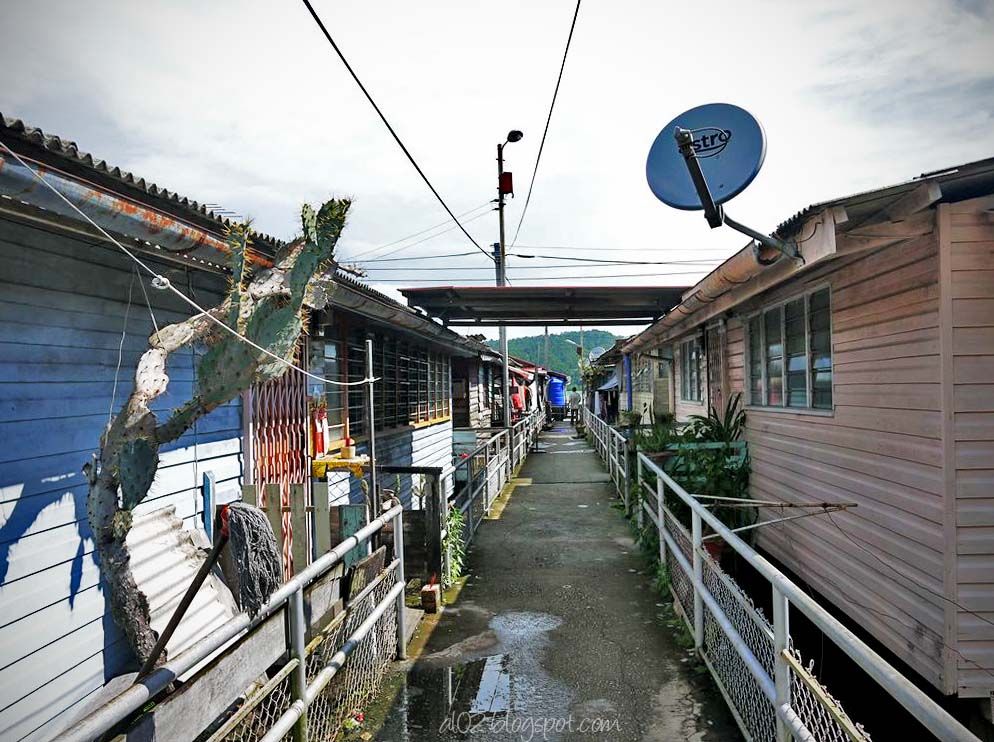 The fisherman village of S

im Sim in the day
These houses are built on stilt

and they literally lives by the sea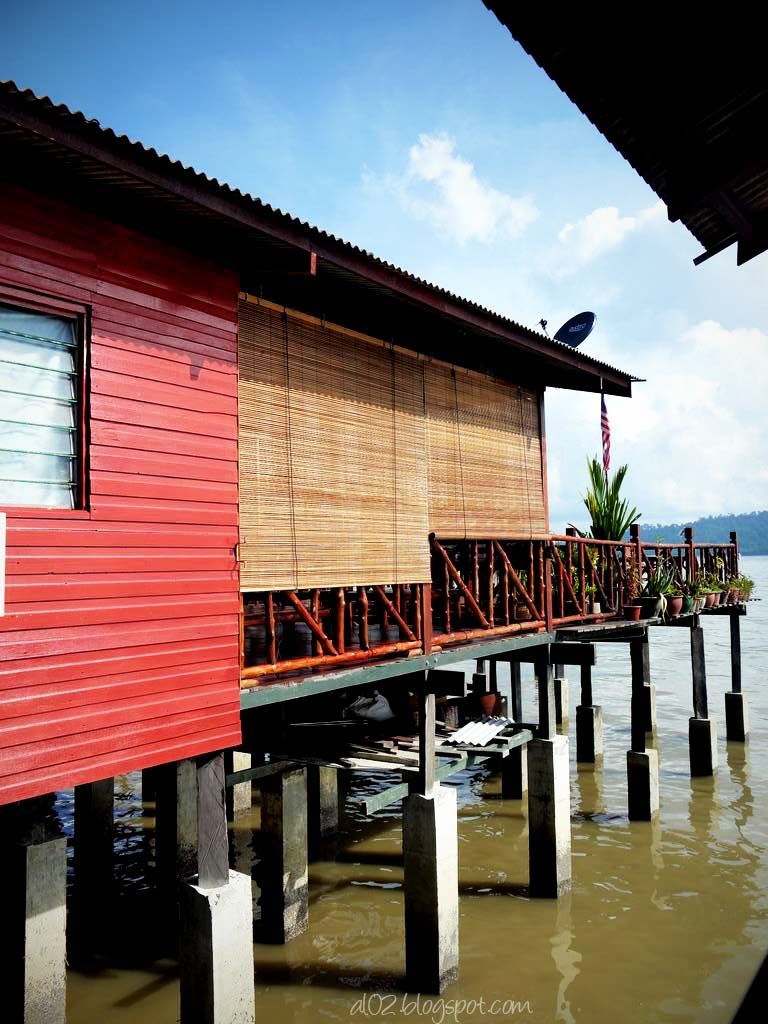 Our view from our seat. Not the best ocean view (because the best seats are taken) but it's still amazing to smell the sea and watch the vast ocean while tucking in

to

those dumplings and seafood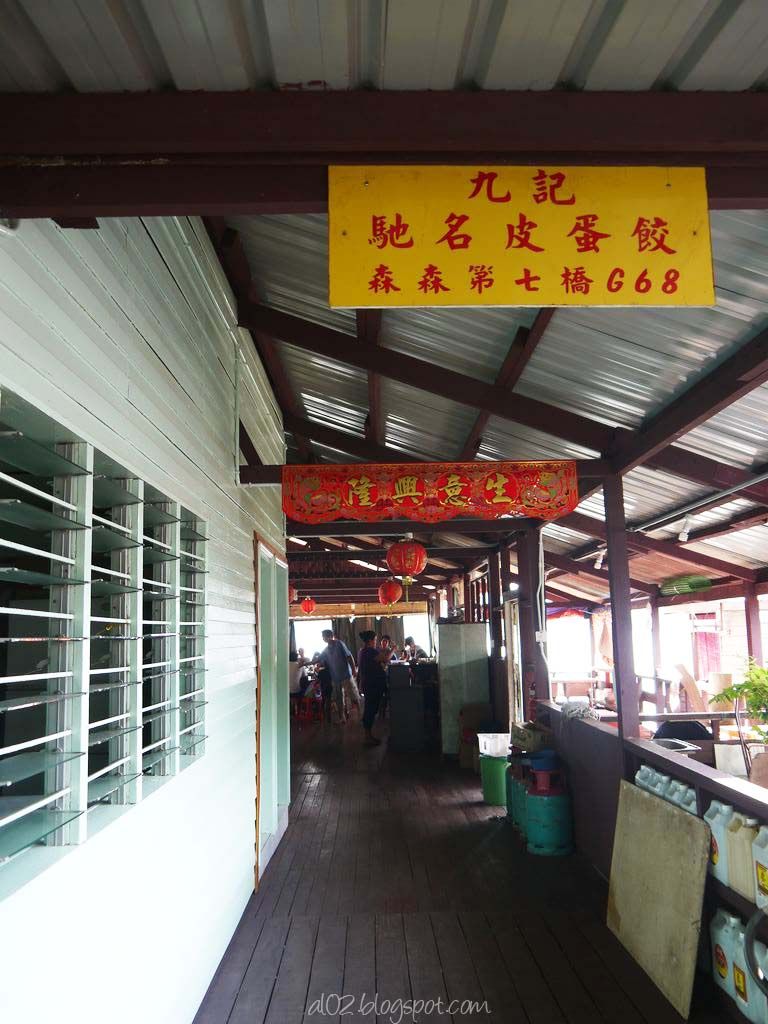 The name of the restaurant
B! My awesome possum ever witty brother

♥
The other unique and must-try in Sandakan is none other than their seafood bak kut teh. Basically they substituted the pork in bak kut teh to a whole variety of seafood such as whole fish, sliced fish, prawns and even cabbages and prawn, fish and vegetable balls! And they have both spicy and non spicy soup based

b

ut the spicy soup based is more like

pepper soup with very strong pep

pery taste rather than herb taste. Otherwise, I have to stressed agai

n that the seafood is so fresh that makes the whole seafood bak kut teh delish. Amazingly, the blend of seafood with the peppery spices and herb based soup turns out to be quite awesome.
'Fish kut teh'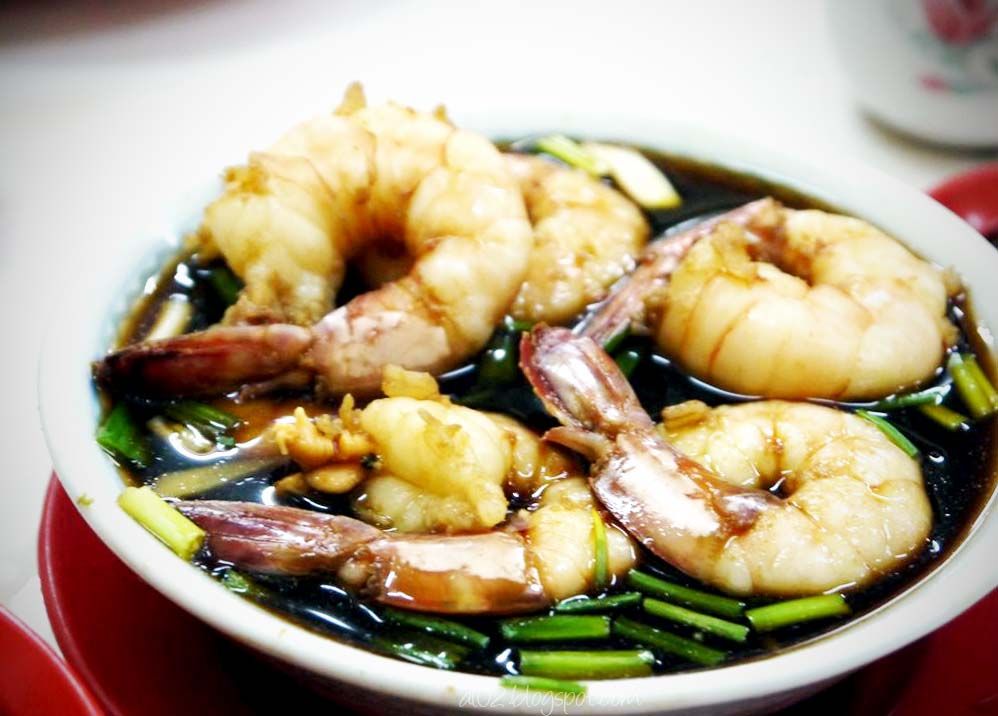 Plump, juicy p

rawns kut teh
Tau pok t

eh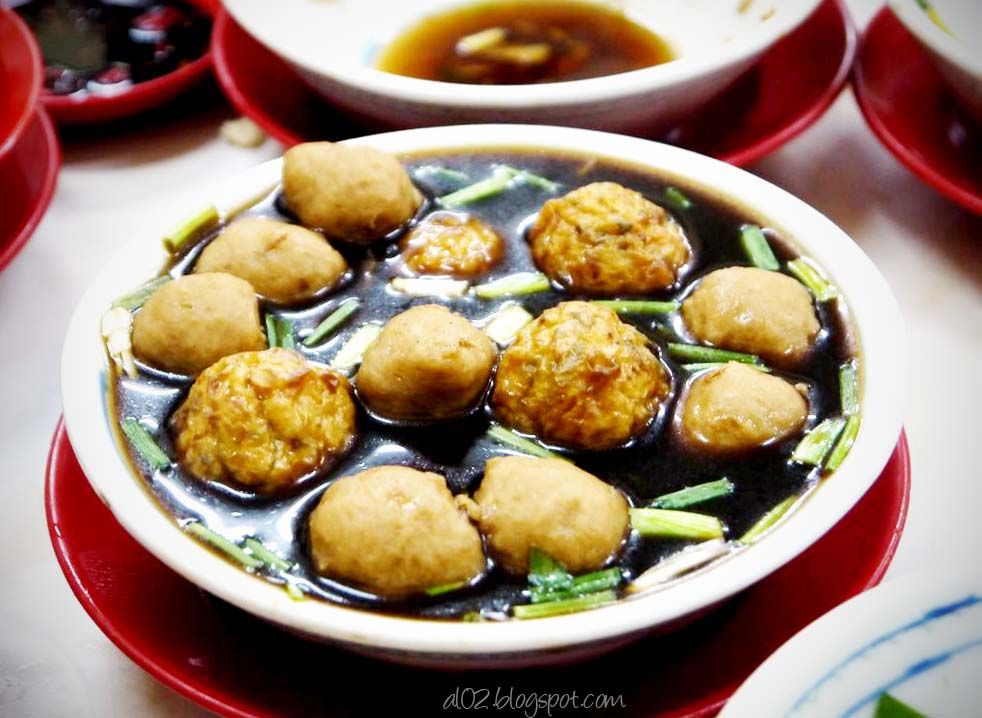 Prawns and vegetable balls in the same soup based
Even cabbages are cook with the same soup based. Amazing

how one soup for all :)
There are actually two very famous seafood bak kut teh shop in Sandakan, one called the Nam Chai and the other the Good Taste. Both restaurants are located within very close proximity to each other in Bandar Nam Tong and both

are equally famous

. However, B being the semi local there now br

ought us to Good Taste as he claimed he prefer the latter over the other.
Our seafood adventure in Sandakan did not just end with the seafood bak kut teh. Last but not least, located at Bandar Kim Fung is this coffee shop known as Restaurant 2020. This place only opens for lunch and they are really good with their fish head soup as I heard their soup

is

cook with dried fish scales that gives them that smooth, fragrant and creamy texture.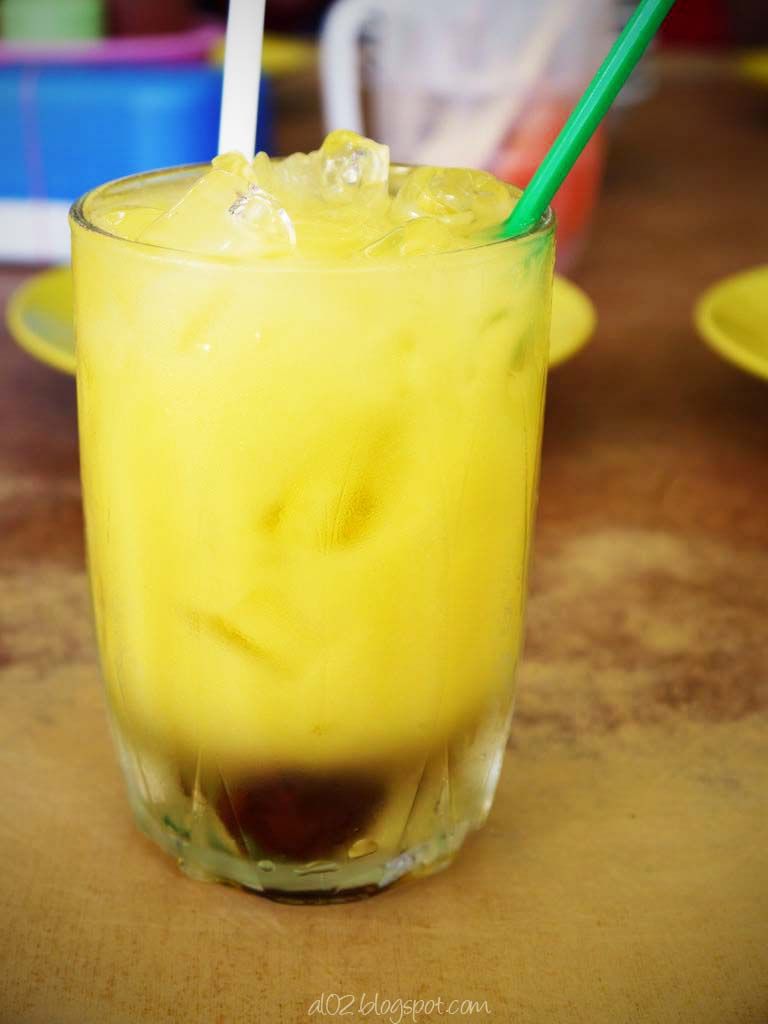 Extremely sour asam juice that certainly

jolts even the sleepist person awake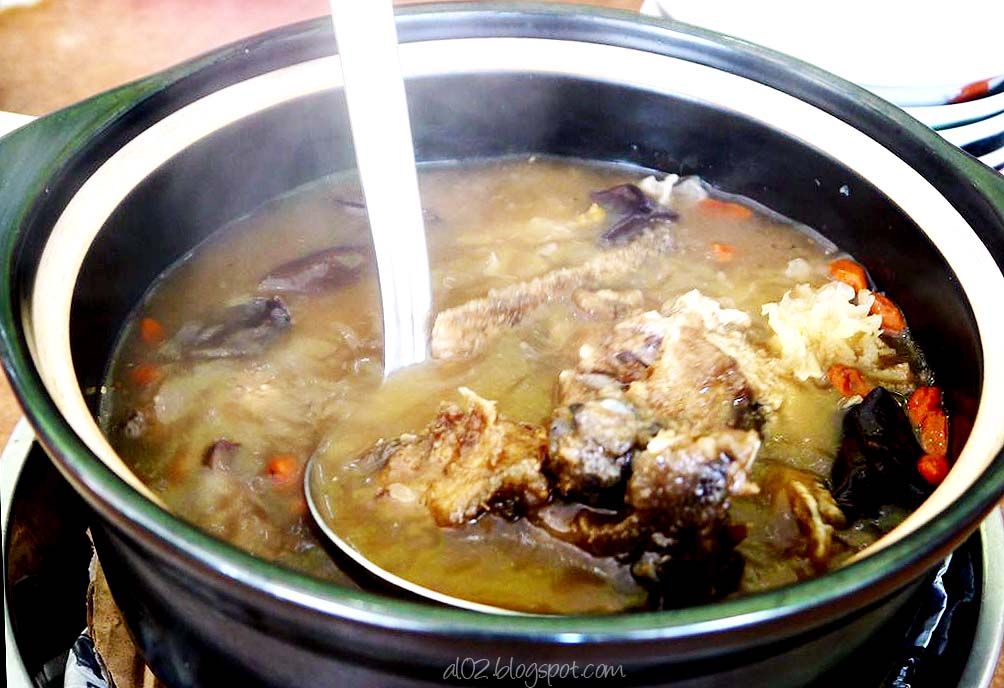 In all honesty, I don't really fancy fish head soup much but this got me smitten. It

tasted really good and fragrant with the herbs and all
Stir fried hor fun

with seafood Sandakan style
Fried mee with seafood San

dakan style. We felt the mee although fried, was a tad too hard
Now aside from the abundant of really good and fresh seafood, Sandakan has really good egg tarts and UFO tarts too. Seriously, who would had thought those little yellowish tarts are so popular in Sandakan too right? Our pick for one of the best egg tarts in Malaysia and uniquely Sandakan UFO tarts is in this coffee shop call the Dragon restaurant at Prima Square (however, B told me they had been closed for a few weeks now, unsure if they are permanently

or temporarily closed).
The coffee shop also sells a whole variety of other tarts such as the cheese tarts, sausage buns, blueberry tarts etc but nothing beats their egg and UFO tarts. I'm sure everyone is familiar enough with egg tarts but really what is UFO tarts? The UFO tarts, another of Sandakan specialty is also fondly known as 'ngao si or cow's dung' tarts by the locals. They probably got this unattractive name from their shape but I really love how cotton-wooly soft and fluffy the meringue top is and together with the taste of custard and cake base, they make perfect little bite-size

snack.
I have eate

n so many egg tarts all over Malaysia but nothing like this one.

The egg tarts here totally got me falling head over heels over them. Since the ones I had in Hong Kong, I ne

ver thought I could find such equally heavenly egg tarts here.

Freshly bake and served piping hot, these amazing little things ha

s

a crispy and crumbly buttery

crust

that is baked to perfection while their

egg custard

is so sil

ky

soft that every bite is just simply so delectable. And the best part is, the egg custard is not overly sweet and they

have a milky

natural egg taste that

makes them so savory
The generous amo

unt of egg custard ♥♥
The UFO tarts-

cake based, meringue top with custard
So missing those tarts right now
There are quite a few places to chill and relax around Sandakan and a few good coffee places too. B's favourite is Brew's Cottage but since he had went there with dad one of the nights when I was too tired to tag along, we went to this other coffee place known as Equator coffee. It's certainly nice to sip coffee and good old hot chocolate on rainy nights in a cosy coffee place like Equa

tor.
I really love their hot chocolate with vanilla ice cream

(middle picture). It's something unusual as vanilla ice cream usually only goes with ice chocolate but they do melt fast
In between all those seafood and tarts,

w

e man

a

ged to find space

in our tummy to go

to this dessert place called the 7 Heaven Dessert parlor while we were there. It's one of the more popular dessert place in Sandakan and

i

t's also a very cosy and nice han

g out

place to just chill the afternoon and evening away with some good cakes, fro

zen yogurts and coffee/ chocolate.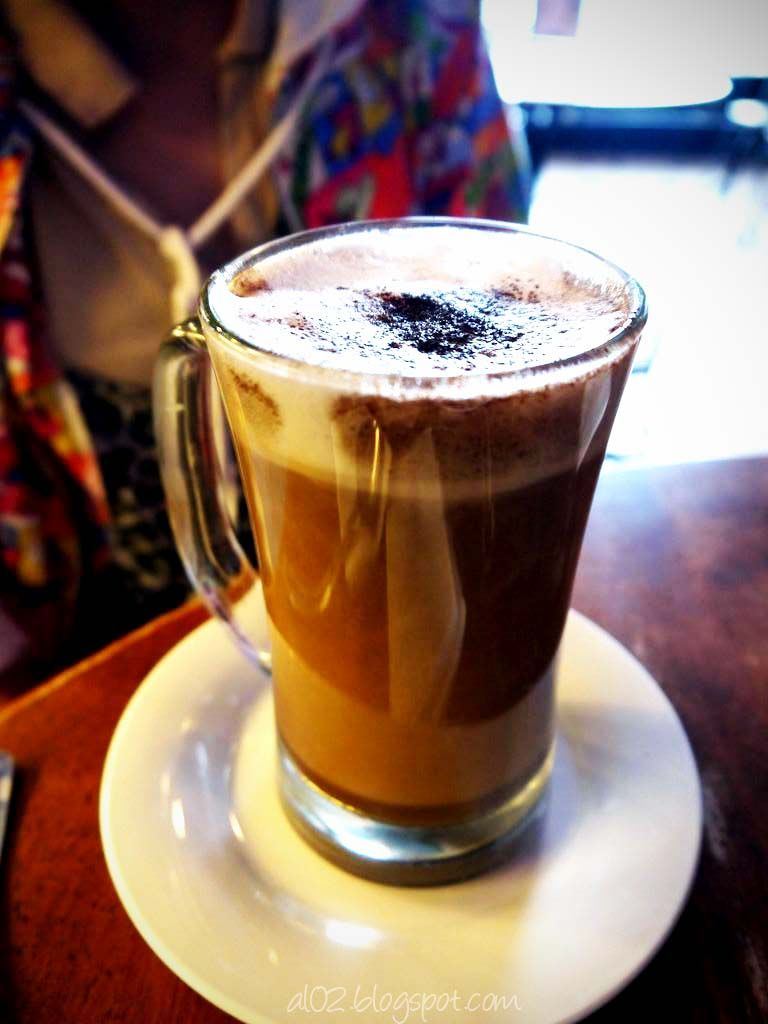 Another hot chocolate
Durian cake that is really yummy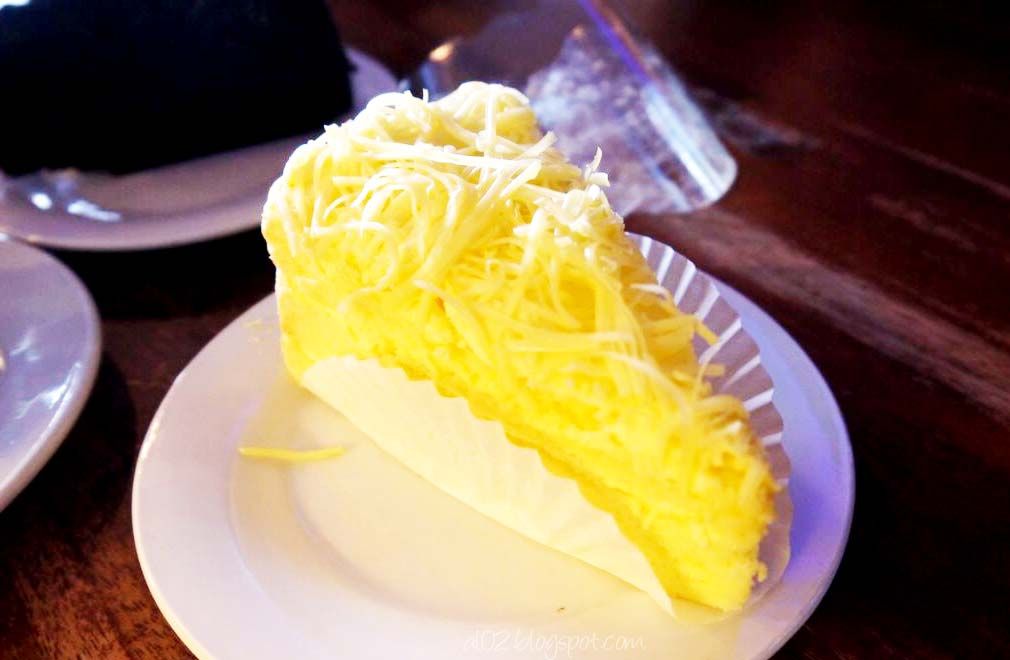 Cheesy cheesecake. This, ho

wever tasted mediocre to me only
Chocolate brownie. Likewise, I f

ind this mediocre too
Chocolate topped frozen yogurt. Oh, I really love the frozen yogurt though

!
Mango frozen yogurt. Superbly refreshing :)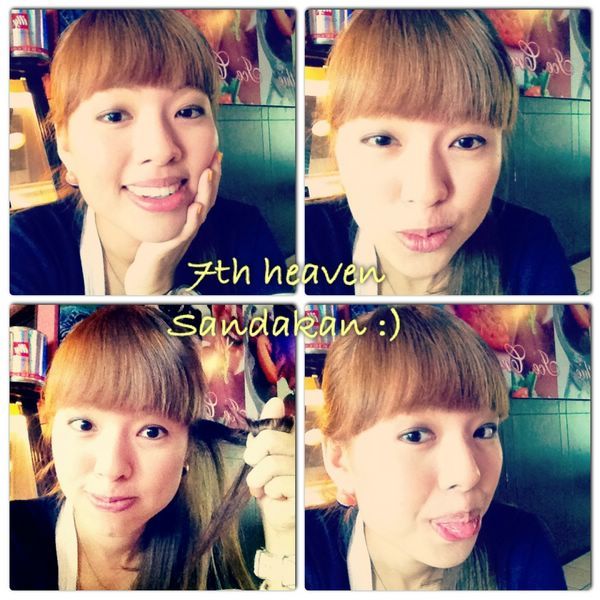 You'll certainly be in 7th heaven too afte

r a round of all those sweet nothings
Aside from all those seafood and food indulgence, Sandakan is really the place to be for nature lovers. From forest reserves to caves to river rides, it's the best getaway

to get close to nature and appreciate their beauty and wilderness.
We decided to get into some 'monkey business' visiting the proboscis monkey at the Labuk Bay proboscis monkey santuary. The proboscis monkey, known for their very prominent long nose and large, protruding bellies that makes them look pregnant all the time is an endangered and threaten species that is under protection here in Malaysia. They can only be found in the Borneo region hence we won't get to see them in West Malaysia here. Labuk Bay is some 1 and the half hours away from Sandakan town and the road to the santuary

was filled

with so many pot holes it was such a bumpy ride. But it's worth it to go all the way to do a little for wildlife conservation and to observe these monkeys in their natural habitat. Basically the best time to go is during the feeding time (the santuary has two different feeding times a day, click here to find out more) as only then these monkeys will be out and we will be able to see them. Otherwise, they will all be swinging deep in their natural habitat and we won

't be able to spot much of them.
Tickets to the santuary
Before feeding time. These monkeys are super intelligent. I don't know how they know the time but they were all hanging around the feeding platform close still to their ha

bitat

as soon as it was close to their feeding time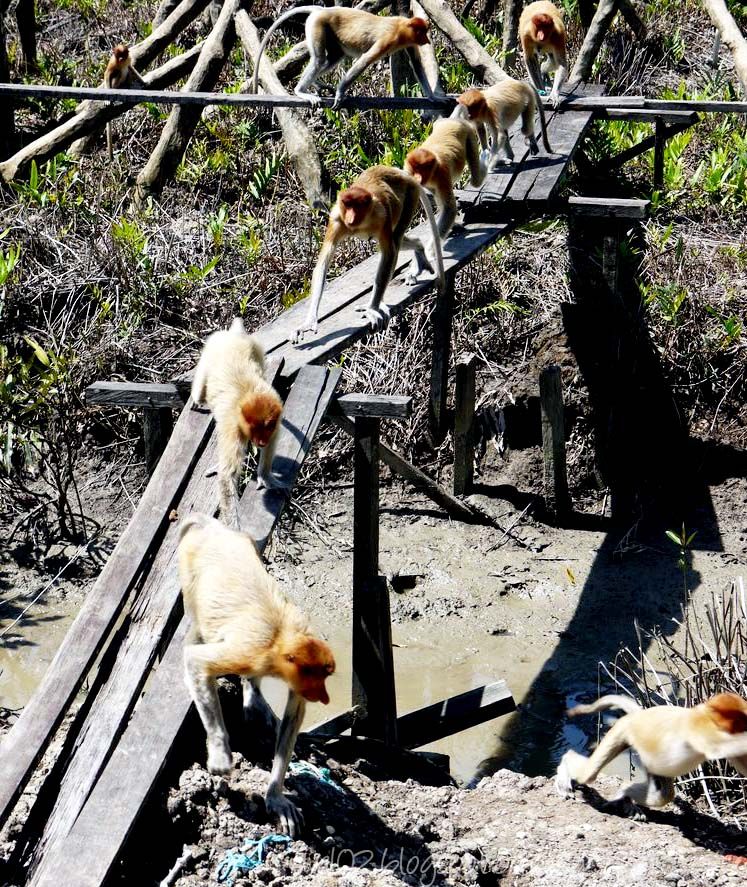 And once their food arrived, they all started crawling one

by one towards the feeding platform
A family of proboscis monkey- Papa, Mama and baby
Doing the touristy shot while the monkeys

were enjoying away their meal
Nom nom nom nom. It was really cute seeing them

feed
The monkey king who came and sat right in the middle scaring some of the other smaller monkeys away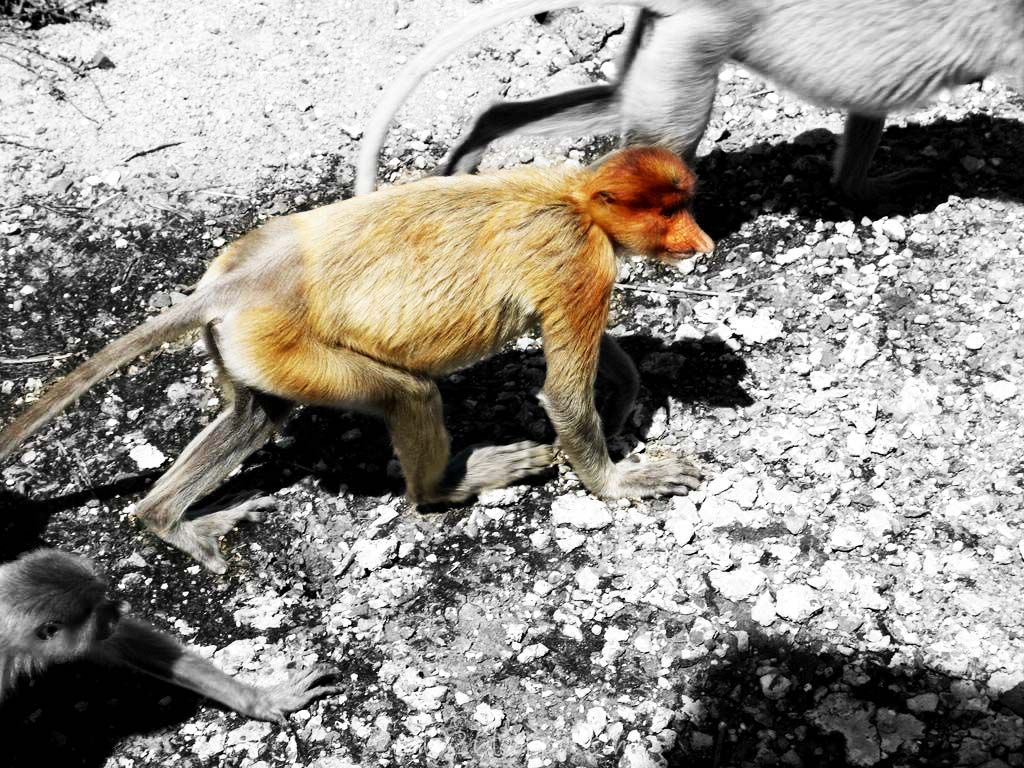 After meal and heading back
The entire feeding session only lasted about 30 minutes and then as intelligently as they had appeared, these proboscis monkey started going back deep into the jungle one by one until none of them can be seen from the platform. Although it was just a short session, it was really cool to be able to see them in real so up close and pers

onal.
We then moved on to the Sepilok Orang Utan Rehabilitation Centre which is about 30 minutes away from Labuk Bay and some 45 minutes away from Sandakan town. Like Labuk Bay, they also have their designated feeding time (more info, click here). The Sepilok rehabilitation centre, established since 1964 not only provides rehabilitation to orphaned baby orang utans but also to educate the public on conservation of these wildlife endangered species. They have a video room at Sepilok and I strongly recommend all to watch the video to further understand regarding the rehabilitation and conservation work they are doing

.
The orang utans, being exclusively Asian species of the extant great apes is really the most intelligent primates and it is amazing to see how they

can mimic and be so

human lik

e

so close up. These Bornean orang utans are currently listed as critically endangered species as there have been a vast decline in their population in

the past few years. Hence, all the more important for conservation and rehabilitation work like the one being done in Sepilok.
Peeling open the ba

nana
And then feeding on it
Totally enjoy watching these giant primates swing arm to arm from cable to cable (these cables are to help them find their way to the feeding platform) and then lazing around as they enjoy

their feed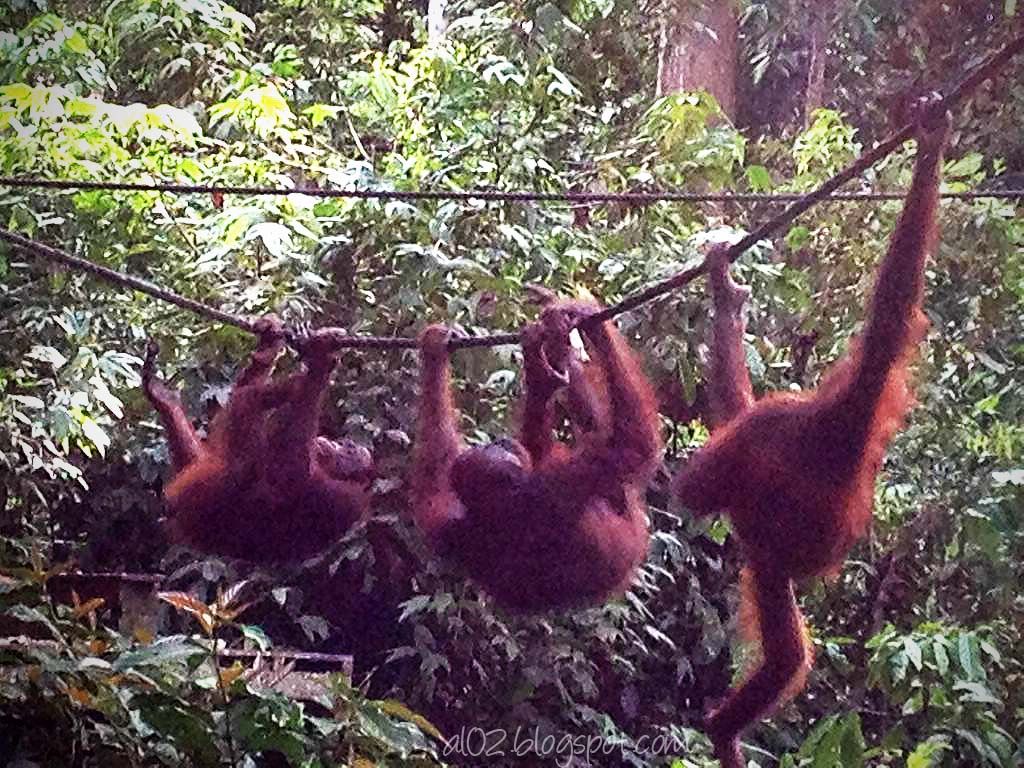 The t

hree musketeers
The oran

g utan party
Aside from contributing and understanding more about the proboscis monkey and orang utan conservation, we also made a spontaneous decision

to go to the

Gomantong cave. Known by WWF as the 'best-managed birds nest cave in the world', the Gomantong cave has been the focus

for

birds nests for centuries. Initially,

we

were hoping to catch s

ight

of the swiflets and their birds nests and perhaps the workers at work as we all know what a risky job it is to collect these birds nests as the harvesters are only climbing on ropes and rattan ladders to

a very high height

and that's part of the reason why birds nests are so expensive.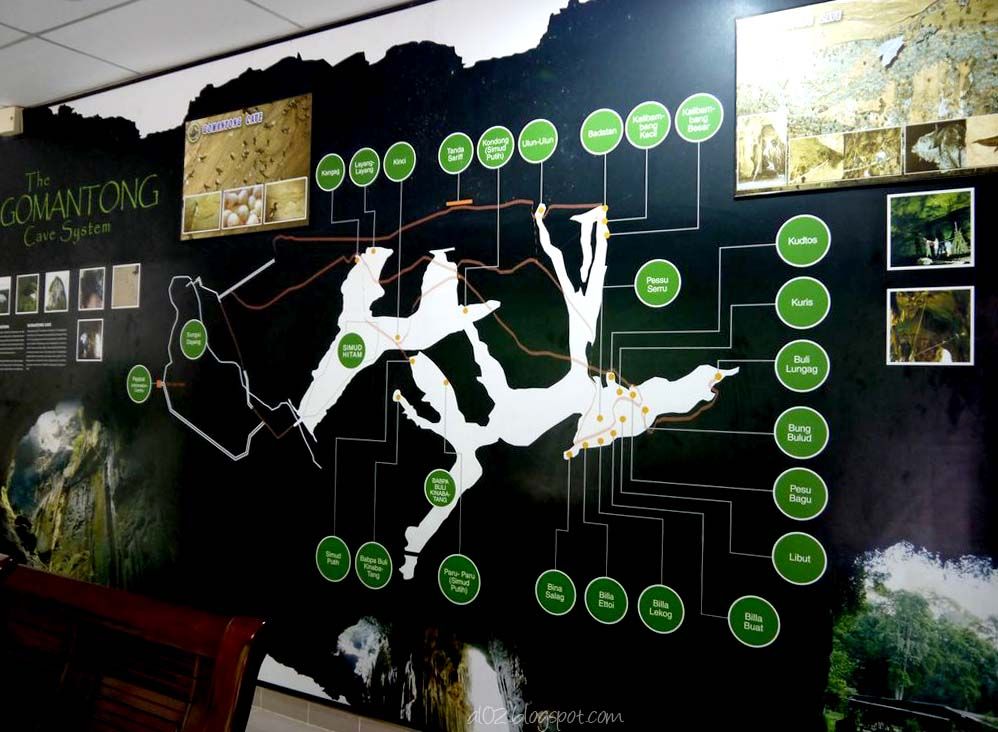 The cave has two cave complexes, the more accessible Simud Hitam and the more valuable but hard to access Simud Putih. As we weren't prepared in any caving attire or tools (we totally weren't prepared for any caving), we decided to just explore Simud Hitam, which is a mere

10

minutes walk or so from the registration office
Totally out of place attire for ca

ving
The majestic entrance of

Simud Hitam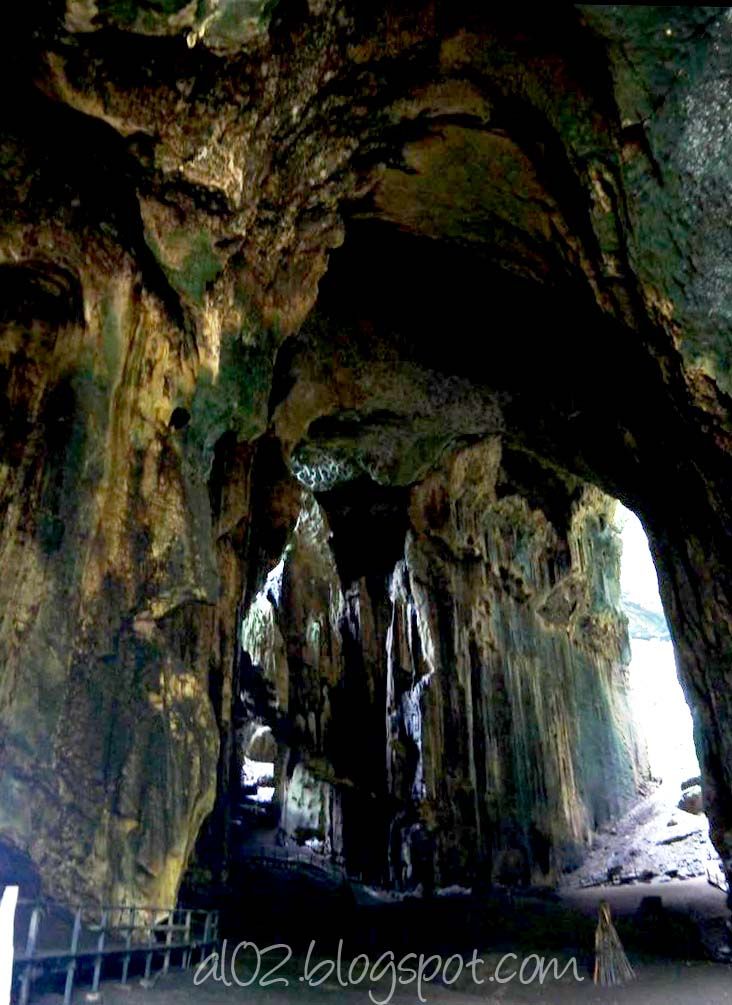 There are readily built boardwalks and hand railings in the cave BUT the whole cave is dripping with gu

a

no from the bats circling above that opening an umbrella is actually a wise idea. Besides,

the

boardwalks and hand railings are actually extremely slippery and also dotted with guano and cockroaches crawling everywhere so unless you wears a glove, you will not want to be touching those hand railings trust me! The worst part is the whole cave actually smells of a musty, unpleasant smell you wonder if swiflets still do drop by to make their nest

.

It's really like visiting a very primitive cave in thei

r most au naturale.
The supposedly sw

iftlets nests holes
Doing a touristy photo take in the cave after overcoming those slippery steps and surviving the smell, guano and cockroaches
Quite disappointingly we didn't get to see any swiftlets or their nests at all sa

ve for

a few ropes dangling around the cave. The locals looking after the cave actually told us that Simud Putih is the cave to explore if we really want to see valuable birds nests and the workers at work. So, perhaps get ready for some serious caving next time you decided to go to the Gomantong cave or unless you like the feeling of walking in the dark with creepy crawlies and unpleasant sme

ll around.
While I was in Sandakan also, I managed to have a quick meet up with Vennila. She brought me to this really romantic and nice rooftop restaurant and bar, the Ba Lin. From there, you can enjoy a beautiful view of the sea or the town of Sandakan while soft music plays or if you sit in the open, let the cool night wind blow againsts your f

ace as you enjoy some equally good food with the gorgeous view.
The vintage like entrance to Ba L

in
Me and the ever lovely Vennila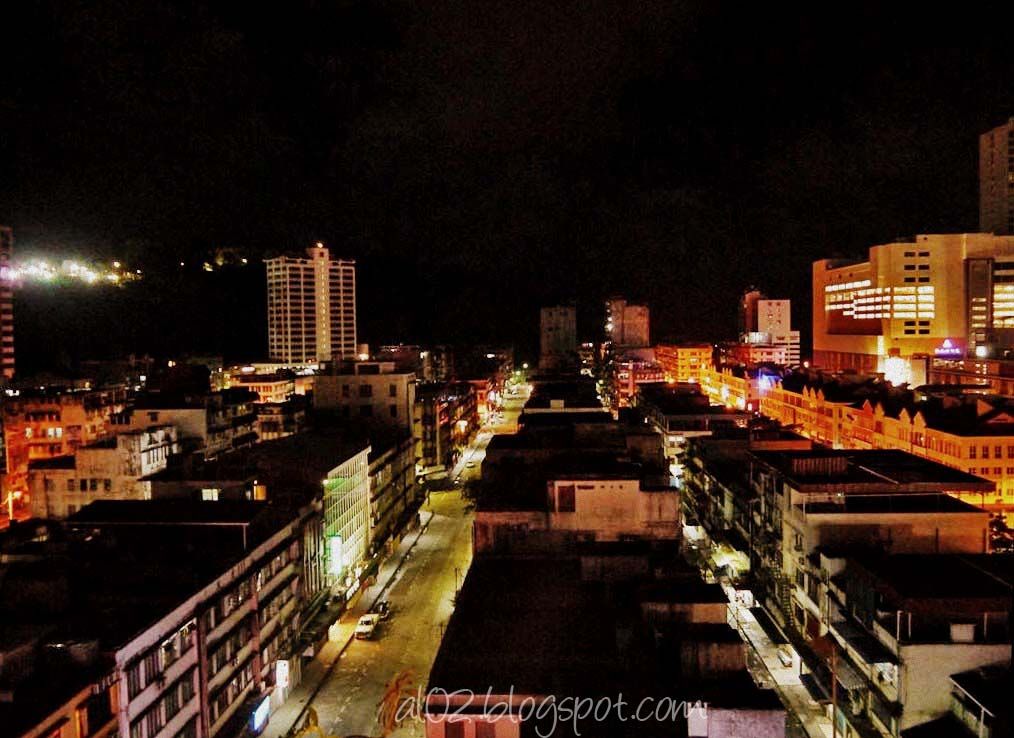 The sleeping town below
We decided to gives our serotonin a boost by indulging in this to die for chocolate lava

cake with vannila ice cream
There are actually a few more places to enjoy very nice view of Sandakan such as from our hotel itself (the Swiss Inn Sandakan), the English Tea House (where the Agnes Keith house is) and from some observation tower I forgot exactly where. But point is, they all offer equally beautiful view of the little township of Sandakan and it's definitely breath taking to just take in the view at sunrise or s

un set.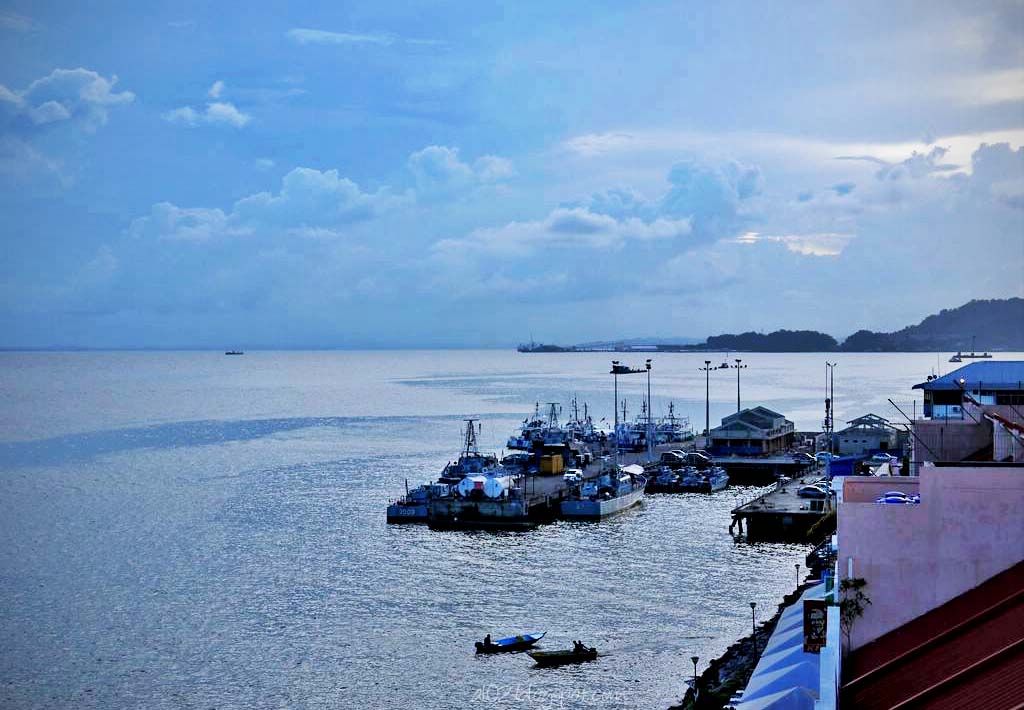 The vie

w from our hotel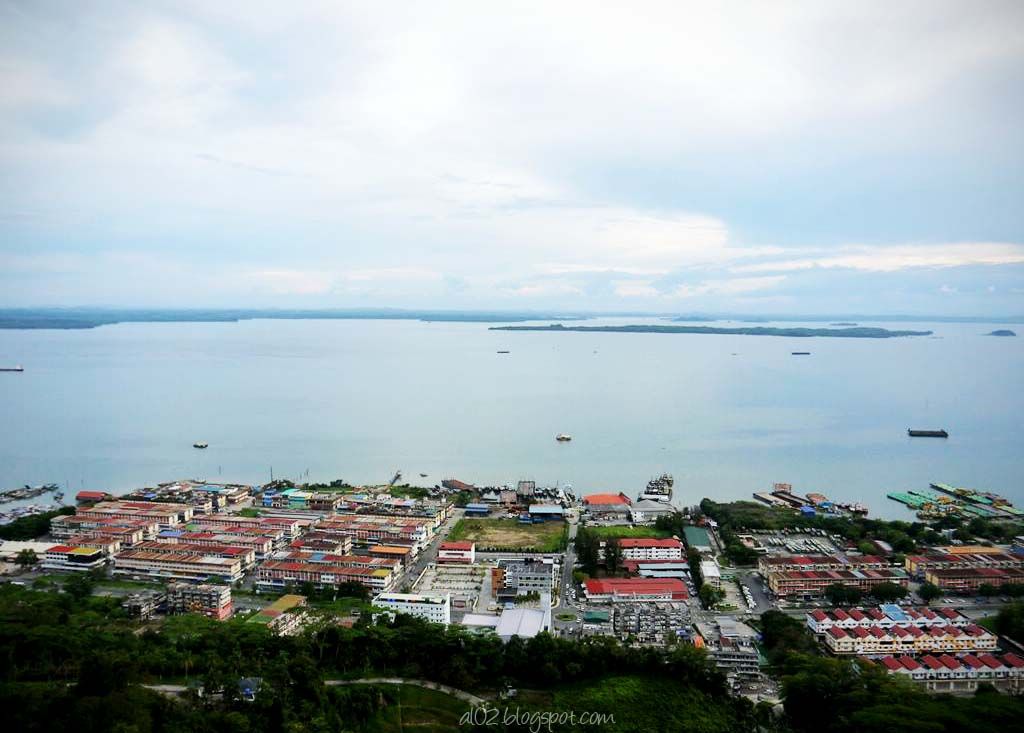 The view

from the observation tower which offers the best view though imho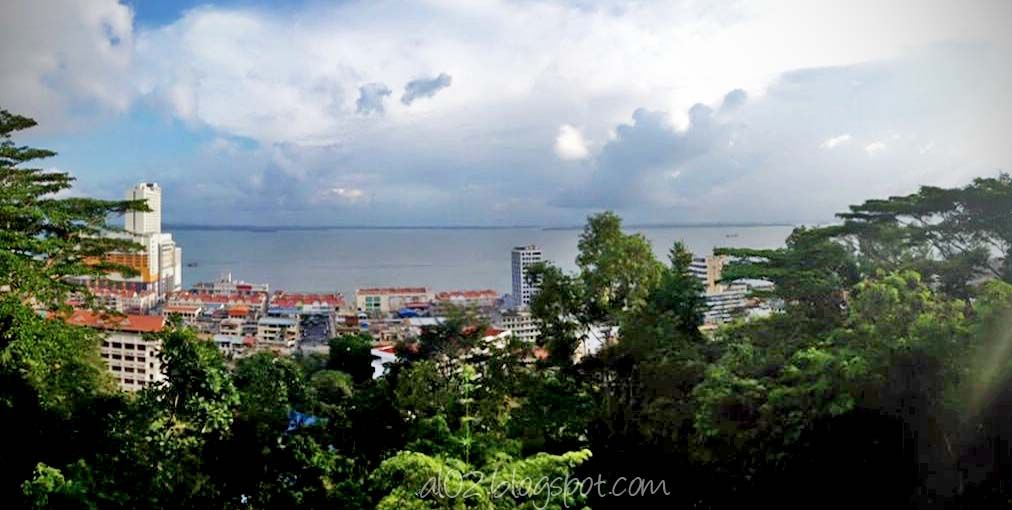 The view from the English tea house
Another amusing thing I find about Sandakan is their public bus, also known as the 'Bas Be

rhenti-henti'
Sandakan town
Saying goodbye to Sandakan
We decided to give all those historical sites a skip this time round although I reckon places like the Agnes Keith house should be quite worthwhile visiting. Sandakan, as a whole is a pretty pleasant quiet town to live in and at least they have a cinema (albeit a not so nice one) and many cool chill o

ut places to unwind.

It was just a simple and very relaxing short getaway being close to nature in Sandakan but most importantly, it was good meeting and catching up with B. I can't denied that I absolutely enjoyed the freshness of the seafood and egg tarts there too. It was one of the more different getaway from my usual holidays but a holiday like this is very refreshing to the mind and enjoyable as well, more so since I got to spend it together wit

h my

family. :)