In this new year, I'm definitely gonna complete my backpacking Indochina (the other fellow South East Asia countries) travelogue. To refresh, you guys can read my first leg of backpacking Indo-China; Cambodia and Vietnam here. My second leg of backpacking Indochina started from the very uniquely beautifiul Laos. Laos, bordered by Vietnam to the east, Cambodia to the south and Thailand to the west, is somehow the least most favourite tourist destination among people in my part of the world (the southern part of the South East Asia region) at least. Perhaps it's because of the lack of understanding towards the country or perhaps it's because of the lack of tourism promotion, but I can tell you Laos, especially the town of Vang Vieng and Luang Prabang (which I will blog about later) is one amazing place for adventure and nature beauty seekers.

Only after we decided to go to Laos did we realized that the only budget airline that flies to Laos is Air Asia and the only flight available is from Kuala Lumpur to Vientiane. Not even the Singapore budget airlines have flights to Laos. That pretty much explains the tourist flow to Laos from this part of the world, no?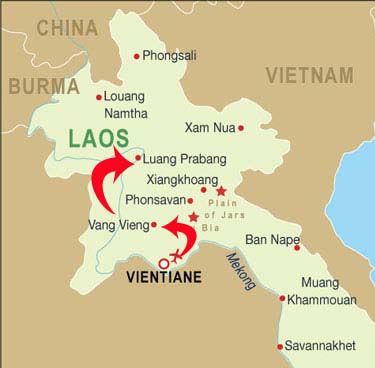 Our travel route in Laos - Vientiane to Vang Vieng

to Luang Prabang
After exploring the
riverfront area
on our arrival day, we decided to get fit by doing a walking tour, pretty much following the suggested route by our worthy Lonely Planet guidebook. In Laos especially Vientiane, you'll probably find cafes and restaurants selling Western style breakfast much more abundantly than local Laotian breakfast, hence I never had more Western style breakfast than when backpacking Laos.
Bacon, cheese, lettuce and chicken patty between burger bun

as my first breakfast in Laos
After breakfast,

w

e hopped onto a jumbo (jumbo in Laos is to tuk tuk in Thailand) from the riverfront area and got to the very starting point of our walking tour- the Patuxai. Tourist being tourist, we had to bargain for our jumbo to get them to take us at a reasonable fare else all their starting fares are at least trip

le of the real fares.
The Patuxai, a vivid reminiscent of the Arc de Triomphe in Paris, is the most prominent monument of Vientiane. But unlike the Arc in Paris, the Patuxai boost to have

four

archways instead of just two. With a minimal admission fee, we can climbed to the top level of the monument to enjoy a grandiose view of the town of Vientiane. It's certainly a gorgeous way to start the day feeding our senses with such breathtaking

scenery first thing in the morning.
The Patuxai, that looks strikingly similar to it's French inspiration from

afar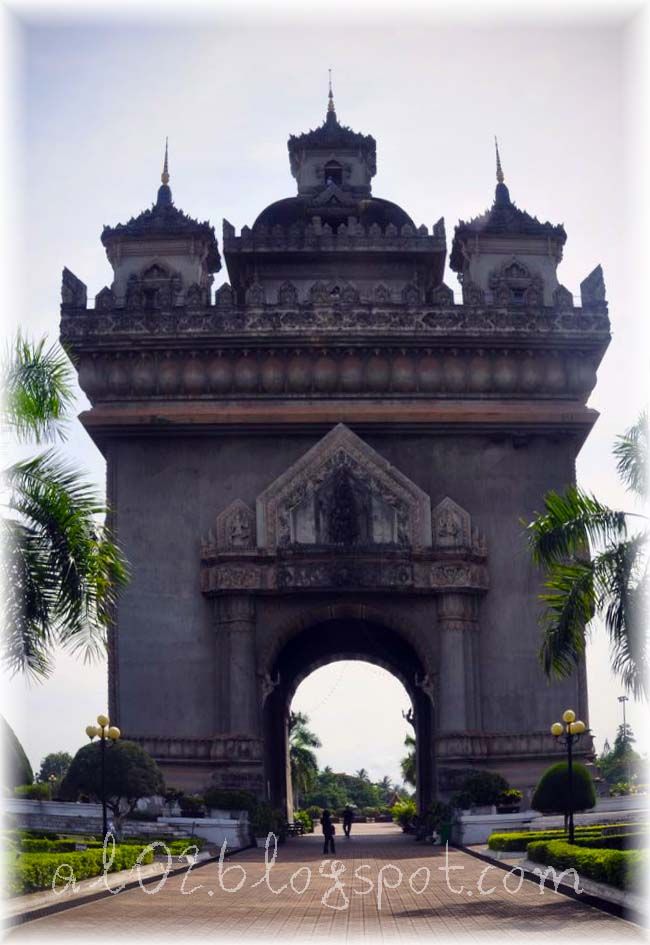 However, up close they reveal more Laotian design with it's bas relief on the sides and temple like ornamenttion along the top and cornices being typically L

ao
Loving the Pat

uxai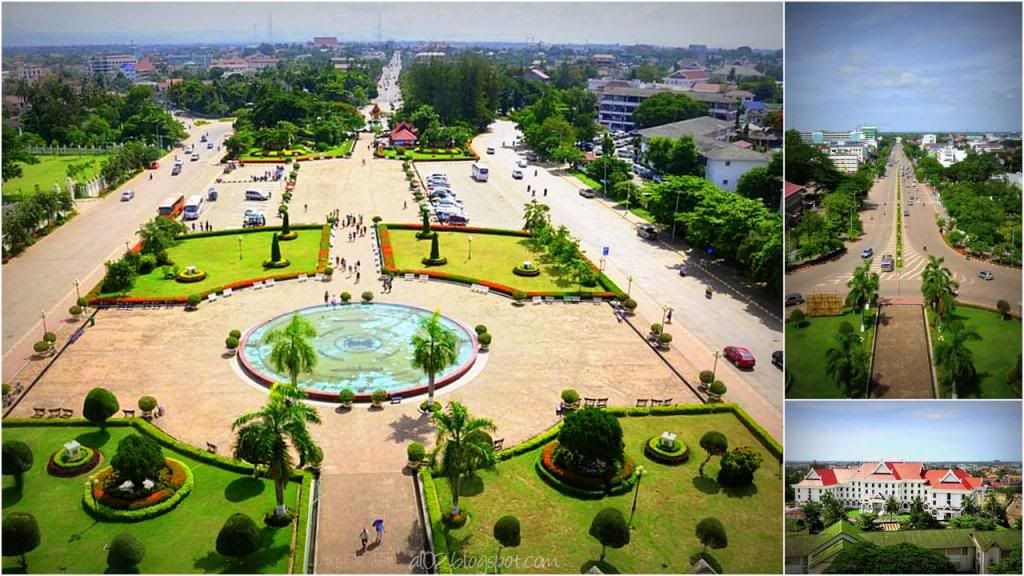 The grandiose view from above. From the top, one can enjoy a full 360' view of the town below
After spending a good two hours or so at the Patuxai, we

started heading into town going

along Th Lan Xang also fondly described as the 'Champs Elysees of the East' by many. And it's also along this street that we found the many money changers that will give better exchange rates for your kips and the Lao National Tourism Administration office where we picked up free maps

and

brochures.
Our next stop on our walking tour was the Talat Sao, Vientiane's biggest market. And

around

the corner of the market is the post office. It had became customary during my backpacking days that I sent a postcard home from every country I stopped by, hence

paying

extra attention to the post office. The Talat Sao is a two

-

storey covered market and inside, there are various small stalls consisting from vegetables and fruits vendors

to

hawker stalls to make shift hair saloons (that the hair dresser impressively worked from the most basic

equipments) to

textiles, electrical products, housewar

es, souvenirs

and pirated Lao and Thai pop to glorious r

ows of goldsmiths one can almost be blinded by all the shining gold.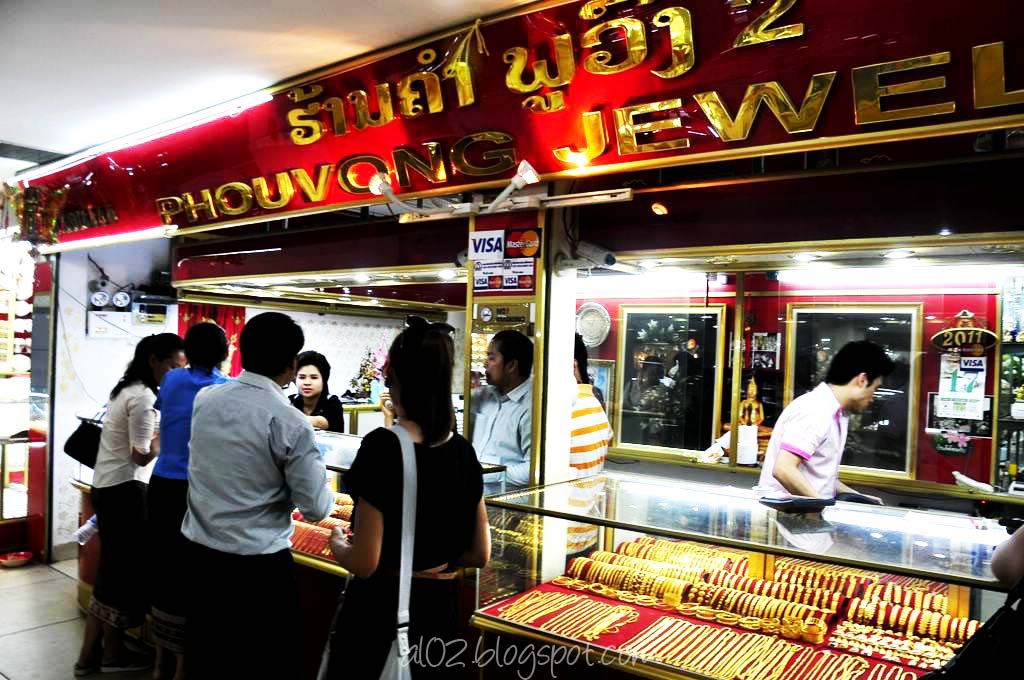 It's too bad I don't exactly survey the market price for gold hence not really sure if this precious metal is actually selling cheaper than our country but with so many goldsmiths, one can easily assume Laotian gold must be pretty reasonably pri

ce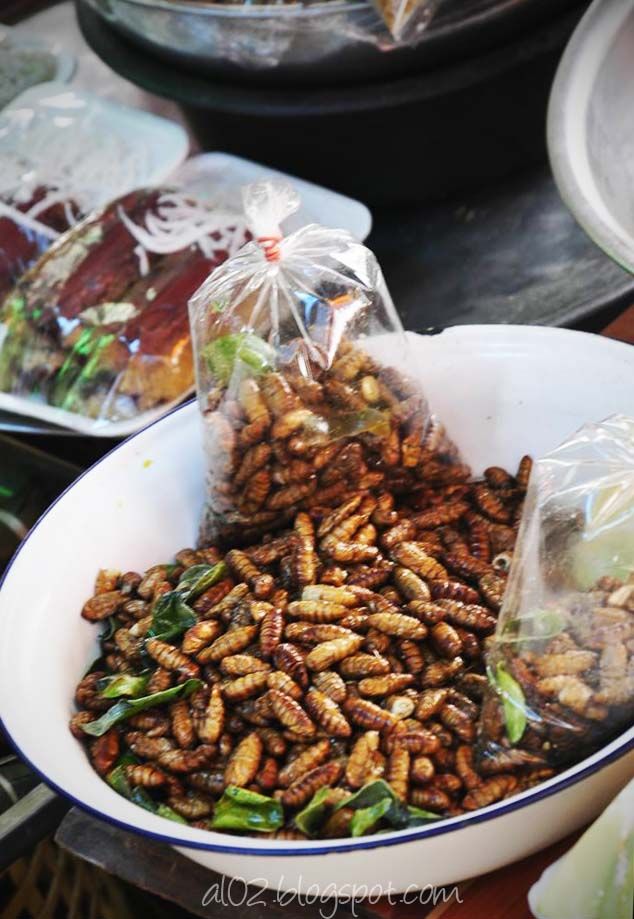 Silkworms, anyone?
Some of the other parts of

Talat Sao
After an entire morning at the market searching for souvenirs and whats not, we decided to do a detour from our suggested walking tour and hopped onto another jumbo to take us to Pha That Luang, another touris

t destination of Vientiane.

It wasn't until we were at the Pha That Luang did we realized that the Patuxai was a good 8-10 km down the road and

our

whole walking tour could had started

right from there.
Taking a break at the Swedish Pizza a

nd

Baking House with good cold chocolate shake and shrimp pizza in the midst of the long walk

from

Pha That Luang to the rest of our walking tour destinations. The Swedish Pizza and Baking House is claimed to arguably serves t

he best pizza in Vientiane
The Pha That Luang (also known as the Great Sacred Reliquary or

Great Stupa), a gold covered large Buddha stupa

is a definite must-visit in Vientiane as it is not only the most important monument of Laos but also

a

national symbol. It is a symbol of both the Buddhist religion and Lao sovereignty. Image of the main stupa commonly appears in countless places such as their national seal and Lao bil

l.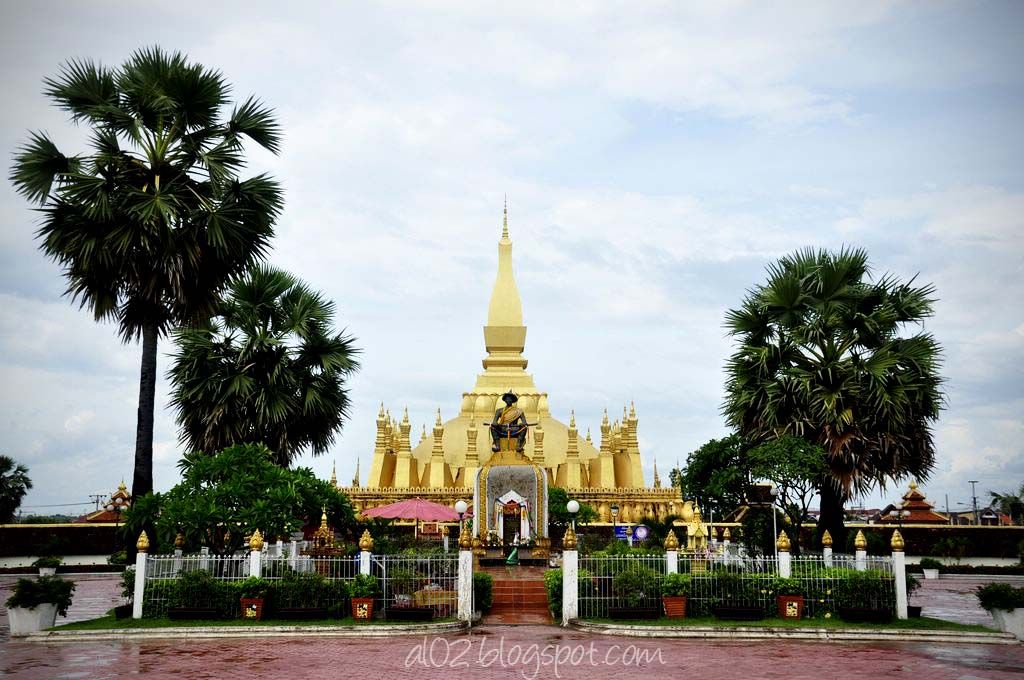 The eleg

ant

Pha That Luang from afar
Gloomy sky was lurking above by mid afternoon hence the Pha That Luang did not glow as much as I presumed it would under shi

ning bright sun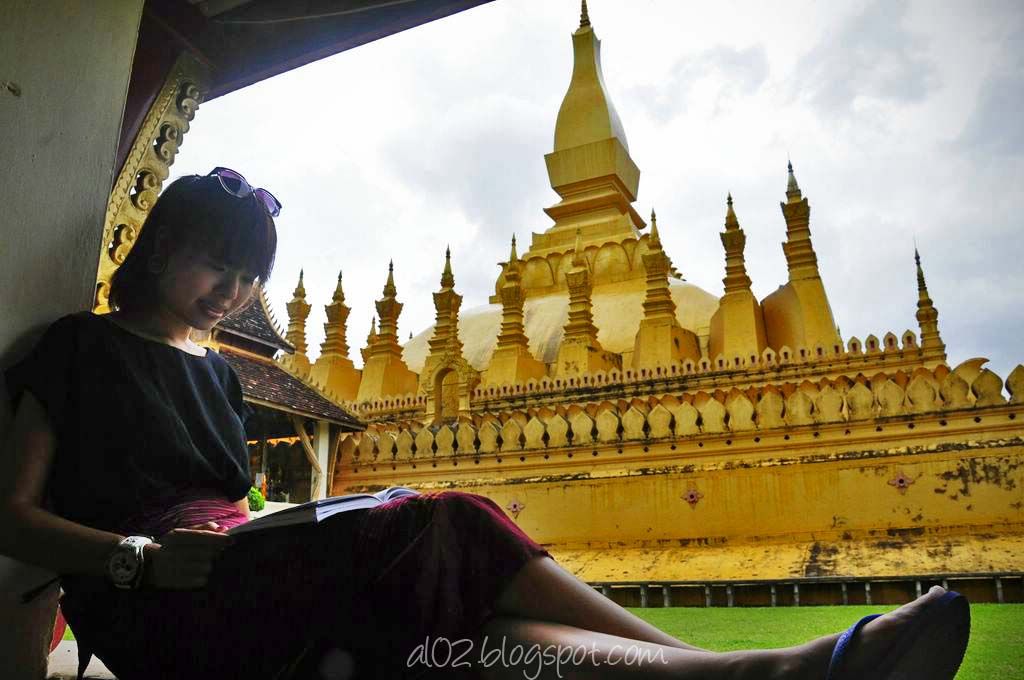 Up close, the Pha That Luang could definitely do with some repainting. Still, I find sitting solacely in a corner reading my book while admiring the symbolic monument a peaceful and enjoyable way to whizz away the rainy afternoon
Just love the shot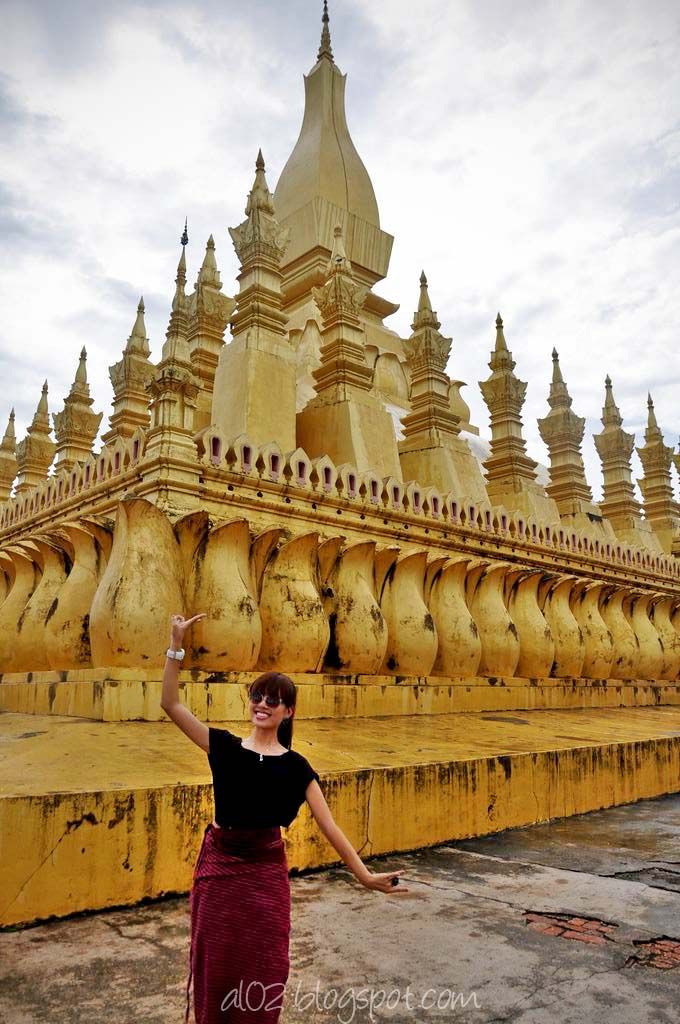 From ground to pinnacle, the Pha That Luang is 45m tall. At each level of the monument are different architectual features in which Buddhist doctrine is encoded and visitors can try to contemplate the meaning of

these features as they walk around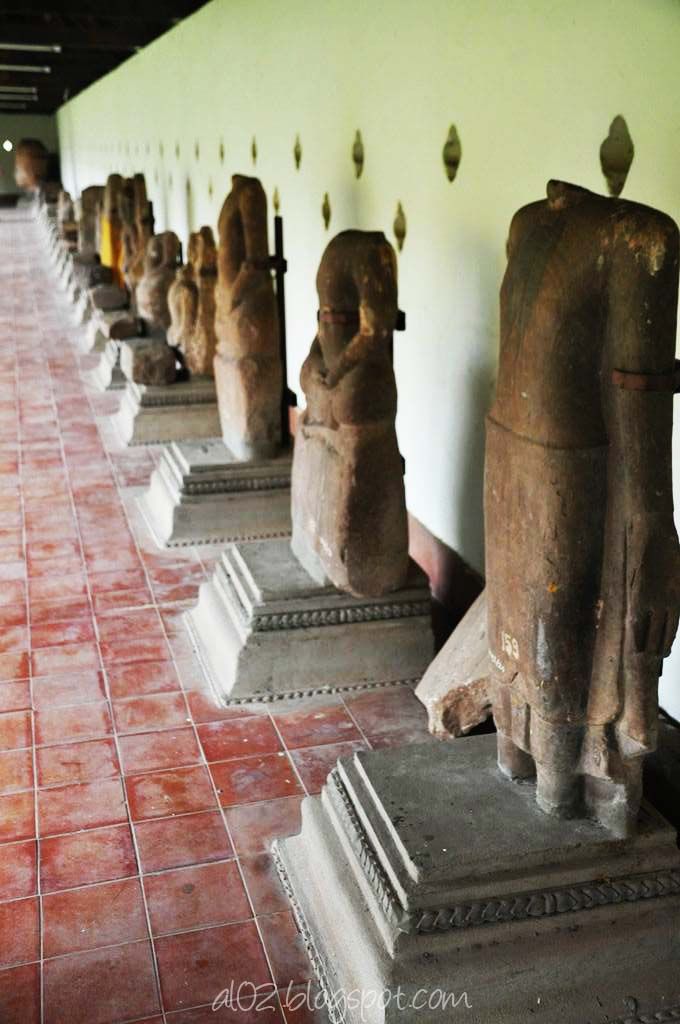 Sadly, many of the Buddha statues ar

e headless due to thievery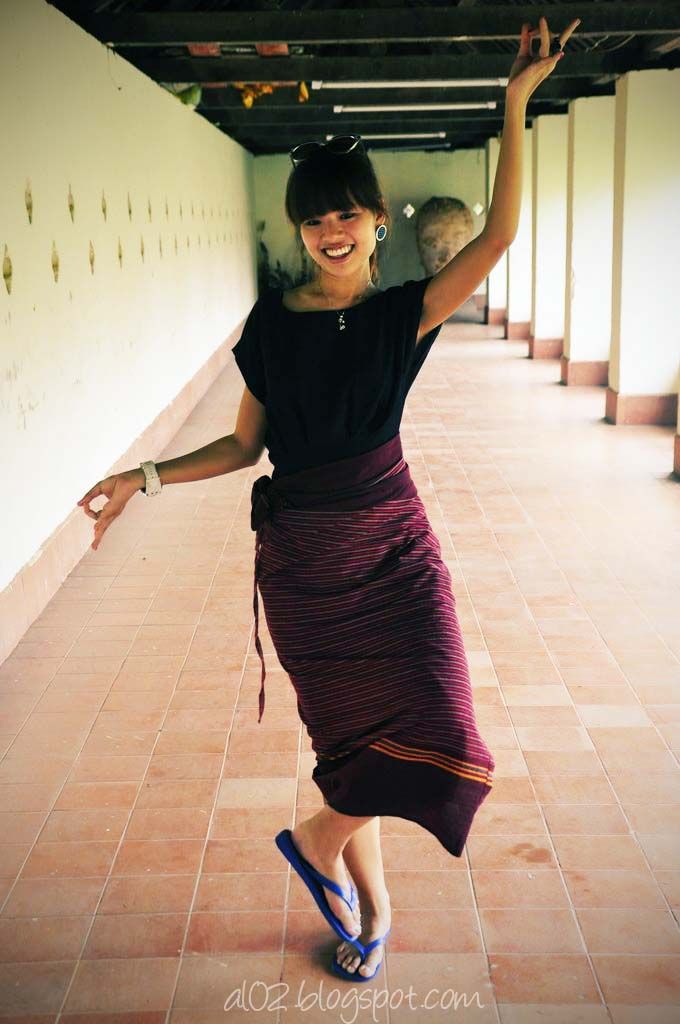 Ala the Khmer dance

r
So...a

p

aid left turn?

*haha*
From Pha That Luang, we

continued our walking tour passing the Patuxai once again along the way.

Some other notable buildings we came across includes the Th

at Dam stupa, the

US embassy with it's intimidating clean white tall walls which strictly prohibits any form of photography within a 100m radius of their embassy else the armies will come chasing after you with their gun and all, the Presidential Palace and the Wat Si Saket with it's thousand

s of Buddha figures.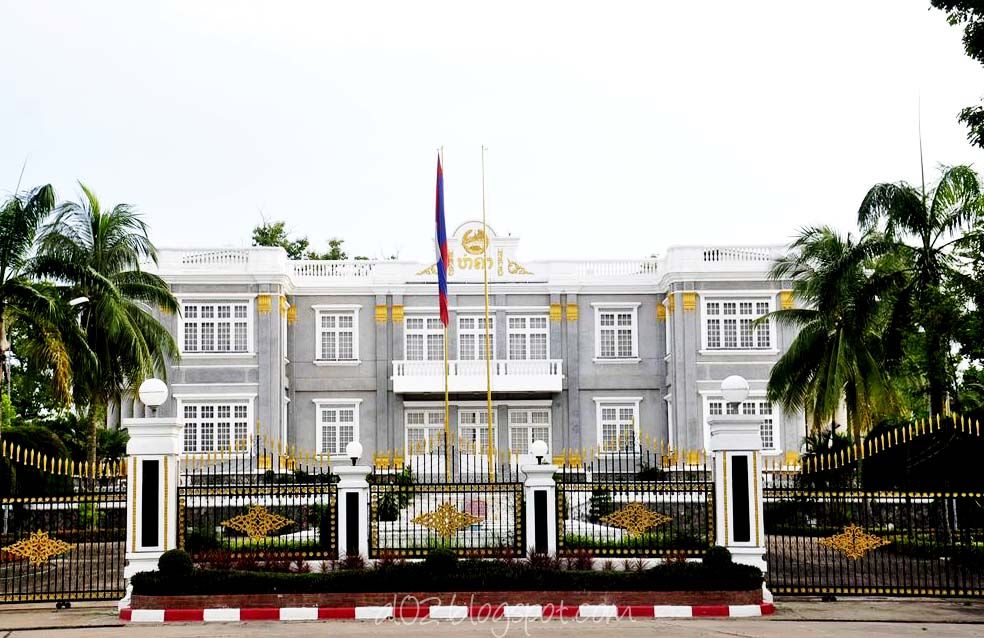 The Pres

idential Palace
We finally found ourselves back at the riverfront at the end of our walking tour right in time for dinner. It's simply amazing and convenient how all these must-visit sights of Vientiane are

so

closely located enabling us to cover all of it

on foot.
After so much of walking and calories burning, we decided to pamper ourselves with a good Laotian dinner at the Ban Vilaylac restaurant that is also located

around

the riverfront area. Highly recommended by popular

travel guides

such as Lonely Planet and the New York

Times

,

it is a charming little restaurant

pretty hidden between the two temples; the Wat Ong Teu Mahawihan and Wat Chanthabuli that serves delicious home-style Lao

as well as

Thai food.
A romantic

little place to unwind at the end of the day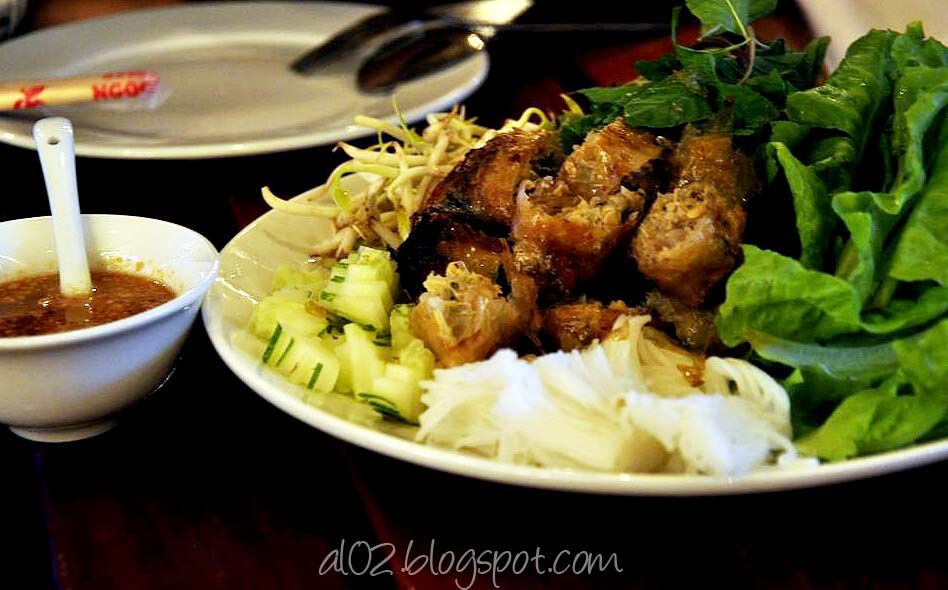 Starter of the night- Laotian style sal

ad with plenty of raw vegetables
Laotian spicy green papaya salad

- known also as tam mak hoong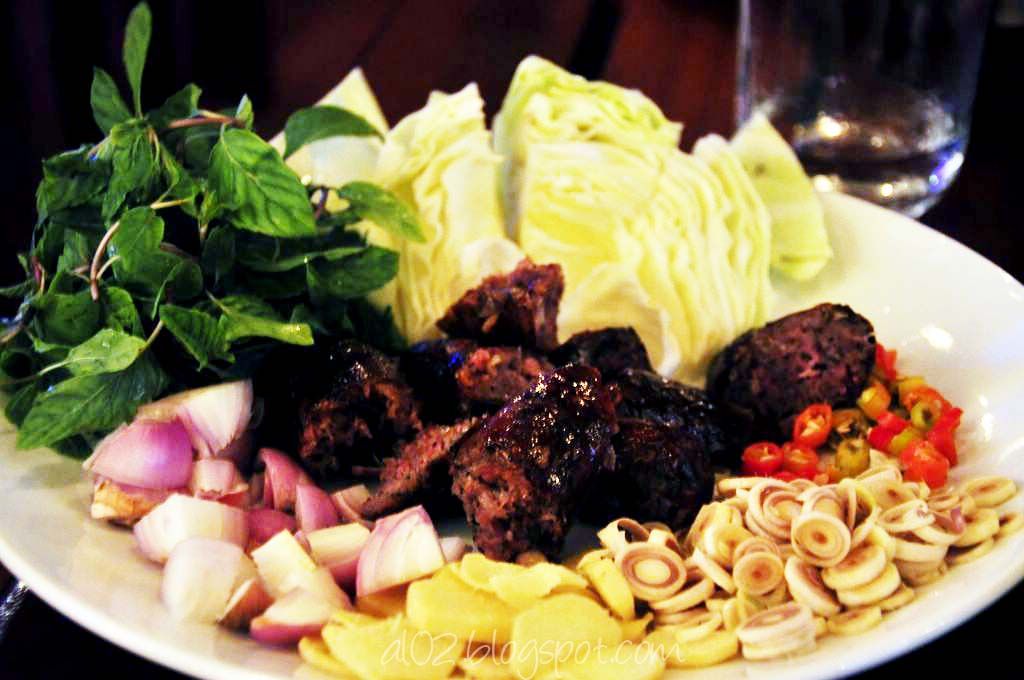 Lao sausage (sai kok) - chunky pork sausages served with shallots, galangal, coriander, chillies and lemongrass among

others
Por

k

Larb (la

ap)

- a spicy local Lao cuisine consisting of a mixture of marinated meat (any kind of meat or fish actually) and herbs, greens and spi

ces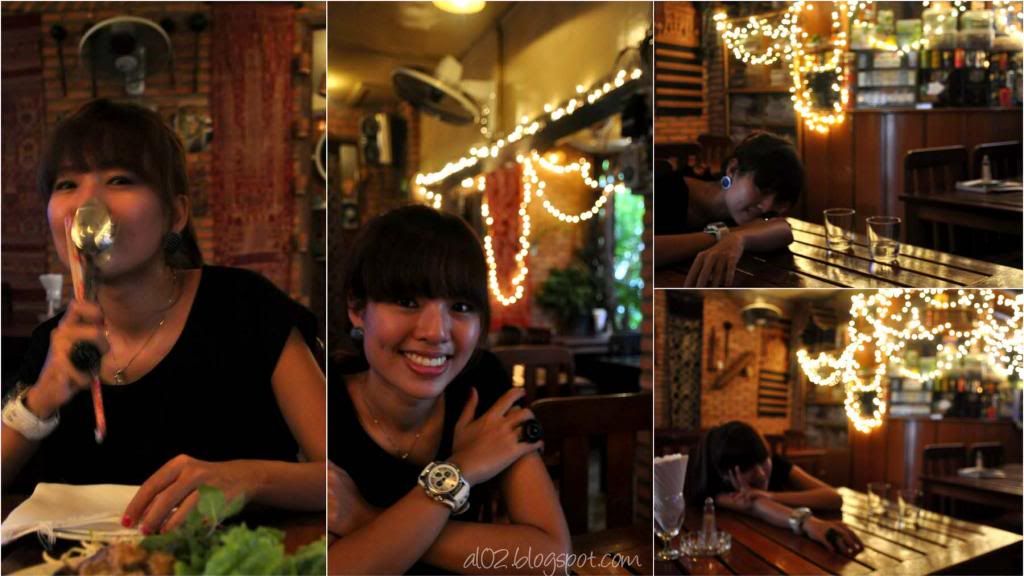 Such a lovely place to dine
It was a very satisfactory dinner and the food was good. Although we didn't order any grilled dish nor Mekong fish that night (which a Lao meal typically consist of), we realized that a large part of the Lao cuisine are the abundant raw greens, vegetables and herbs that are served undressed. Their food too are more on the spicy and sourish side rather than the sweet wit

h

the galangal, mint and dill heavily f

avoured

in their dishes.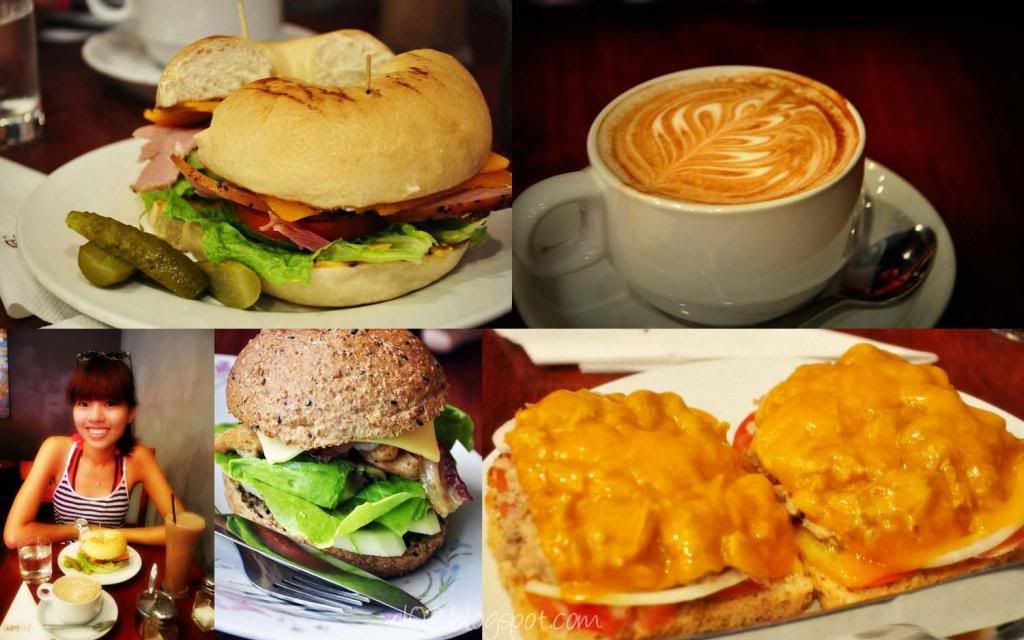 Another round of

European

breakfast at Joma Bak

ery Cafe

before we left for Vang Vieng. I must say they do have very good burgers and sandwiches. It's not that we didn't wanted to try the local breakfast, in fact we very much do but it's a surprise we had a tougher time looking for local breakfast than Western cafes and baker

ies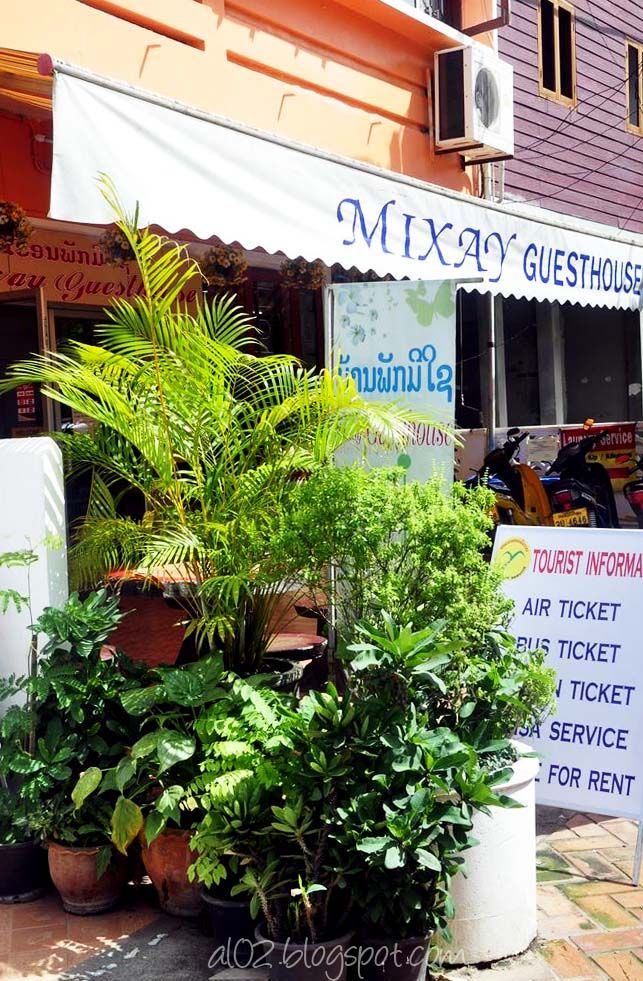 Our guesthouse in Vientiane. The Mixay guesthouse which I

h

ighly recommend- clean, friendly service

and cheap.

Definitely a backpacking friendly place to stay. They do not have advance online booking though so cross your fingers as you walk in and asked for a room/ bunk bed
V

ientiane, being the

capital and Laos largest city with it's many temples and Buddhist monuments really felt more like an expatriate city to me. Seriously, it's so much easier to find

W

estern a

nd foreign

restaurants here than locals save from th

ose

street food vendors. And Vientiane is so populated with so many

tourists especially the

Westerners, or as the locals quite crudely nickname the

m

, the 'falang' that at times, I wonder at some point if we actually outnumbered their locals

.

It is also a rather small city quite easily explorable. There is no tall rise buildings or megamalls, in fact I don't remember seeing any McDonalds or KFC or any of those fast food chain there but in return, the people live

in

contentment with simplicity and they are blessed with plenty of fresh Mekong fishes right from their Mekong river. Vientiane is definitely not my favourite part of Laos but it is worth the stop by.
From Vientiane, we then moved on to our next spot in Laos, Vang Vieng by a mini van arranged by our guesthouse. Since the riverfront is a backpacker area saturated with backpacker hostels and local tour agents, it is very convenient to enquir

e

around to see who can offer the best time and prices to Vang Vieng and after some surveying, we realized Mixay offered the best

price

actually (60 kip or RM 27.20). With that, we bid Vientiane goodbye and settled for a 3 hours journey to the heart of adventure in Laos, Vang Vieng. And till my Vang Vieng update, have a good midweek

and stay tuned. :)