6 years after my first visit to the gem up north in Malaysia, the popular legend-filled Langkawi Island (click here to read previous post), I was back there about a month ago, at the end of my paediatric rotation with my family this time round. We didn't covered as many places as I had went during my first trip there as this time round, we moved at a much slower aka relaxing pace, hence just covering the few main touristy spots. We flew from Kuala Lumpur to Langkawi via Air Asia (it was only RM 50 for a return flight when I booked it during their promo last year) and because it was also the LIMA (Langkawi International Maritime and Aerospace Exhibition) period, the flight was fully packed with likes of tourists, photographers and media people.

We reached Langkawi airport around midday and after settling our car rental (we rented an Iswara for RM 120 a day! That's like double the usual rate but it was super peak period so all car rental companies hiked up the price of their cars), we drove into Kuah town and hunted for lunch. There are actually very few Chinese eateries open during lunch time in Kuah town and one of the very few that is actually open and is reasonably fair is the Water Garden Hawker Centre. After a fair lunch, we headed to our apartment to checked in and freshen up. In fact, it was very difficult booking accommodation due to the LIMA period. Even though I tried making my hotel reservations a month earlier, most of the featured hotels were already fully booked. Hence, if you ever head by Langkawi during super peak period, aside from preparing to pay more for car rentals and accommodation, do your reservations way earlier ahead!

Our first destination in Langkawi was none other than the ever popular cable car ride (aka Skycab) also dubbed the steepest cable car ride in the world as at some part along the ride, the gradient is so steep you might feel like you are actually going vertically up the cliff. The base station is located within the Oriental Village at Machincang Mountain.


The base station
Gliding up the cool Machincang range via the cable car with astounding views of the lush rainforests, the Telaga Tujuh (Seven Wells) waterfalls and the sea below
Me inside the gondola
We skipped the middle station (650m above sea level) and went all the way to the Top station (708m above sea level) where we went up both the viewing platforms. Being right at the top of Gunung Machingcang and enjoying those gorgeous view of Langkawi, the Andaman sea below and the dramatic funnel with its staggered rock blocks just simply took my mind off everything else
The Langkawi sky bridge; a cable-stayed bridge located 700m above sea levels and 125m long is currently close for renovation! They did not say how long they will be close but right now, this curved bridge is not accessible to pedestrians
Totally loving the view and cool weather up the mountain
Panaromic shot from the viewing platform at the Top station
How blessed we are to still have this much of greenery to admire
An approaching gondola
A Korean corner within the Oriental village among the many local souvenir shops. Probably the first Korean drama that sparked off the Korean dramas gaga locally, the Winter Sonata is now symbolic of the land of kimchi as well
We spent our day 2 island hopping, which covered the popular Dayang Bunting Lake (Pregnant Maiden Lake) - eagle feeding- Pulau Beras Basah. There's no need to pre-book any island hopping package beforehand seriously. The easiest and most convenient way is to go to the jetty, find any one of the boat company there that offers island hopping package and pick one that suits your budget and time best. We managed to find one operator that offered us RM 200 for one whole boat with our very own boatman. The total time recommended is usually 4 hours for the whole island hopping package that does not include meals.
Our beautiful yacht filled set off point
Bonding time ♥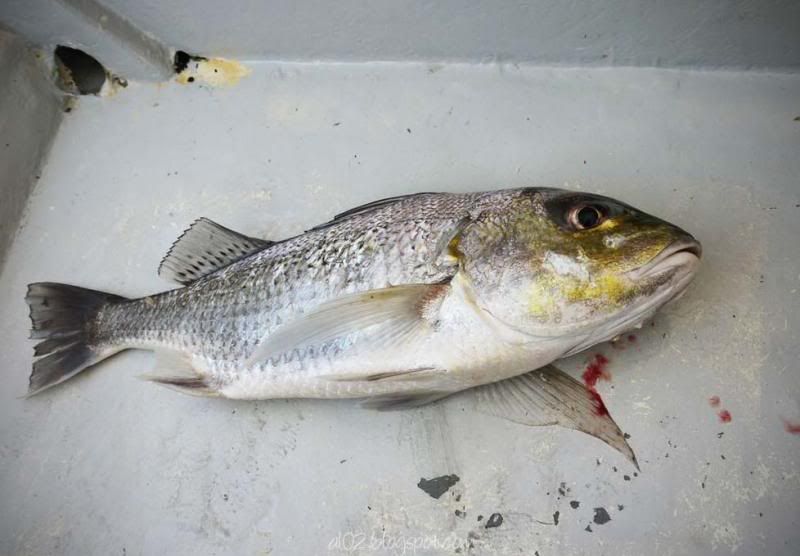 Our boatman caught this fish single handedly while steering the boat!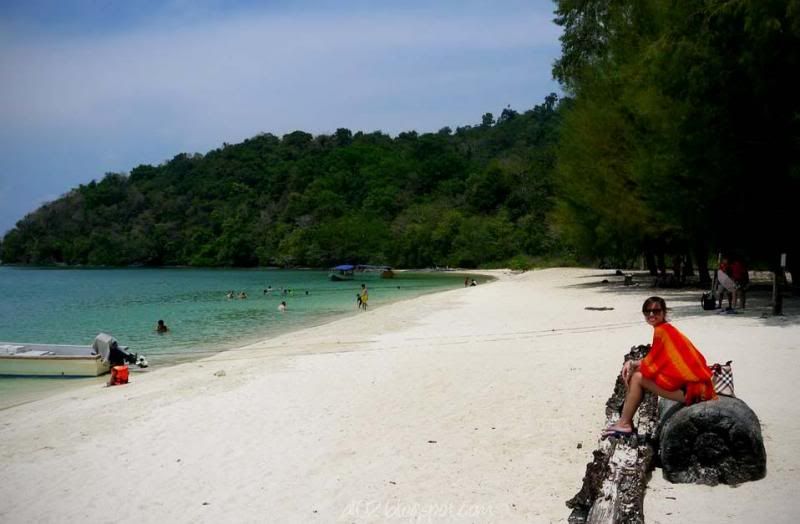 At the sandy white Pulau Beras Basah where snorkeling, banana boat and parasailing activities are available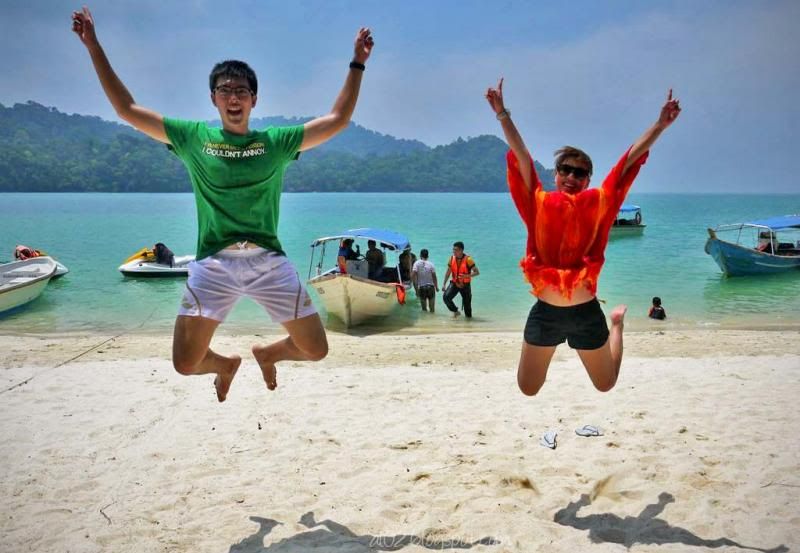 Woots! ☺
Super candid shot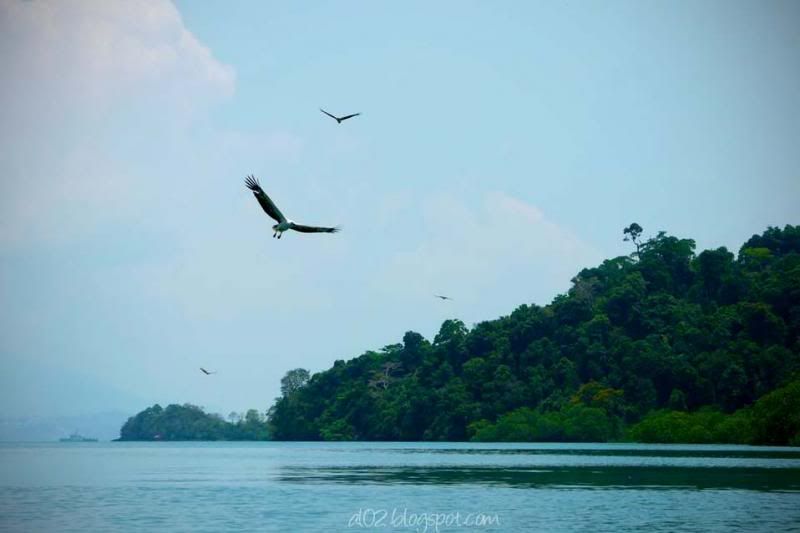 Impressive eagle feeding at the untouched Pulau Singa Besar. We literally sat in our speedboat as we watched the eagles come swiftly flying by
Capturing the eagles in a distance
At some point, these king of birds actually came so close we could admired those strong heads and beaks clearly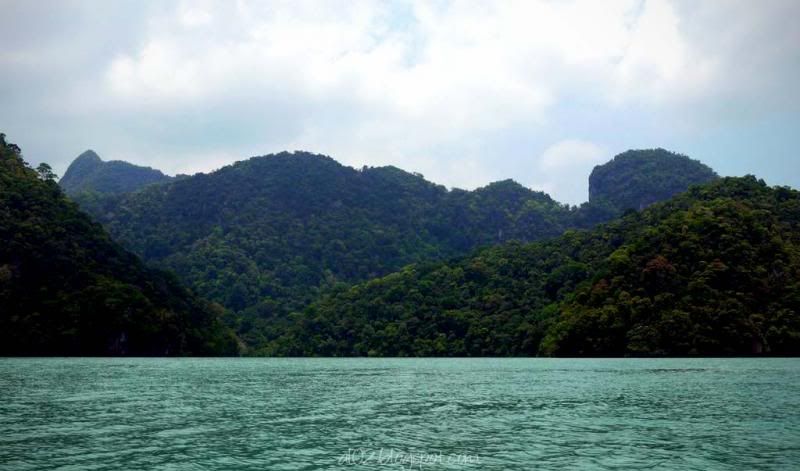 In fact, the best view of the Pregnant Maiden of the Pregnant Maiden Lake (Dayang Bunting Lake) is from the other side of the lake
At the lake itself. Sadly, I find the place losing it's previous charm. Despite the serene view, the lake itself is a lot dirtier than it previously was and the catfishes for the fish massages were already all gone. On top of that, there was no more canoeing services now, just paddle boats. We can still go swimming in the lake but life jackets are strongly advised. If you have not brought your own life jacket, you can rent them there for RM 5 one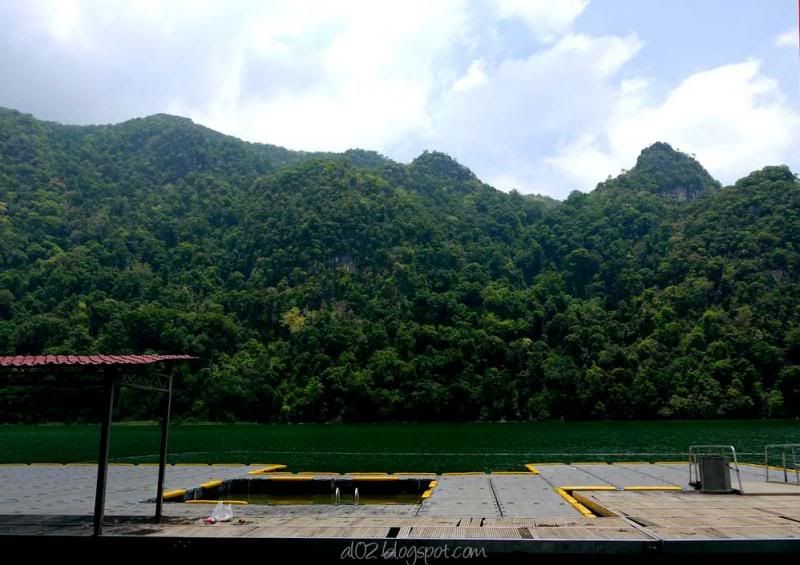 The front view of the pregnant maiden. Not as obvious and good as the view from the other side, no?
Legend had it that the lake got it's name from a female elf named Dayang whose child died 7 days after delivered. Saddened by the death of her child, Dayang decided to bury her child in the lake and the lake was renamed to Dayang Bunting as a way of the locals paying condolences to Dayang and her husband. Rumours also had it that the lake is very good in blessing infertile couples with babies. All you need to do is just take a dip in the lake!
Can you guys see the little monkey at the lowest branch of the tree? The weather was so scorchingly hot that even the monkeys can't resist a swim
On our way back to the jetty, our boatman kindly stopped us at one of the bat cave. Those black stuff are the bats dotting the ceiling and walls of the cave
After the island hopping, we drove to Pantai Cenang, the more upbeat part of Langkawi in my opinion and visited the Langkawi Underwater World, also located there. The Langkawi Underwater World, being one of the largest marine and fresh water aquarium in South East Asia has a 15 meter long walk-through tunnel and more than 500 species of fishes and sea creatures. Besides, they also house the very cute rockhopper penguins (those penguins with the yellow whiskers from Madagascar).
Although we had missed all the animal feeding sessions, the Underwater Langkawi is still pretty interesting and worth a visit especially if you have a penchant for marine and sea creatures. They have a lot of those fishes that include the few rare ones that I could only see at deep sea during diving like the boxfish and pufferfish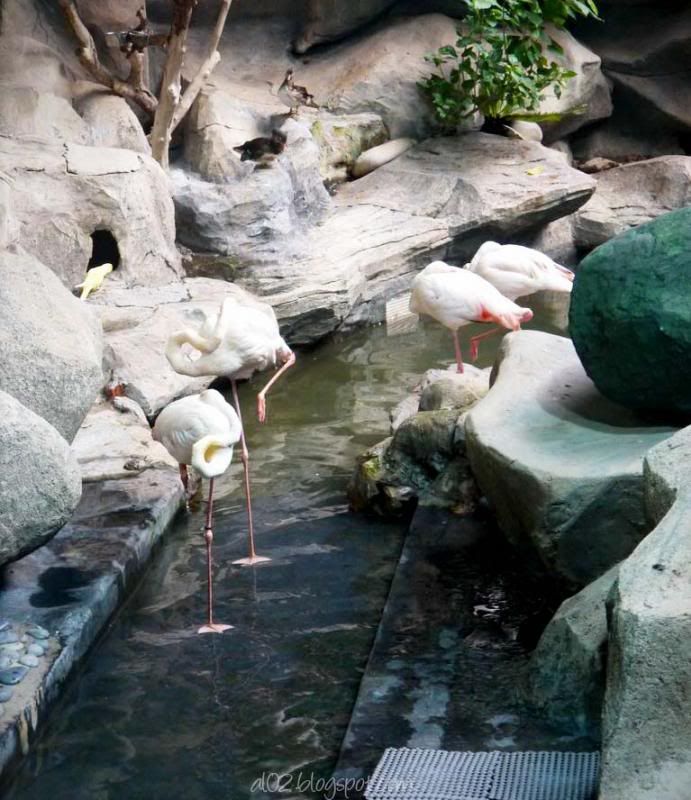 Pretty flamingos at the tropical rainforest walkway. Real flamingos or merely statues?
Of course they are real even though they can stay perfectly still during sleeping
Both ground and flight birds here are allow to roam and fly around freely in an environment mimicking their natural habitat and it's really nice to be able to watch them so close by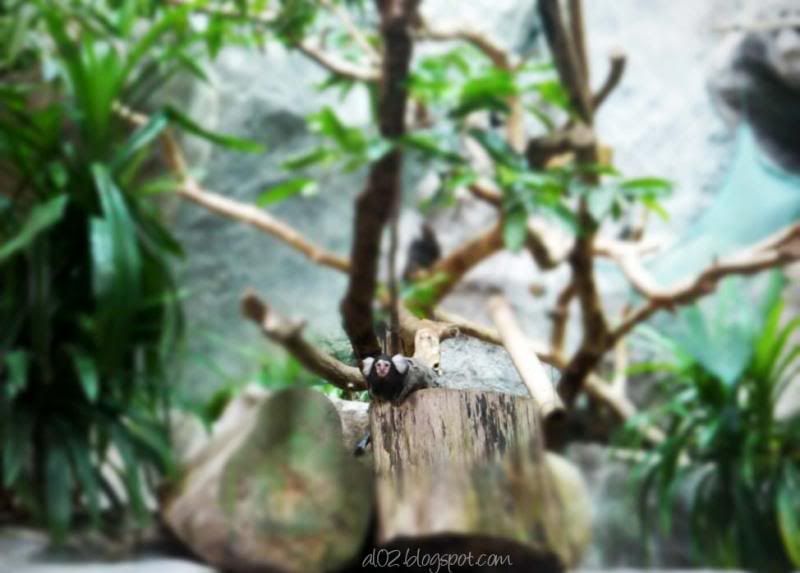 This cute little thing is a marmoset, the smallest monkey found in the Amazon. It only measures about 7-12 inches long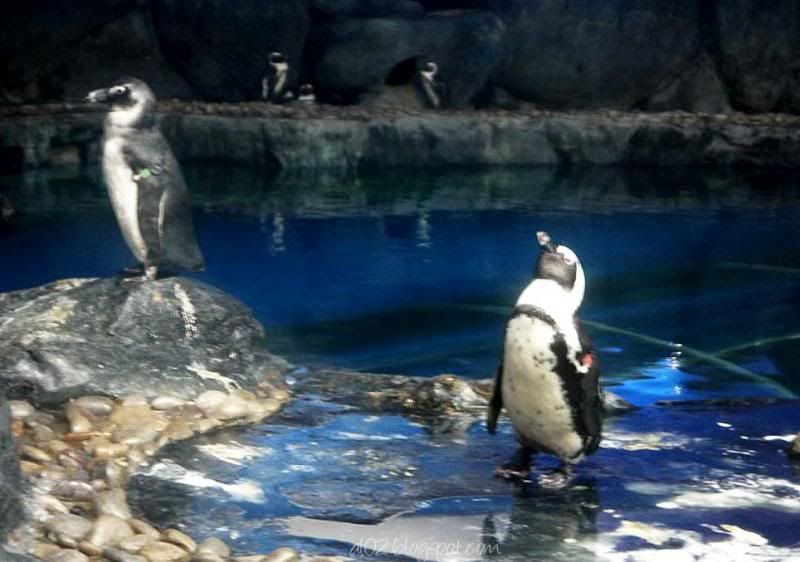 Arrogant little African penguin
More adorable African penguins
The rockhopper penguins. Let's move it move it :)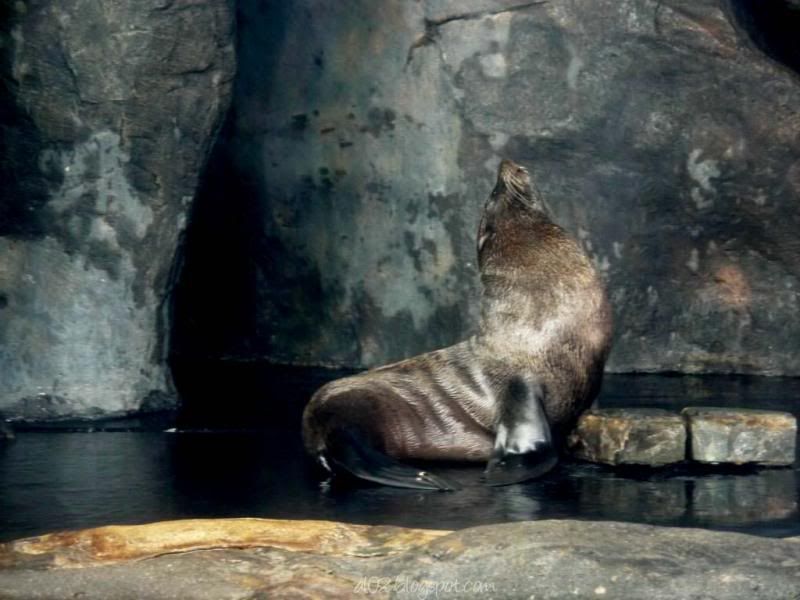 The fur seal posing for photograph
White tip reef shark
My favourite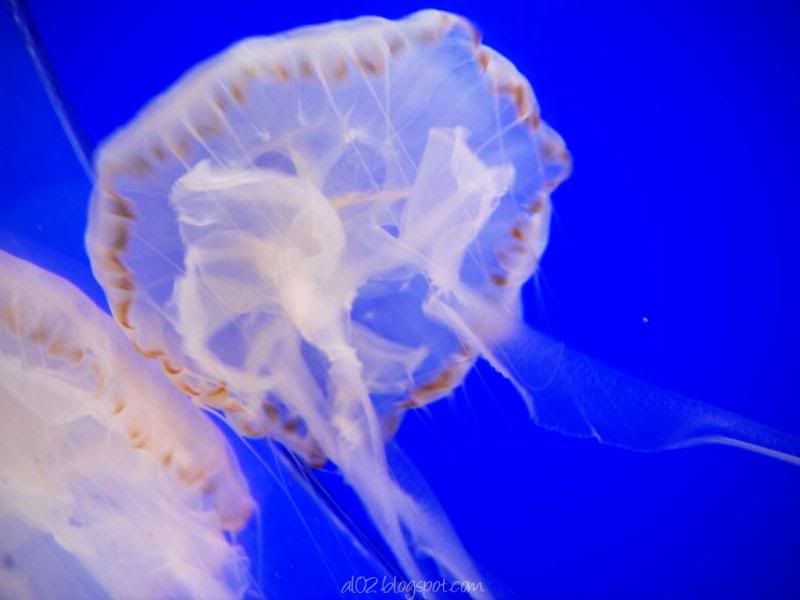 It's always very captivating to watch the jellyfishes moving in contrast against their blue background (FUN FACT : jellyfishes are animals without brain nor specialized digestive, central nervous, osmoregulatory, respiratory or circulatory systems)
I was trying to capture a large school of fish that swam by but failed
After spending almost 3 hours at the Underwater world, we went further down (we were heading from Kuah town) the Cenang beach stretch and right at the corner, we found the open beach area where we spotted tons and tons of parasails. Besides parasailing, it is also the place for some of the cheapest water sports and activities in Langkawi such as jet skiing and banana boat. There are plenty of water sports and activities operators on the beach front, all eagerly offering their services and willing to slash prices if you nicely ask for a bargain. My mum, bro and I took our parasailing with one of the operator for RM 50 per person.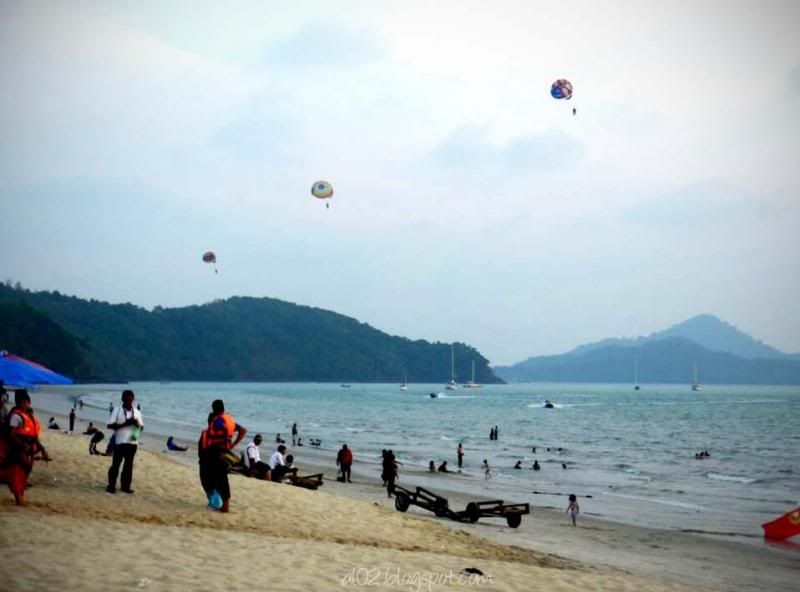 Gorgeous parasails dotting the horizon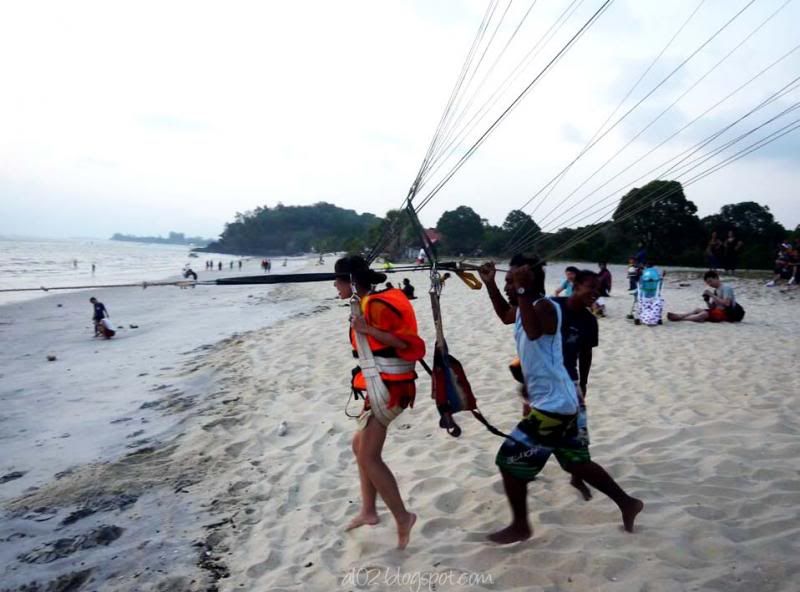 Me 'setting' off my parasail. Unlike my previous parasailing experience that usually sets off from the fast boat, this time round, I had to run my way up into the sky
Parasailing into the sunset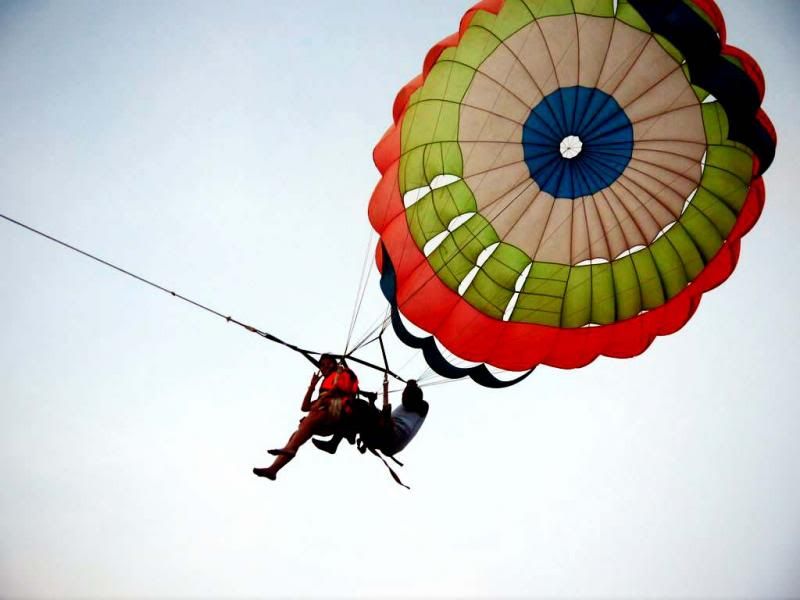 After about 10 minutes of enjoying the beautiful aerial view of Langkawi, it was time to come back down
Honestly, throughout our entire stay in Langkawi, we were randomly eating around local stalls and restaurants and most of the places we dropped by were just fair with nothing much worth shouting about. In fact, I don't think there are actually a lot of choices for local (Chinese) food especially during lunch time around Kuah town. But we did had one good meal worth mentioning at one of the local seafood restaurant which imho, is the best place to eat in Langkawi.
Yes, it is call the Wonderland seafood restaurant. Located right in front of Bella Vista (the castle like hotel), this NO-PORK seafood restaurant is very much recommended by Trip Advisor too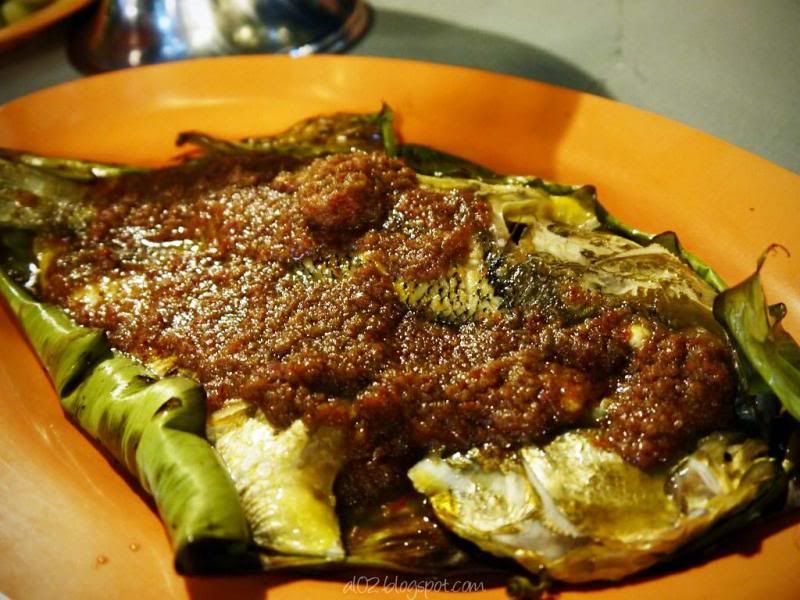 Grilled chilli fish
Fried soft shell crabs
Black pepper prawns. We requested for it to be de-shell as we were just too lazy having to peel off the prawn shells
Dry chilli mantis
Seaweed soup
Yau mak
Although it was an outdoor setting with no air conditioner, the prompt service and good, tasty food certainly bought us over. Seriously, at the dinner peak hour, we waited no more than 30 minutes for all our dishes to be served fresh and hot. The chef himself who took our order was also very professional especially in recommending the dishes and telling us the truth regarding the freshness of his ingredients. Prices are also reasonable. I saw why it is so recommended by Trip Advisor after our meal. Definitely the best place to eat in Langkawi.
Wonderland Food Restaurant,
Pusat Perniagaan Kelana Mas,
Of course, anyone visiting Langkawi must must must go back with at least one of these; either the chocolates, the booze or both! It's synonymous to committing a big sin if you visit this Land of Eagle without at least packing home some chocolates for your friends or family even if you are no fan of a chocolate yourself. Chocolates and booze particularly (and a ton of other things like cigarettes and perfumes) are tax free, hence you can get them at much lower prices there. And with their extensive and exclusive chocolate selections, I will never grow bored of chocolate shopping in Langkawi.
There are a few duty free stores (that's where you go to look for your cheap chocolates and such in Langkawi) that I went to, namely the Coco Valley at Pantai Cenang and the Teoh Soon Huat (TSH) supermarket in Kuah. Despite the very much cliche sounding Chinese name of the latter, trust me when I say it is the BEST place to get your chocolates in Langkawi. I'm not so sure if it is the same for their booze as booze are literally cheap everywhere in Langkawi, there don't seem to be any difference in choosing places to get them. However, you'll be surprised that despite all the stores selling chocolates are duty free, there are variations in the prices of the chocolates, some cheaper than the other! And Teoh Soon Huat have one of the most extensive lists of chocolates among the other supermarkets and stores.
If you are a fan of the Lindt swiss chocolate, it is better to get them at Coco Valley as they have more Lindt as compared to TSH. The one thing my family love about Lindt is the richness of their chocolate and the availability of up to 99% of cocoa for the dark chocolate. Only RM 10 per bar of Lindt!
Chocolate paradise
Never t

o

o early for Christmas stockings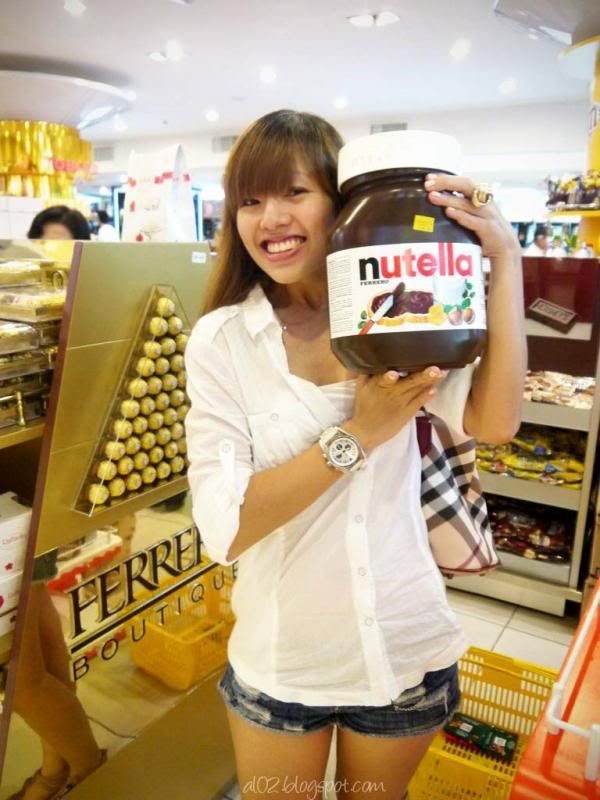 Went gaga over this gigantic bottle of Nutella. The biggest ever bottle of Nutella I saw in real!
It is at least thrice the size of my palm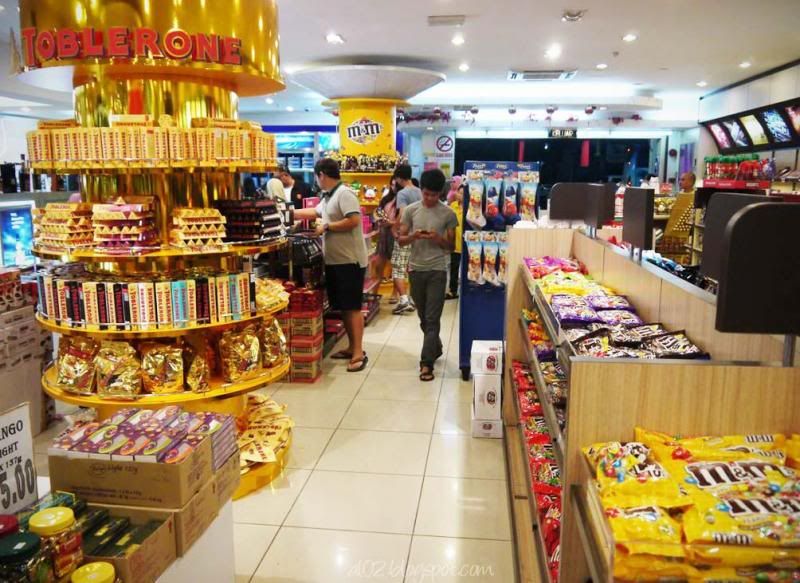 Yummy Toblerone corner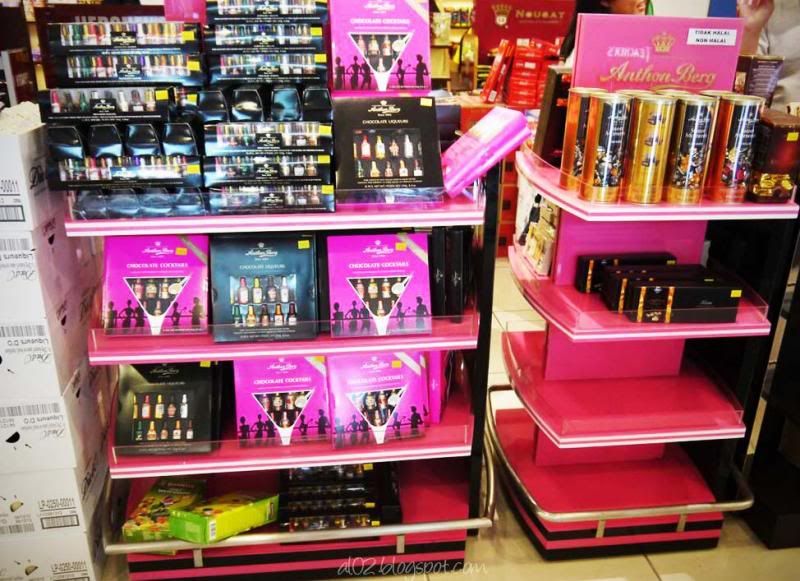 What's more ideal than combining the best of both world; both the chocolates and liquor together to turn them into the genius liquor chocolates :)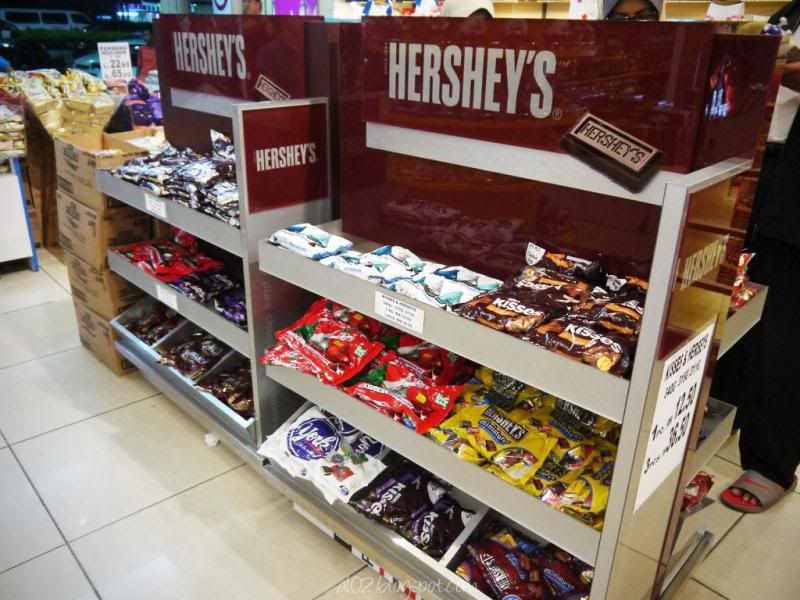 My favourite Hershey's corner. Never too old for Hershey's
Cheeky eggs always full of surprises
Look at all those Absolute Vodka
A whole selection of wines, liquors and beers (not shown in the picture) to satisfy all your alcoholic needs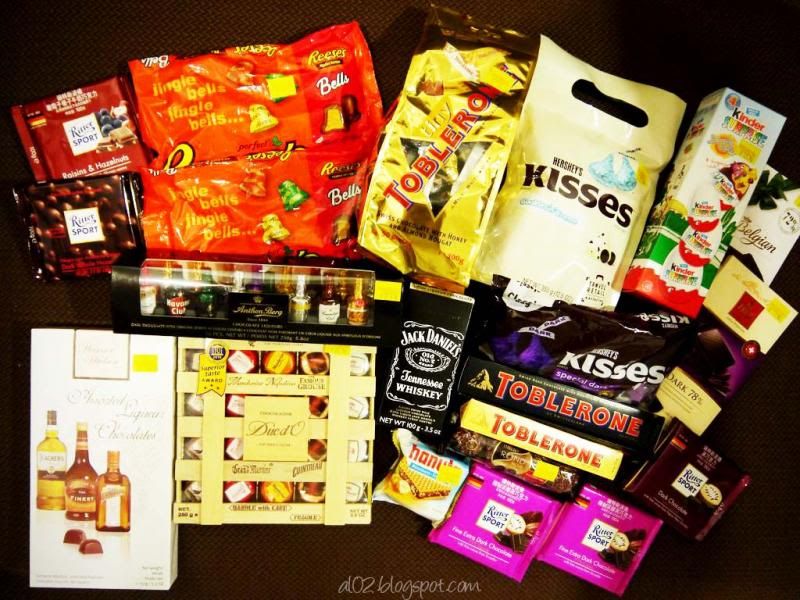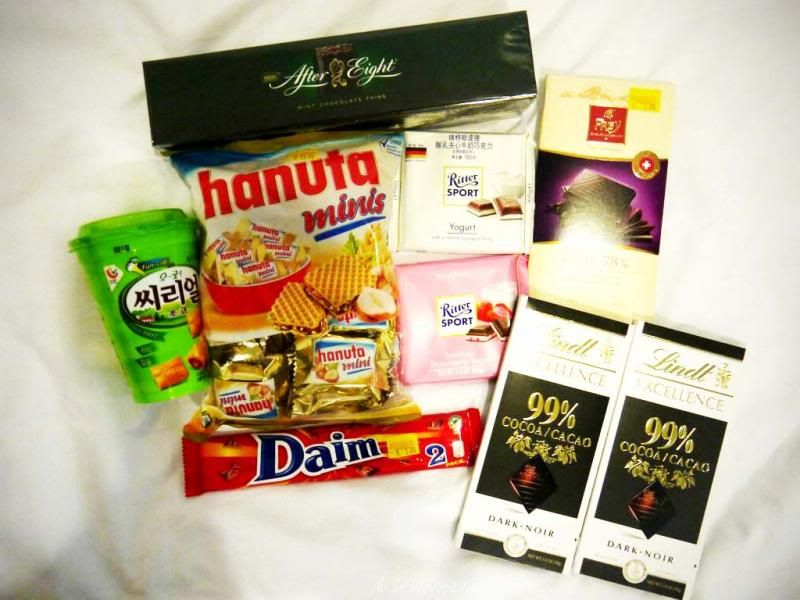 Mine!!! All my mine from all the chocolate shopping ♥
Nutella there are also cheaper than normal retail prices I had to get one home too ♥
My 3 choices of the liquor chocolate
They are REALLY chocolates filled with their respective liquor in them. This was the one that says Remy Martin
The beers- Budweiser for RM 3, Strongbow for RM 3.50 and Savanna Dry for RM 5.50 only
Crystal head spirit-I just thought the bottle look really cool
Lolli so gigantic I probably need one year to finish it off. Just saying
Soaring like an eagle at the Eagle Square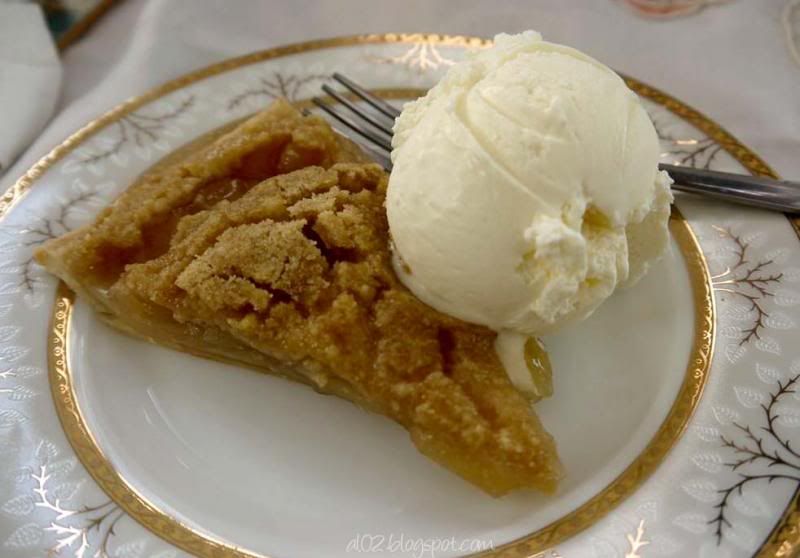 Our last dessert- the delicious apple crumble pie of The English Tea House before bidding Langkawi goodbye once again
After a brief 3 days 2 nights stay, we finally bid the Land of Eagle goodbye. We really wanted to go for the LIMA exhibition beside the airport but the weather was so so hot with the sun burning mercilessly down at us and the place was so jammed pack with people in the end we decided against going for it. We ended up just sitting in our car and watched whatever available fighter planes flew above us. Although the hotel we stayed in this time was quite disappointing but I did enjoyed myself there and it was indeed good to be away for a short break after those long months in paeds rotation. Langkawi, famous for it's duty free chocolates (and booze) and it's many legends, the most famous being the
Mahsuri legend
, still hold it's charm as one of the most beautiful island to visit up north in Malaysia. :)