With Melaka being just a 3 hours drive away from Johor Bahru and conveniently accessible via the North South highway, me and HT decided to do a 'makan-makan' (food) day trip to this historical town a fortnight ago (click here to read previous Melaka post). The history of Melaka is so rich that it will need another blog post to elaborate on it and I shall not bore you with it here. Melaka, a UNESCO heritage site since July 2008 is super famous for their delicious Peranakan or nyonya cuisine. Peranakan, most commonly used among the ethic Chinese or Nyonya Baba are terms use to descendants of the late 15th to 16th century Chinese immigrants to the now Peninsular Malaysia and Singapore. They possessed a mix of cultural traits and developed the unique 'Nyonya' cuisine from the Malay influence and spices.

The most popular place in Malacca City among both locals and tourists alike is none other than Jonker Street (Jalan Hang Jebat). It is the centre street of Chinatown, once renowned for it's antiques is now more popular for all their tasty treats, souvenirs and clothing. Of course, the street comes more alive on Friday and Saturday nights with the weekend night market. It was the first place we hit once we reached Melaka. The place is usually crowded especially with tourists on the weekends, but we were lucky there were relatively less crowd that Saturday, hence we found a nice parking spot with breeze and started our food hunt. It can get very hot walking under the scorching sun along this street, but it is still the best place to look for some quirky some kitschy knick knacks, some really vintage shops like shops that sells and repair those grandfather antique clocks (not many shops selling real antiques and vintage stuff are available now) and of course, food with so many restaurants, bistros and pubs spilling all over the street.


#OOTD- Boyfriend denim look
The iconic landmark at Jonker Street. I figured the ship right at the top was to represent the part of Melaka history where Admiral Cheng Ho, an admiral, diplomat and explorer from China made multiple voyages to Melaka in the 1400 and build good diplomatic relationship with the then Sultan Mansur Shah that lead eventually to the Ming Emperor of China sending his princess Hang Li Po to marry the Sultan. And because of that marriage, many who came as the princess entourages eventually also had mixed marriage with the locals that gave rise to the current Peranakan or Baba Nyonya descendents of Melaka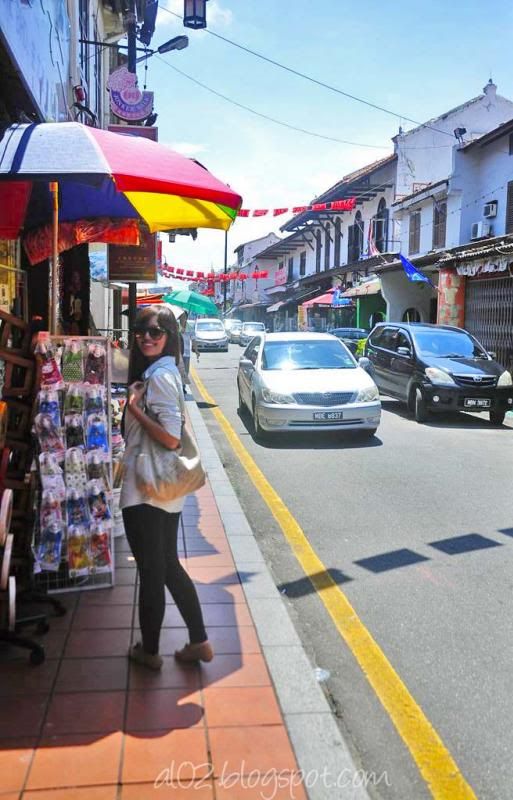 Jonker Street on a burning hot afternoon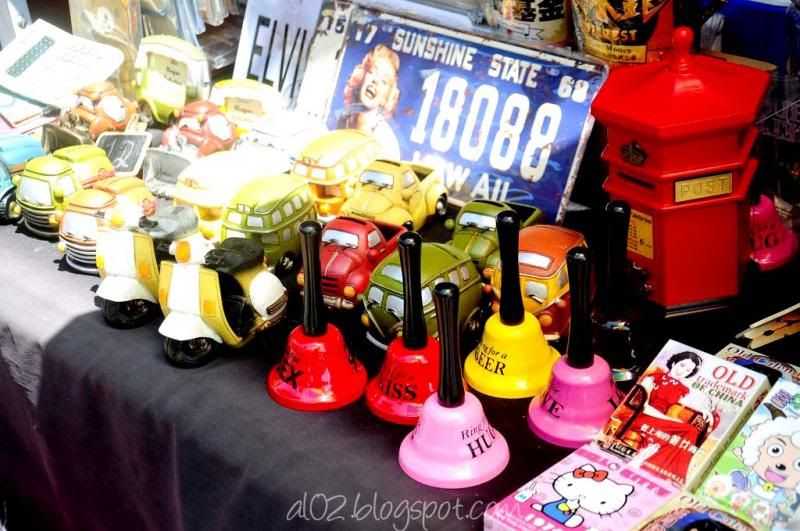 Some interesting stuff that caught my eye
The really colourful and pretty trishaws around Melaka town. You should really see how these trishaws ferry passengers around town, blasting music at top volume as they go it's practically impossible not to notice them. And the favourite among the trishaw drivers currently is none other than PSY
The Christ Church Melaka, right in the middle of the Dutch Square is an 18th century Protestant church, the oldest functioning Protestant church in Malaysia. Originally painted white, the church and it's neighboring Stadthuys as well as clock tower was painted red in 1911 and since then the distinctive colour scheme remained as the hallmark of Melaka's Dutch era-buildings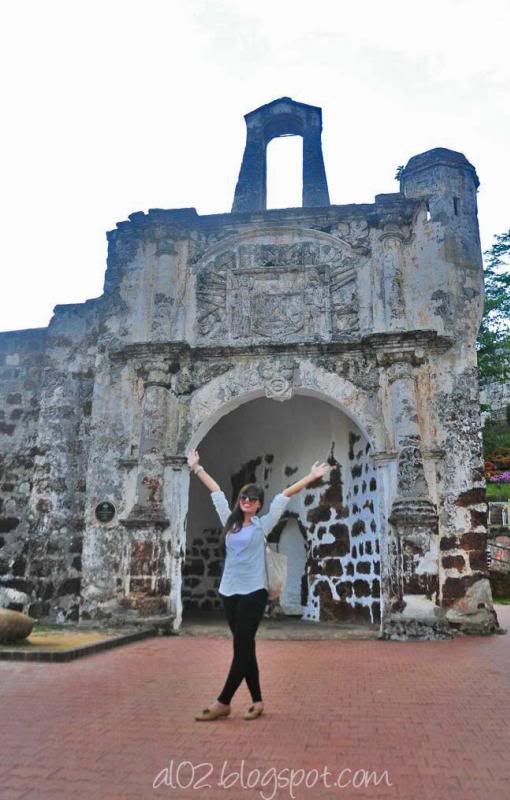 Another hallmark of Melaka- the surviving gate of the A Famosa Portuguese fort. It is now among the oldest surviving European architecture remains in Asia. The fortress, built by the Portuguese in 1511 once consisted of long ramparts and four major towers was almost totally demolished by the British in the 19th century. Fortunately, with Sir Stamford Raffles (founder of Singapore) timely intervention, this small surviving gate is the only one spared from destruction. The bricks making up this gate and stone supporting canons around it is now almost 500 years old but still standing strong
Do not ask what am I doing
We then climbed up the St Paul's hill located just behind the remaining of the A Famosa fortress. This is the statue of St Francis Xavier at St Paul's church. The St Paul's church located right at the top of the St Paul's hill where one can get a fair view of the Melaka town was once a Catholic chapel, known as the Chapel of the Mother of God during the Portuguese reign. It subsequently turned into a Dutch burial ground for their noblemen after the Dutch wrestled Melaka from the Portuguese in the 16th century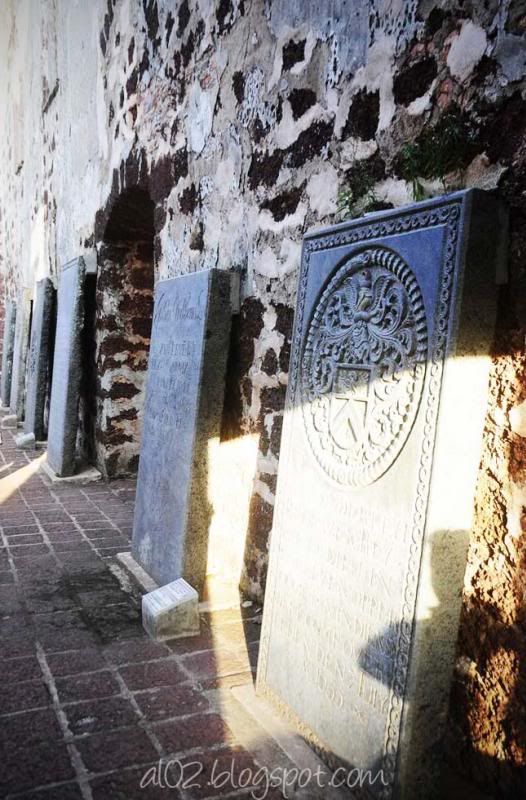 Tombstones of noblemen can be seen lining the walls of the St Paul's church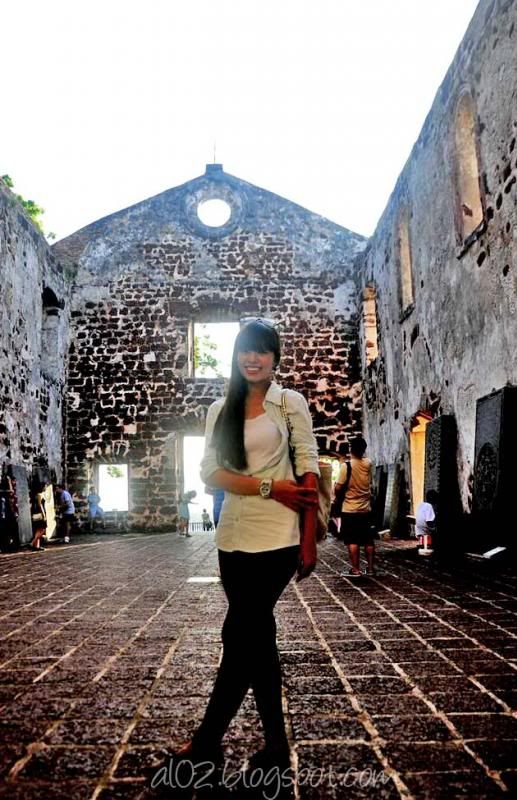 From the inside of the church
So, famous history and historical landmarks aside, of course, we could not had left Melaka without indulging in some of our favourite Peranakan cuisine. Seriously, there is so much to eat in Melaka it is literally impossible to glutton them all away in a day. Hence, this time round, we just managed to stuff in some of our all time favourite in Melaka.
One of Melaka's most notable trademark food is none other than the chicken rice balls. As it's name implied, it simply is a modification from the rest of our chicken rice by rolling the rice into balls; usually the size of ping pong balls. The chicken is prepared the same as the rest of our Hainanese chicken rice, by boling the chicken in stock usually made up of pork and chicken bones. And a good plate of chicken rice usually comes with good chilli sauce too
There are plenty of chicken rice balls shop sprawl over Melaka and my favourite of them all is Chung Wah (Kedai Kopi Chung Wah). Located at the corner lot of Jonker Street (now right beside the Hard Rock Cafe), the shop is always bustling with people and a queue is almost always inevitable. But the waiting time is pretty short as service is super fast at the restaurant. Our order were taken once we found a sit and in less than 5 minutes, our plate of chicken rice balls and chicken were served. I really like the fragrance of the garlic and fresh ginger from their chicken rice balls and the tenderness of their chicken. Of course, the chilli sauce plays a major role in further enhancing the taste of the chicken rice balls. As we wanted to save our stomach for more food, we ordered a single portion which turned up to be as good as for two still in my opinion. And because they are always very busy and crowded, they do not allow selection of parts of the chicken. Prices are still pretty reasonable although slightly more on the higher side for a plate of chicken rice balls, but I guess that's usual especially since they are also located in a tourist area.
Open daily from 7.30 am to 3.00 pm
Next on our food list was the Baba Laksa and the much missed Baba durian chendol. And the most notable place to get them is none other than Jonker 88 on Jonker Street. Also known as the "museum cafe", this little restaurant certainly had a very homely feel. They practice self service which means you make your order at the front (both the laksa and cendol stall are right opposite each other) and then collect them yourself. The laksa and chendol are usually whipped up within minutes. During peak period, it's best to look for a table first before placing orders in case you end up having food in your hand but with no tables to eat.
There are a whole lot of variety of Baba laksa at Jonker 88 such as the original Baba laksa which is more sweet, the Nyonya asam laksa that is more sour (but a little too bland imho) or Baba laksa kahwin which is a combination of both. There are also baba seafood laksa, baba chicken laksa, baba rendang chicken noodle (dry version) and baba rendang chicken with rice among others. The most famous chendol at Jonker 88 is the baba durian chendol but in case you don't like durian, there are also a whole other varieties of chendol and ice kacang such as the baba mango chendol, the original baba chendol and honey sea coconut ice kacang. I honestly think Jonker 88 is becoming more and more overrated and they are compromising more and more on the quality of their food.
Our bowl of baba laksa kahwin which is a marriage between the sweet coconut milk based soup of the Baba laksa and the more sourish base soup of the Nyonya Asam laksa. The result of the marriage is a bowl of laksa that is both sweet and sour with just a tinge of spiciness. However, I do find their soup a little too dilutional. It would had tasted much better if it had been more concentrated. The bowl of laksa kahwin also comes with tofu pok, prawns, slices of cucumbers and a spoonful of tuna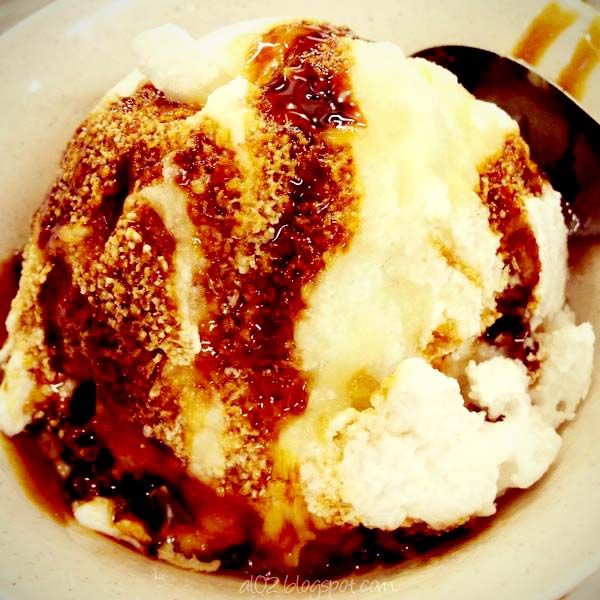 The very much famous durian chendol, with gula melaka (palm sugar) and santan drizzled generously over it's shaved ice. The cendol itself is hidden beneath those ice. While their shaved ice is fine in texture which makes them melt almost instantly in the mouth, they have seriously cut down on the amount of durian syrup that they used to give. Yes, in case you had been thinking that they serve their durian chendol with real fresh durian, then sorry to disappoint. All you get out of the durian chendol is really just durian syrup. They used to pour a really thick layer of durian syrup over the shaved ice though, but now I could barely make out the durian taste. Quite a let down.
I'm really quite a big fan of chendol as this sweet ice cold drink is certainly very refreshing especially on a bright hot day. My all time favourite chendol on Jonker street is the local chendol from the Number One Kopitiam which is further down the street from Jonker 88. This chendol shop was initially run by a Chinese aunty who is also an avid Coke collector as evidence by the large and various display of Coke items all over her shop. But right now, the shop is solely in change by 2 Indonesian ladies. And they no longer serve chendol in bowls. Now, they only serve their chendol in cups. Maybe it is just me, but I really prefer eating my chendol from a bowl as I find them more delicious that way.
Thirst quenching sweet treat for only RM 2 a cup. The one thing about Melaka chendol that I like is the generous amount of gula melaka that they come with.
Of course, those chewy cendol (greenish stuff) and red beans compliment a bowl/cup of good chendol as well. It's simply heavenly to have the sweet caramelish, butterscorch accent of the gula Melaka balancing up the creamy coconut milk. But now that they serve it in cups, it seems to get too sweet for my liking.
No. 1 (One) Kopitiam Famous Nyonya Chendol,
No. 1, Jalan Hang Jebat,
75200 Melaka
As it was a really hot day and chilling up in a nice cafe sounded like a very good idea, we decided to visit this unique cafe tuck in the heart of Chinatown, just a street away from Jonker. Having nothing to do with Nyonya or Peranakan style, this cafe celebrates the Mod culture, a subculture originated in London. Parked inside the cafe is a 1978 Volkswagen Combi Campervan which has been converted into a coffee shop on wheels. This VW coffee van does really goes around town serving coffee during events and such.
Mods served a host of beverages that is mainly coffee based, from local coffee to the Americano, Espresso, Cappuccino and so on. Coffee aside, they also have chocolate drinks, tea and smoothies (flavoring only, no real fruits). Their food selection is not much, just some sandwiches and cheese cakes which are all made by themselves. In all honesty, I find their beverages just pretty average but it is a really nice place to soak up some Mods vibe and just to see that cute VW Combi Campervan.
The converted VM Combi Campervan. Really a very novel and creative concept. The owner usually also have a display of Vespas in front of his shop but there was only one Vespa when we were there that day
Mods Cafe,
14, Jalan Tokong (Temple Street),
75200 Melaka
Tel : 012-756 4441
Closed on Wednesday
Another of Melaka must try is definitely the pork lard popiah! Even for a person like me who usually says a big NO-NO to pork lard have to give in to this. The only exception seriously. Located at Jalan Bunga Raya, right in front of Madam King's departmental store and also known as the "fat man" popiah to many, this is seriously the place to look for the best pork lard popiah in Melaka. Yes, pork lard is among the most unhealthiest group of food but put them in a simple roll of popiah and they do magical wonders. The pork lard here is really crisp and crunchy. And together with a generous amount of eggs, peanuts, bean sprouts, turnips as well as sweet and chilli sauce, it is one of the most sumptuous roll of popiah we tasted in Melaka.
The big fat roll of glistening pork lard popiah
Every mouthful is just so fattening yet juicy
Bunga Raya "Fat Man" Popiah,
Jalan Bunga Raya,
75200 Melaka
Opens Mon-Sat 1.30pm-8pm, Sun 1.30pm-5.30pm
Instead of the usual peranakan or satay celup restaurants I usually visit for dinner, this time round, we decided to go Western. Rumored to be one of the best Western restaurant in town, we make our way to Simply Fish, a simply atmospheric, casual and friendly restaurant in town for a fantastic fish rich dinner.
The iconic logo
A good bowl of cream of mushroom soup- not your usual Campbell type definitely. This is thick and rich with the pure taste of mushroom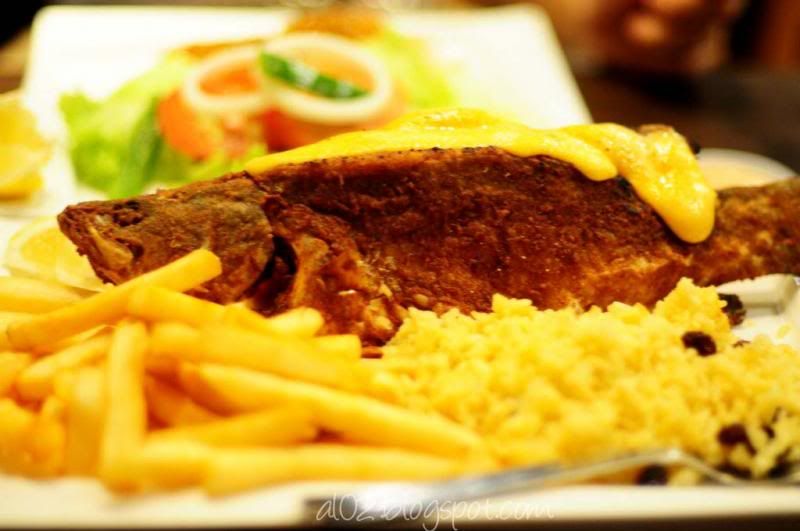 This is a flaming whole fish where the highlight was when the waiter serving the fish flamed the whole fish by our table side! It was of course very exciting see the whole fish went in flamed. The fish was really fresh, moist and succulent
My choice of chef favourite salmon where the piece of salmon was equally fresh and juicy
We really enjoyed our dinner over at Simply Fish simply because the fish are fresh and fabulous. Besides, prices too are pretty reasonable. No wonder, it is Melaka's no.1 Western restaurant. Simply Fish is good for couples, friends and even families.
205, 206 Jalan Melaka Raya 1m
No matter what, a trip to Melaka will never seem complete if it doesn't end with at least the satay celup or a Peranakan dinner. Like the chicken rice balls, this is another hallmark of Melaka cuisine. For those of you who do not know satay celup, their concept is similar to steamboat or shabu shabu, the only difference being their broth is satay based. There are also plenty of satay celup restaurants in Melaka but one of my favourite is none other than the satay celup from Capitol restaurant. Most of the satay celup restaurants only open after 5pm, hence it is always a good place to end any food trip.
At Capitol, the food selection variety is much more. There are also many signboards, more than necessary to remind patrons that there is only one Capitol in the whole of Melaka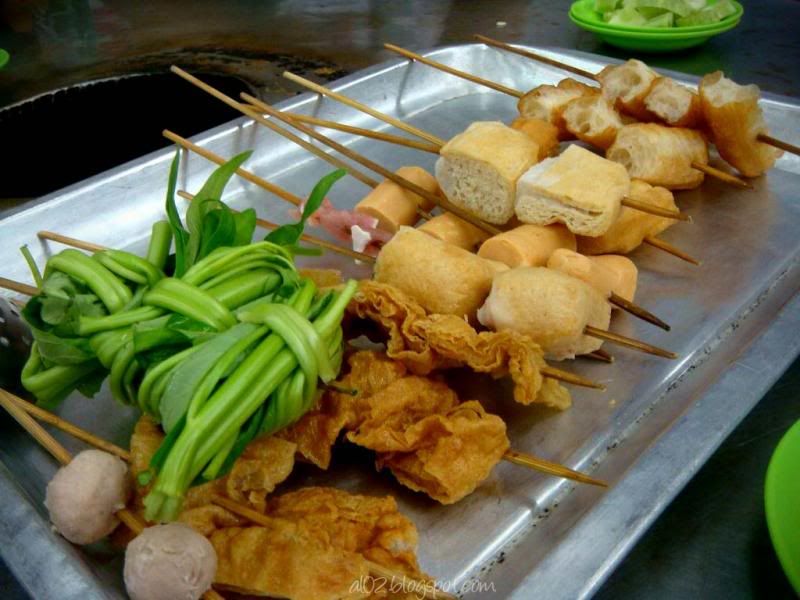 Among some of our food selection
The pot of satay based broth that is seen in the middle of all the tables in the restaurant
And that's how you eat them- dipping your choice of food into the broth and wait for a couple of minutes for it to boil. Then voila, it is all ready for consumption
The novel idea of using satay based broth that is rich in peanut composition is simply genius. Imagine eating your food all soaked up in those yummy satay broth. Eating satay celup can be very dangerous as it can jeopardize any diet plan you have. It is pretty addictive to keep boiling sticks after sticks of food in that pot of broth.
Capitol Satay Celup Restaurant,
41, Lorong Bukit Cina,
75100 Melaka
Tel : 06-283 5508
Seriously, it was a very rewarding food trip this time round to Melaka. We stuffed ourselves silly and certainly fulfilled my Baba Nyonya food craving completely. Thank goodness past experiences had taught us to always order less especially when traveling so that we can save more space for the next good food to come. And all those extra calories were burnt off by climbing those stairs up the hills and such at those historical landmarks. I will be back again soon for another round of Peranakan food hunt (and satisfaction) and till then, have a good weekend everyone. :)
PS : This is an unpaid review or advertorial. All opinions are based on yours truly POV only. Hence any discrepancy in taste or opinion is very much regretted. :)