This year, me and HT decided to celebrate our 6 years of being together across the causeway. Staying so close to Singapore, it is very common for us to cross borders anytime we felt like it and that was one of those day. And being food enthusiasts, we decided to go check out some of their recommended restaurants just to see if they are really as good as what all the hype is about.

And being a weekday, it is so much more lovable to drive into Singapore, after the morning peak hour of course.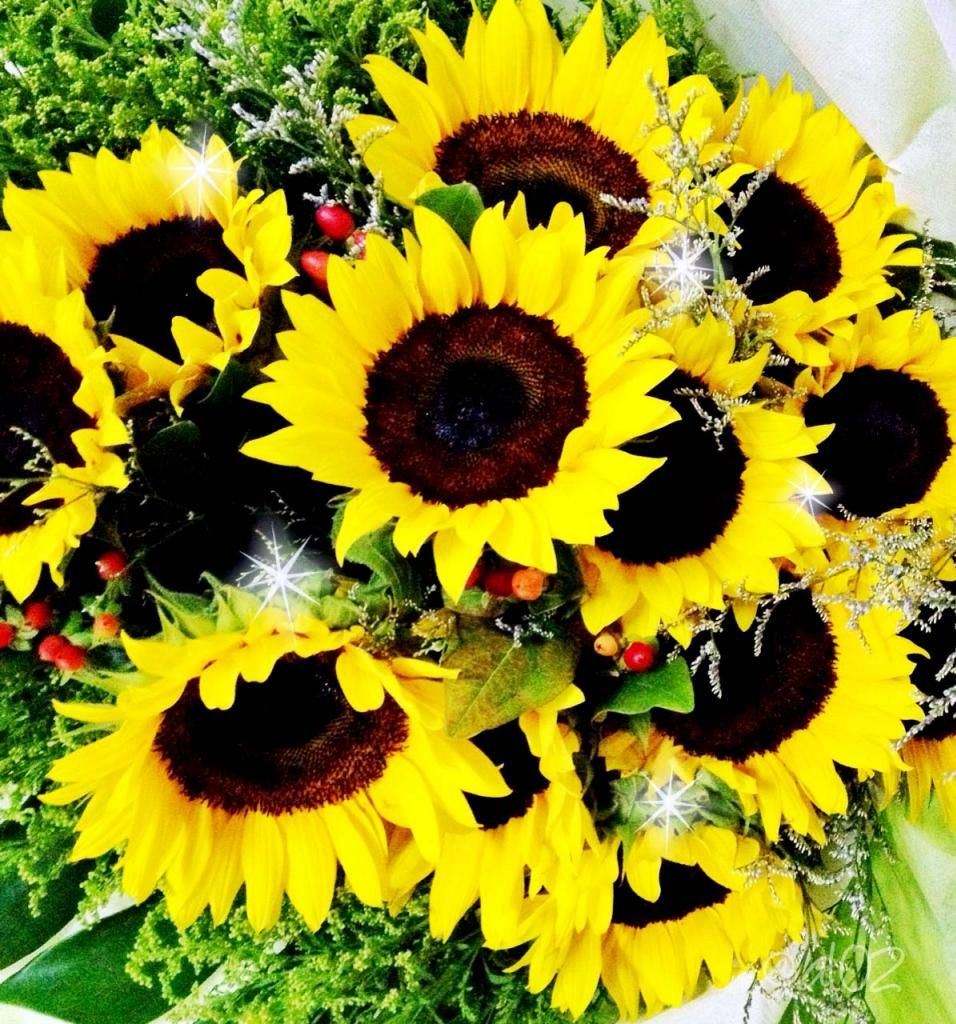 HT suprised me the usual way with a bouquet of my favourite flower first thing in the morning :)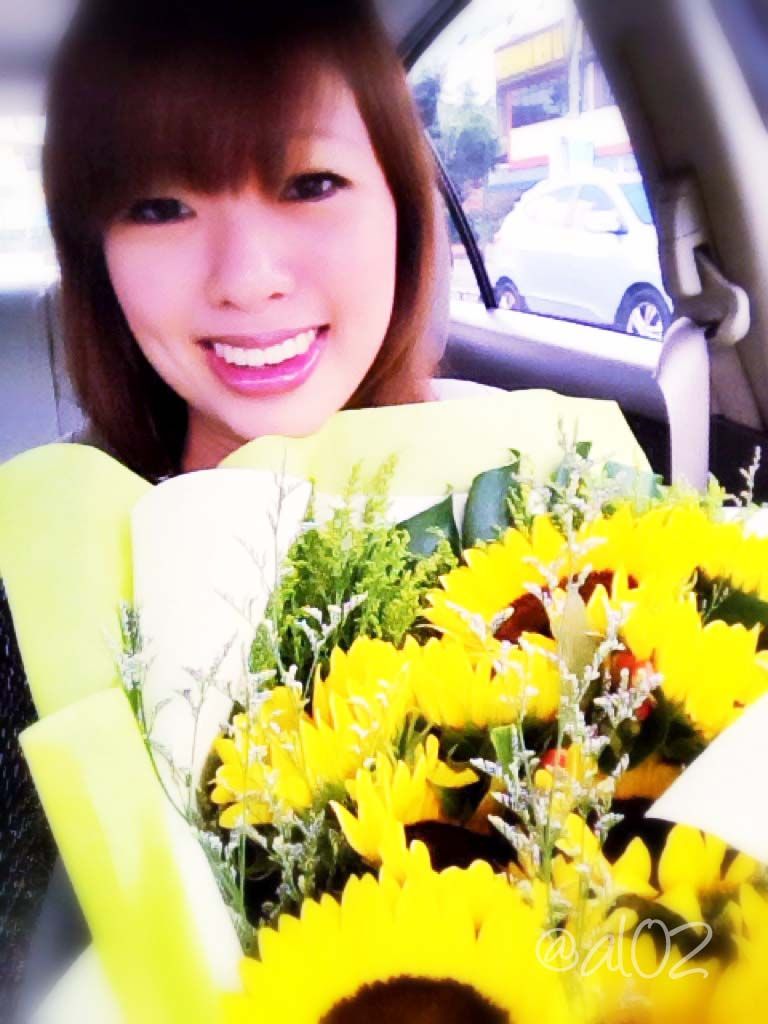 Hoping all our days will be as bright and cheerful as sunflowers
We had recently heard pretty much about Prive at Keppel Bay, so we decided to spend our afternoon there. After all, Keppel Bay island is currently one of Singapore's favourite romantic spot and enjoying our meal with views of gorgeous yachts berthing sounds like a very inviting idea, no?
Prive is situated right by the marina and they have both indoor and outdoor seating. We prefer the natural breeze with direct view of the beautiful marina, thus we opted to be seated outside. However, to be honest, it was mid afternoon by the time we were at Prive, hence there was not much of any breeze but thank God for the abundant fans and shelter that kept us cool from the scorching sun.

I was really happy when I saw that they have all day breakfast on their brunch/lunch menu. Even though it was way past breakfast time, it is never too late for breakfast *wink*. I'm pretty much a fan of egg benedicts everywhere, so I went for none other than their egg benedict. Their eggs are absolutely beautifully poached with a runny yolk and a perfectly harden white melted over well toasted muffin served with ham, sweet juicy bacon and hollandaise sauce. HT decided to go for the ultimate Prive's brekkie that came also with two perfectly poached eggs (you can choose your eggs to be cook any style), homemade toast, maple roasted bacon, frankfurter, potato rosti, sauteed mushroom and roast tomato
We ended our meal at Prive with a try of their tiramisu which has a very strong coffee taste. I guess coffee lovers might appreciate the deep strong aroma of coffee more than a non coffee drinker like me. Otherwise, the texture is really soft and smooth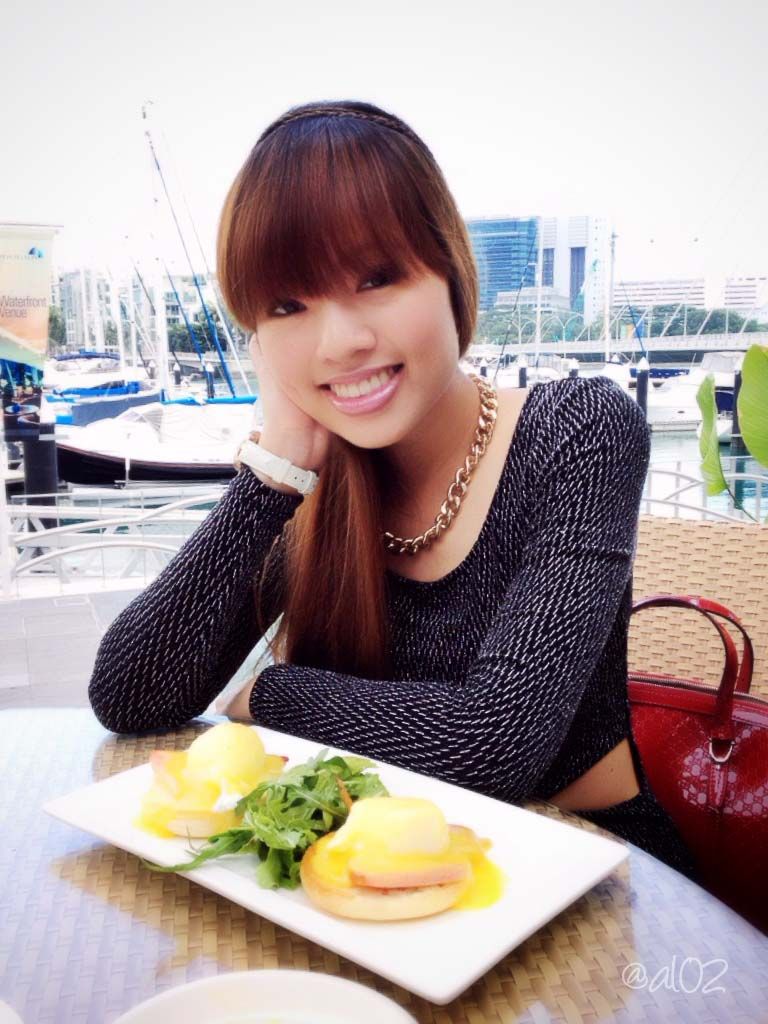 Meal with a pleasant view of the marina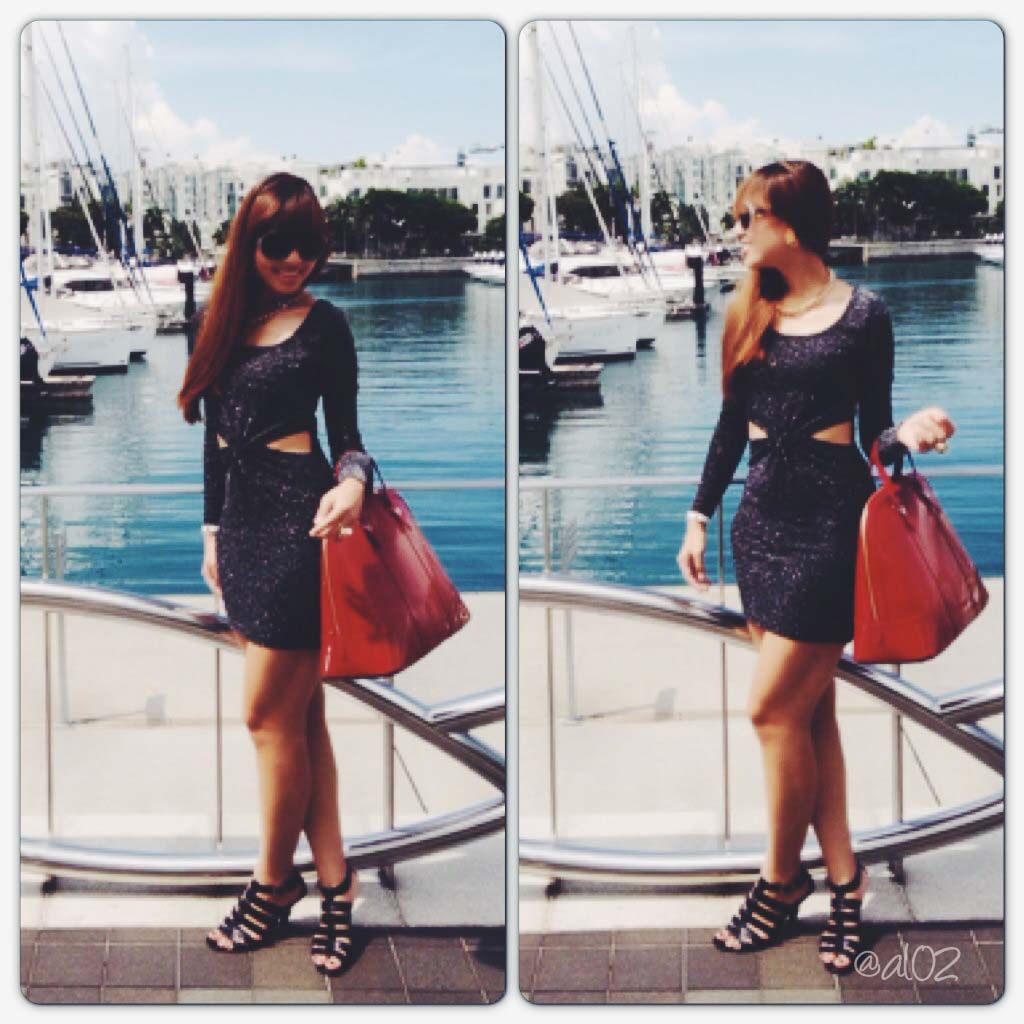 Cut-out dresss by the marina #ootd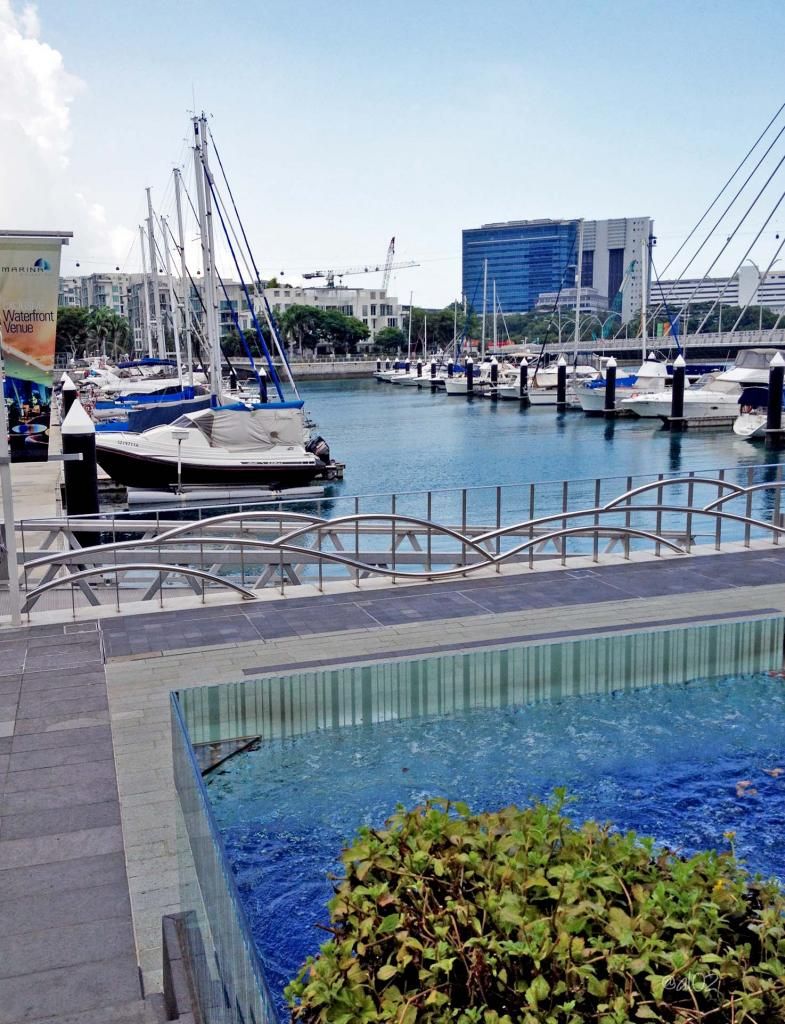 View of the marina from our table
Gorgeous view of the berth yachts against an equally gorgeous blue sky





Overall, Prive cafe is an unpretentious place with a pretty sight to boost. We do love our food at Prive and no doubt, they are delicious but prices are not cheap. I mean seriously, many restaurants and cafes out there does a pretty neat job of poached eggs as well but what I really love is the fact that their all day brekkies are all very much less greasy, and thus tasted healthier. But aside from that, perhaps it's being a little too overrated? Ah well, I guess I'll only find out for sure after trying their other mains the next time.
Prive Cafe,
2 Keppel Bay Vista,
GF Marina at Keppel Bay,
Tel : +65 6776 0777
So after lunch and a little strolling around the marina, we decided to escape the scorching heat by heading for some desserts. Being a fan of green tea, we decided to go in search for some green tea desserts, something almost impossibly available in Johor Bahru. Yes, we do have green tea ice cream here but that's about it. Maybe someone should start opening a green tea cafe instead of coffee places one after another back in JB.
Anyways, after some googling, we found the Tsujiri tea house which specializes in green tea everything; from their o-macchas to various green teas selection to green tea chocolate, cappucino, latte, ice blended, soft ice cream, sundae, parfaits, shaved ice, cakes and sweets. Are you green with envy too now? haha! You'll be surprised at how simple Tsujiri is. Their shop at 100AM is nothing fancy and fairly small but don't be fool by their appearance for their green tea desserts are heaven for all green tea lovers especially.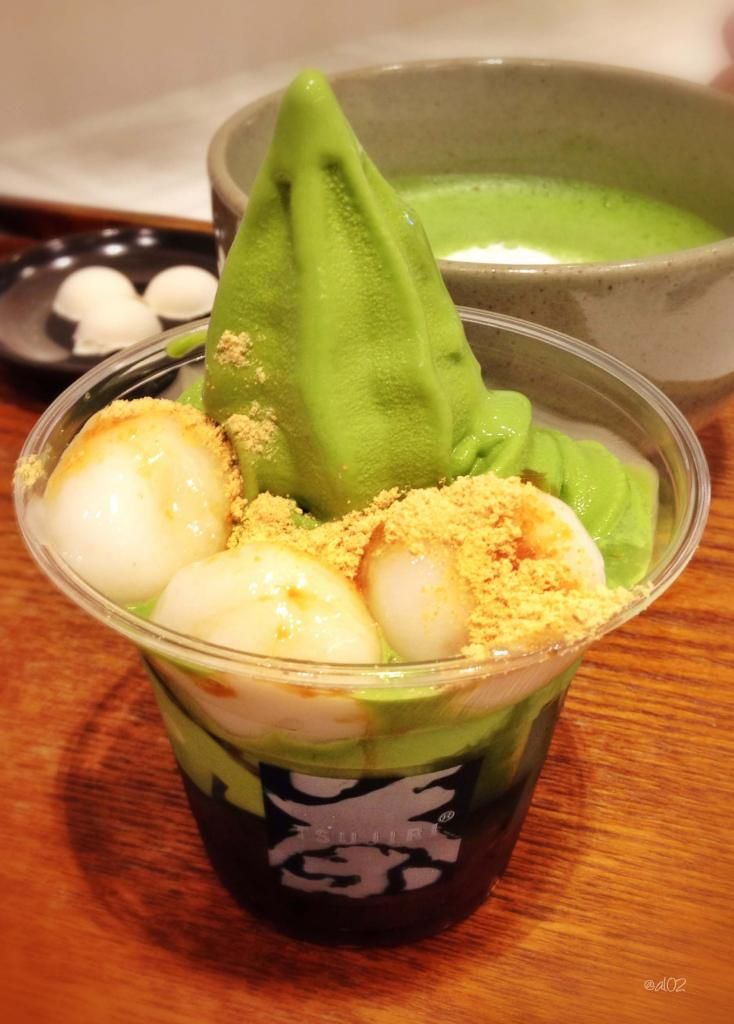 Ever since my discovery of how well maccha ice cream goes with red bean in Japan almost 5 years ago, I have fell deeply in love with them ever since. So, I try looking for a recreation of this combo wherever I can and I'm glad to see Tsujiri has them too. My shiratama parfait came with o maccha soft ice cream, glutinous rice flour balls and generous red beans. The ice cream is soft and smooth and together with the red bean and glutinous rice flour balls that balance out the strong green tea taste, the combo is simply yummy. They are just the right amount of sweetness and leaves a aromatic aftertaste
HT decided to try the o maccha cappucino, one of the few hot selection available. The slightly bitter and sweet taste of macha covers up the strong smell of coffee and together, they are a pretty unique and delectable drink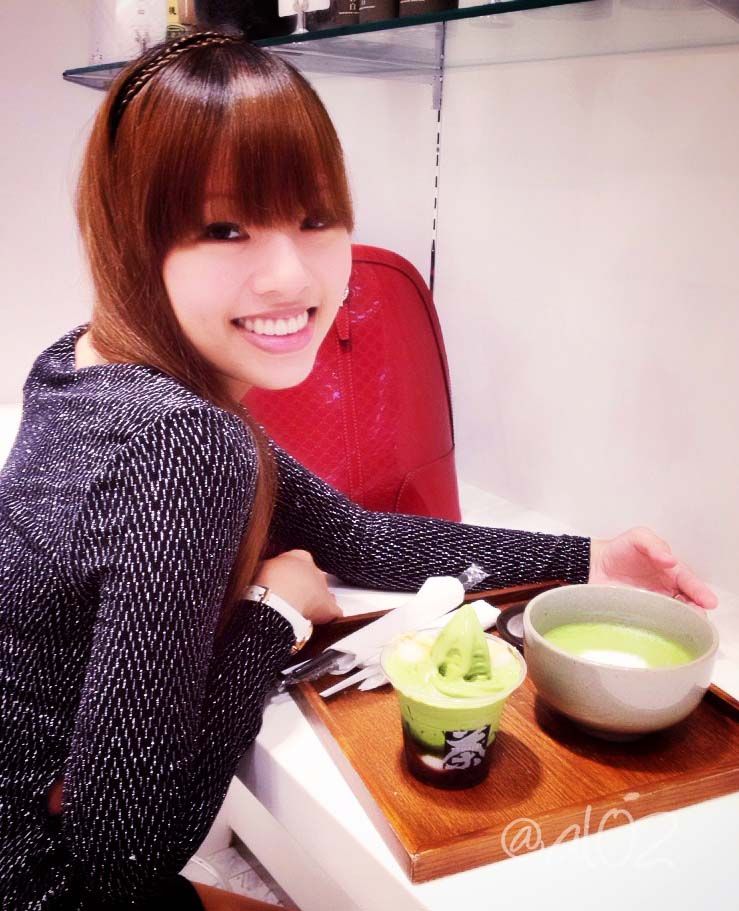 Me with my green tea goodness. Totally ♥
100, Tras Street, #01-14 100AM,
Opening hours : 10AM- 10PM
Now that we had stuffed ourselves with both mains and desserts, it was time for some activities to at least burnt off some of those calories gained before we continue stocking up on calories, no? So since we had some time to spare, we went cycling at the East Coast Park, one of my favourite activity place in Singapore. Seriously, I'm never one who can really cycle, in fact I was kinda phobic of cycling until 2 years back when I started cycling all on my own again at the East Coast Park.
The park is situated by the beach and having the sea breeze gently caressing against you as you cycle/ jog/ roller blade is a very relaxing and enjoyable feeling. If you are interested to stay overnight, they also have campsites and chalets with bbq facilities for rent. (You can read about my previous East Coast Park post here)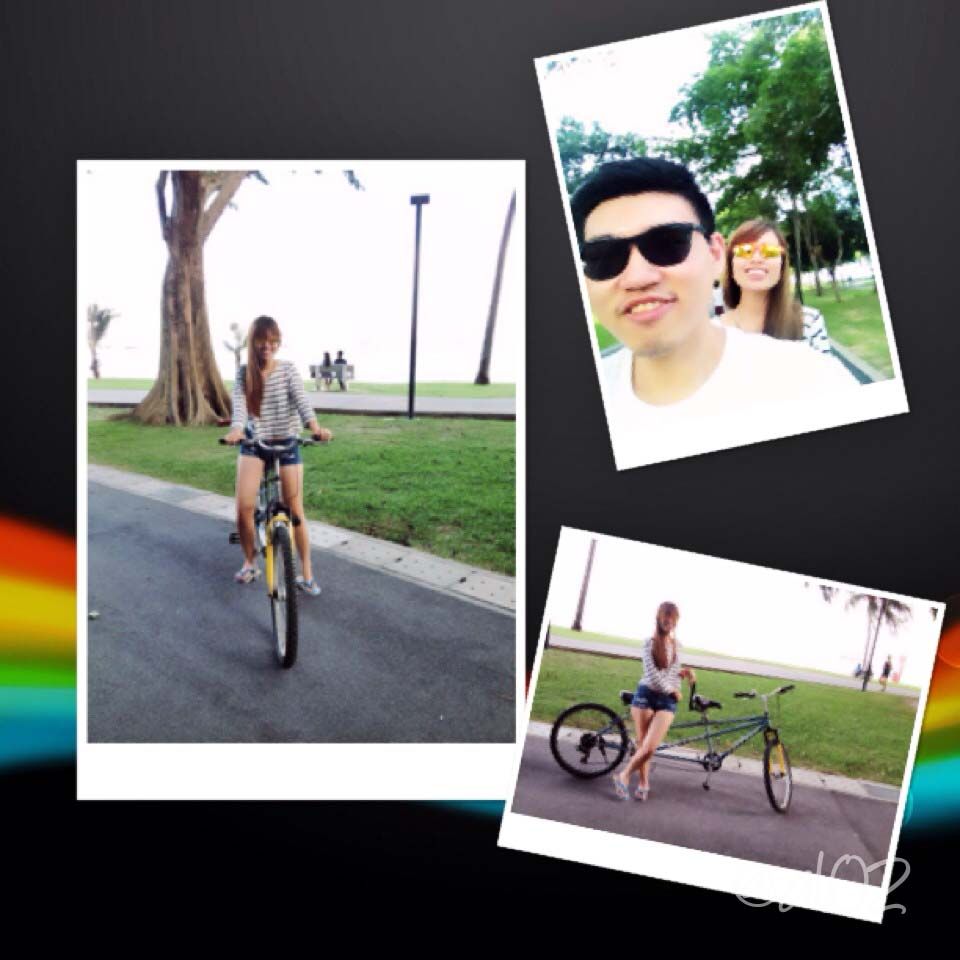 Romantic dual bike cycling hahaha
After a romantic evening burning off calories and chilling by the East Coast Park, it was finally time for dinner to wrap up the day.
Mos Burger has always been one of my fav burger place and since it had been a while since I last had Mos (Malaysia still doesn't has a single Mos!!!), we decided to keep it easy at dinner with Mos. With so many up and coming fancy burgers these days, a good old uncomplicated yet tasty rice burger is all we need at times.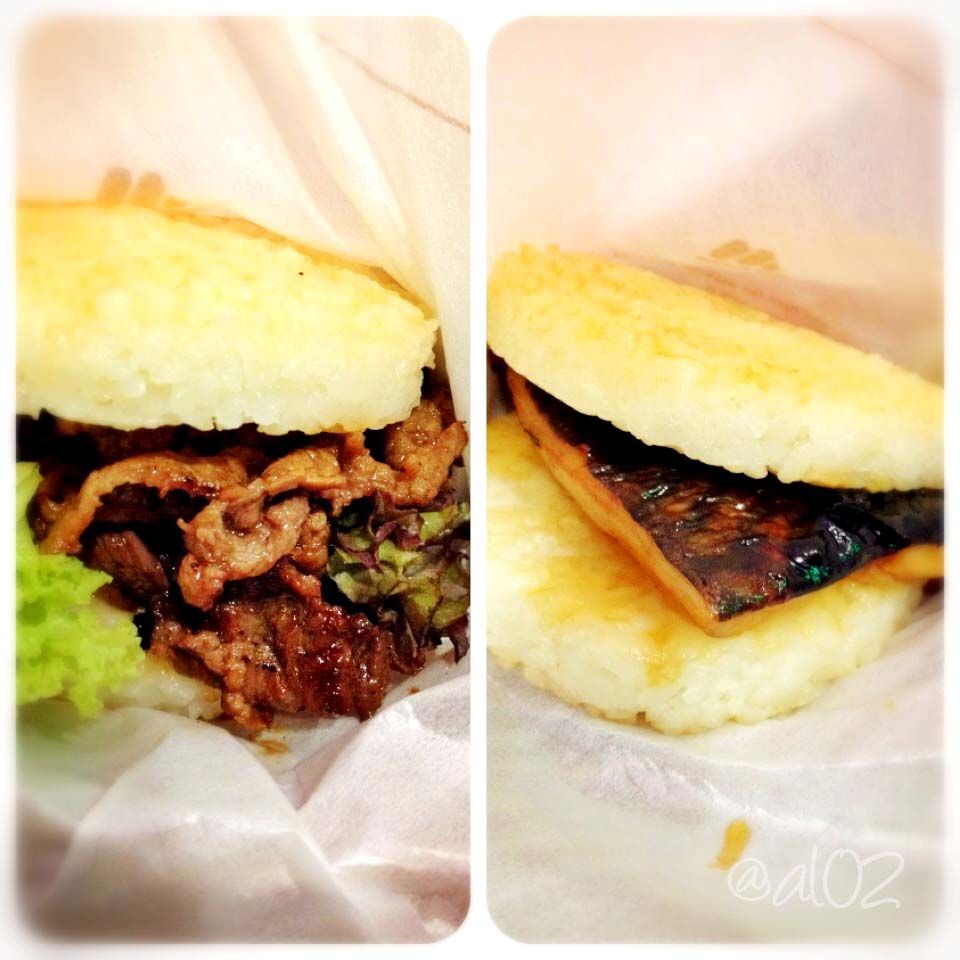 My all time fav from Mos is their yakiniku (beef) rice burger. They also had the all new sake (salmon) rice burger so we tried that too. Simple, satisfying burger dinner :)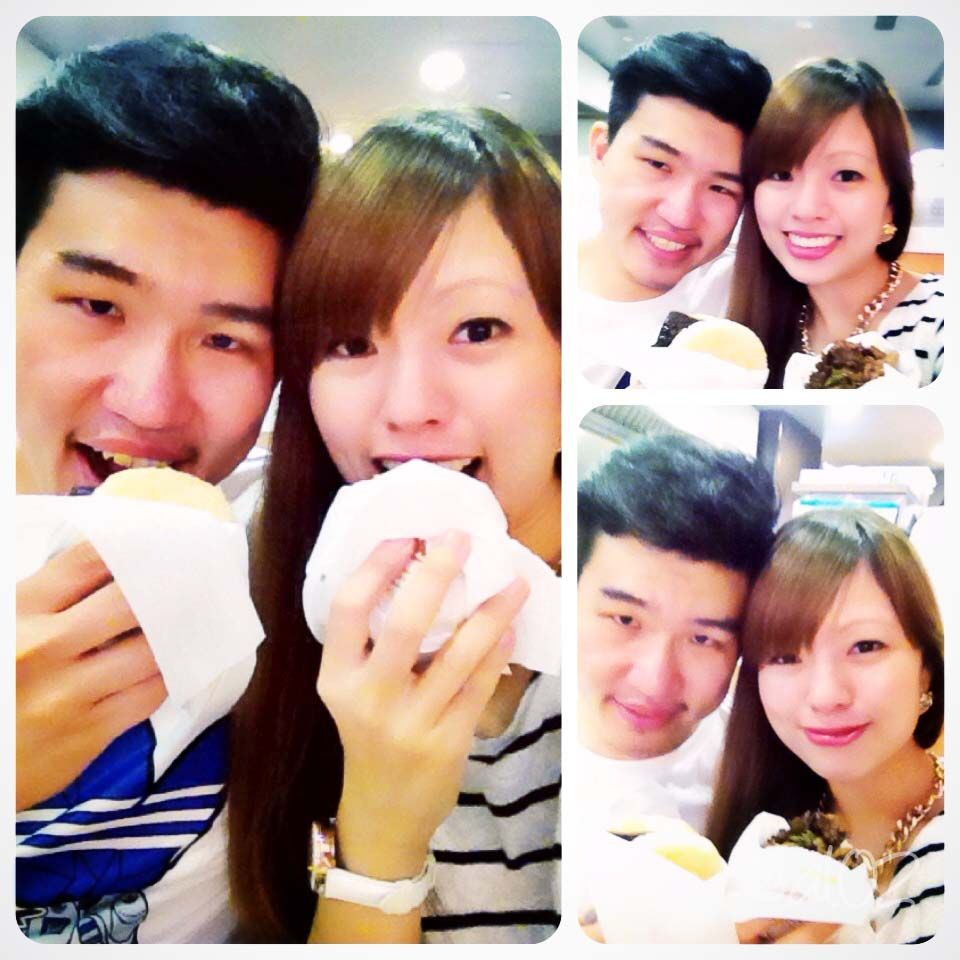 Burger time!
Although it was just a short day trip to Singapore, but most importantly we got to spend time together enjoying a fulfiling and fun day checking out new places and also satisfied some old cravings. From the delicious egg benedicts at Prive to the gorgeous marina view by Keppel Bay to sweet yummy green tea desserts at Tsujiri to romantic cycling by the beach at East Coast Park to good ol' Mos, everything was love. ♥♥♥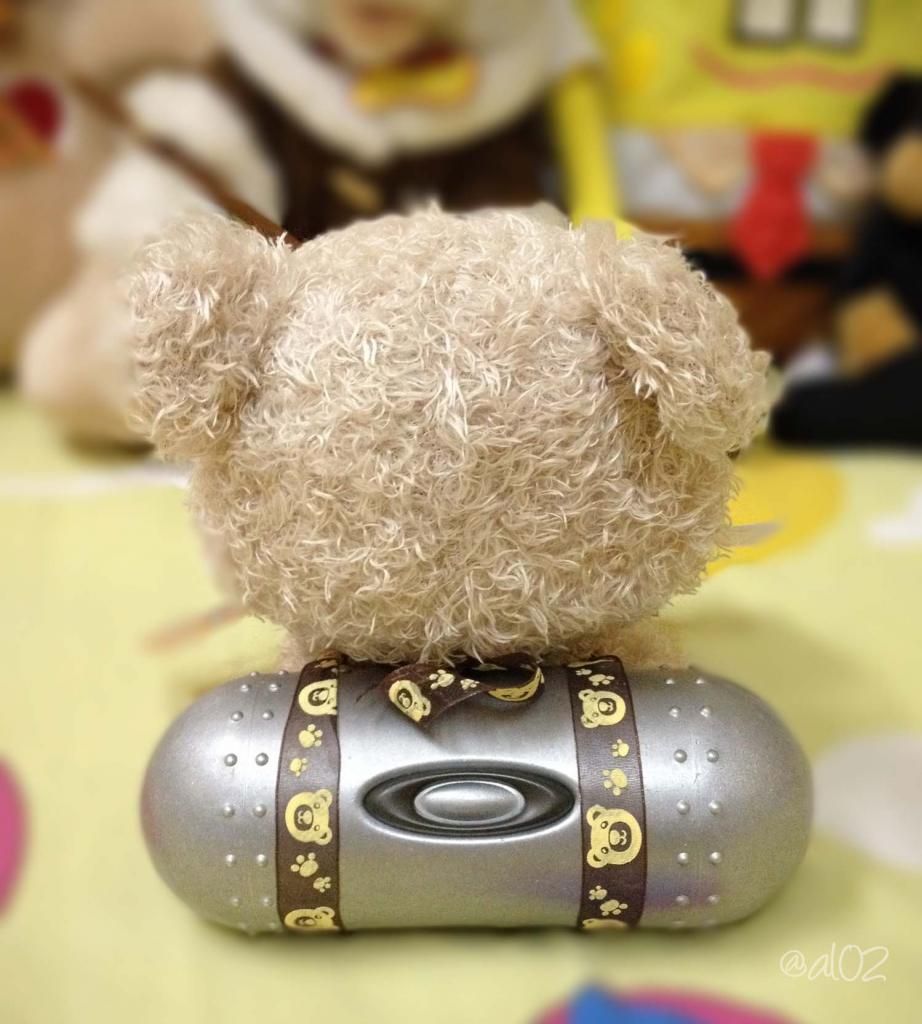 A rocket delivery bear. Guess what it is delivering? *wink*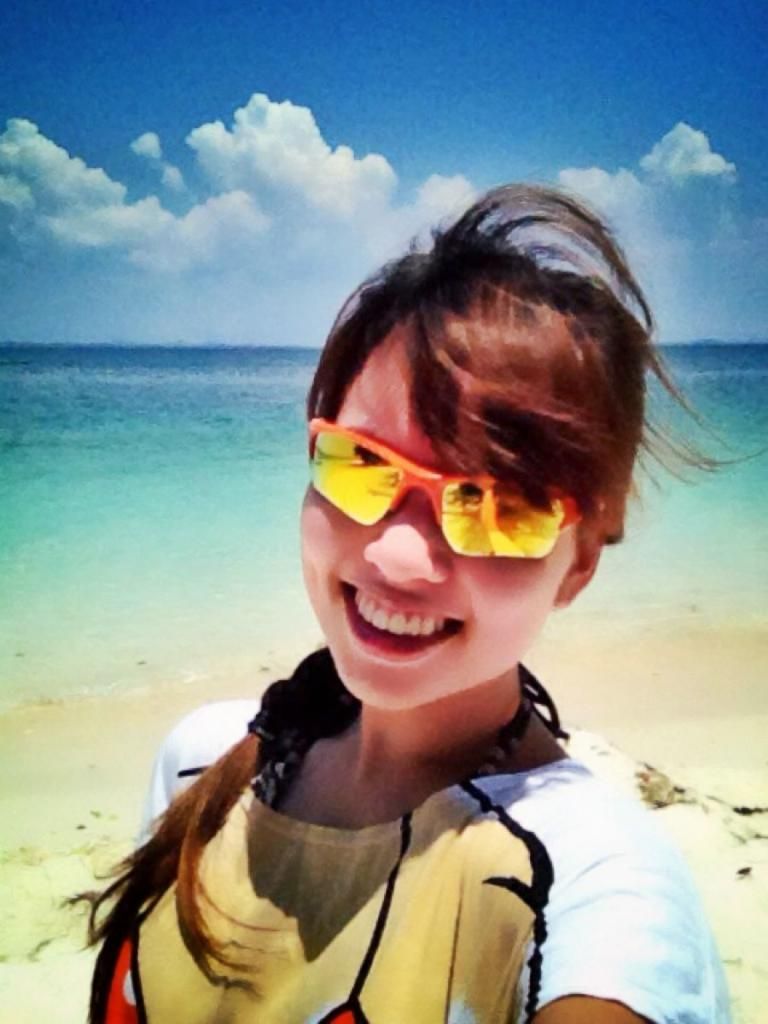 Ta-da! A pair of Oakley sunglass! Totally cool. Perfect for my adventurous and outdoor nature ♥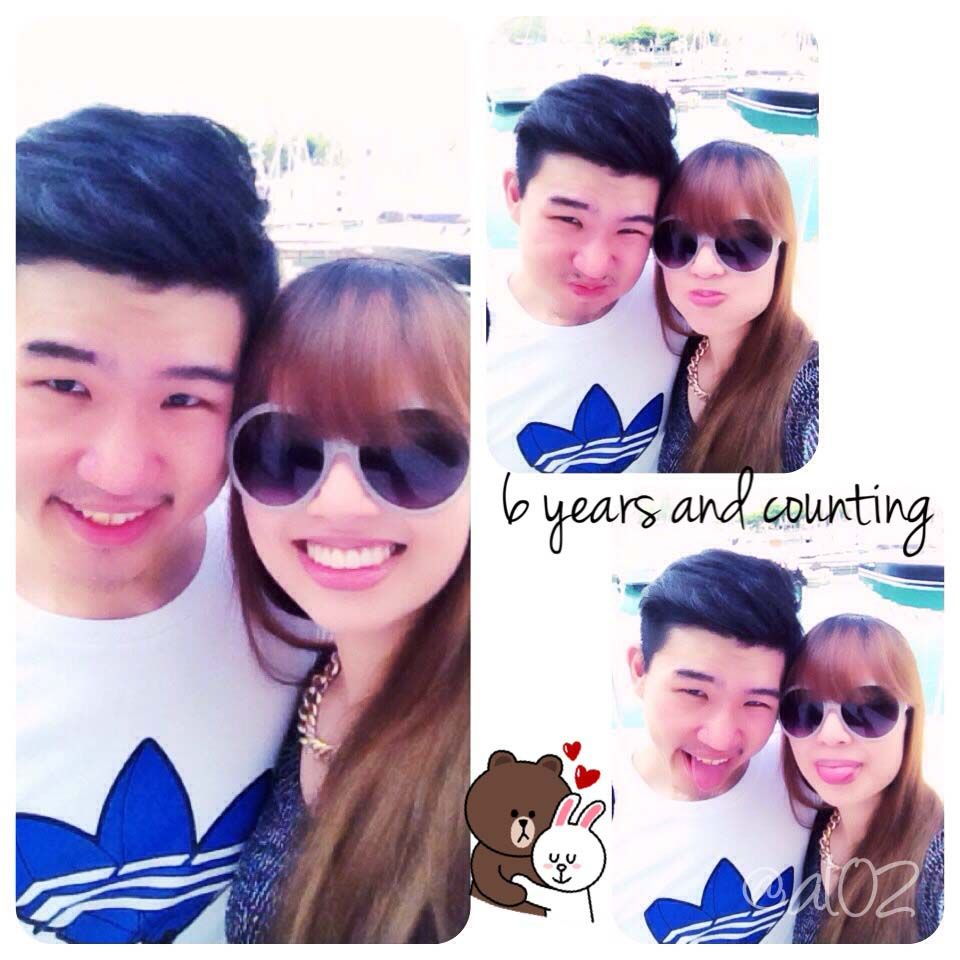 Lastly, happy 6 years old to my love! Thank you for everything ♥